Survival of the unfittest: IVF technique 'used too widely', watchdog warns
Injecting sperm may raise chances of conception but lead to fertility problems in next generation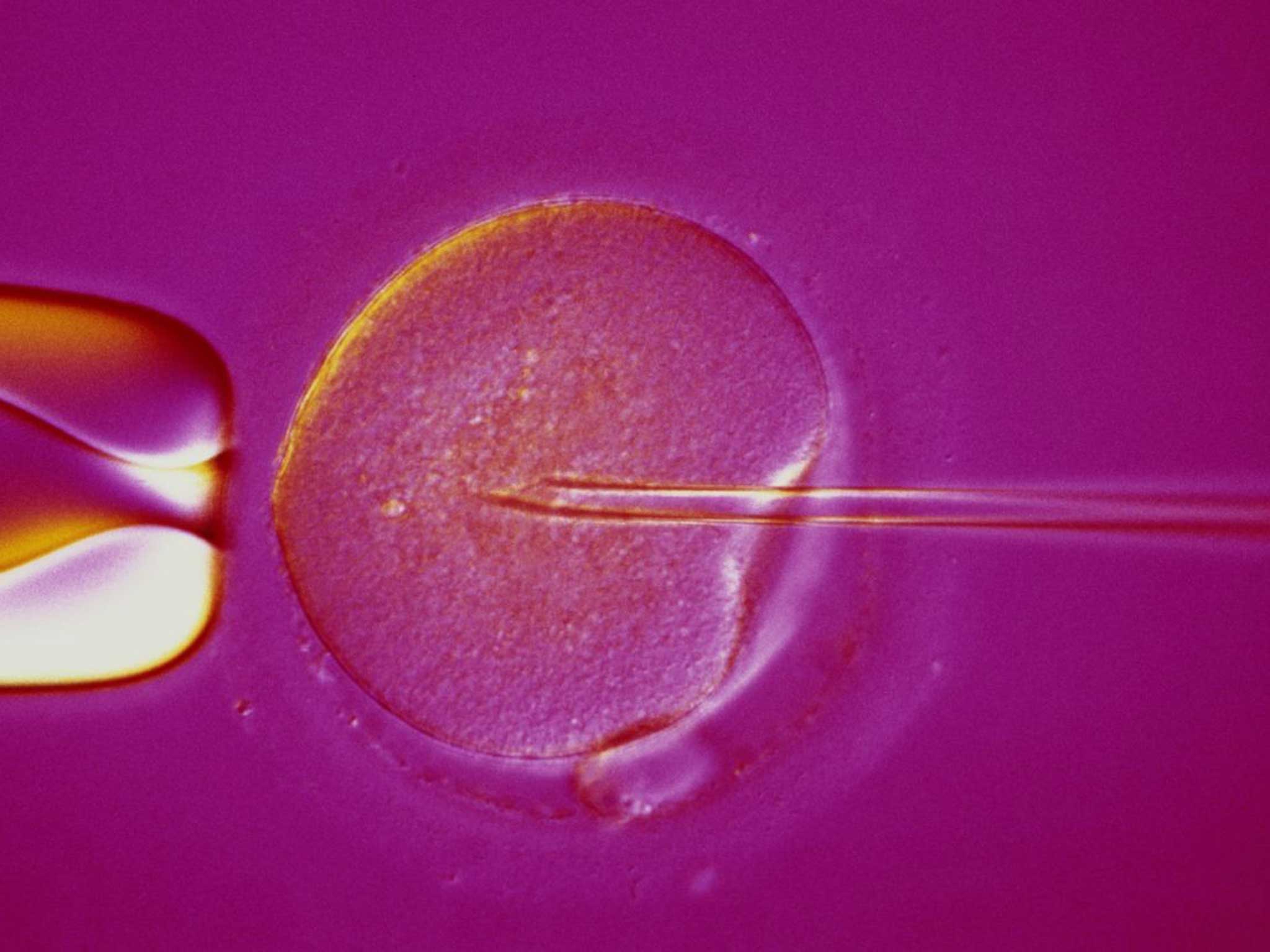 A technique for injecting sperm directly into unfertilised eggs to increase the chances of a successful IVF pregnancy is being used too widely by some fertility clinics, the head of the Government's fertility watchdog has warned.
Lisa Jardine, who chairs the Human Fertilisation and Embryology Authority (HFEA), said that some IVF clinics are using intracytoplasmic sperm injection (ICSI) simply because it is easier than standard IVF, rather than because it is in the best interests of patients.
"We believe it is being used far too widely because it is procedurally easy," Professor Jardine said. "The scientists who advocate it already know that a boy born through ICSI is likely to have a low sperm count. So it is a little bit worrying that it is being rolled out so widely."
She recently warned on BBC Radio 4 that success rates for couples, who typically spend around £15,000 for three cycles of treatment, are "discouragingly low".
ICSI was first introduced about 20 years ago, since when its use has become widespread. In 2011, more than half of the nearly 62,000 cycles of fertility treatment, involving just over 48,000 women in Britain, were done with ICSI, rather than letting the sperm penetrate the egg naturally.
In many other countries – in North America and Europe for instance – the figure is even higher, with ICSI being used in as many as 90 to 95 per cent of IVF cycles. Yet some studies suggest that IVF children born from ICSI may be at higher risk of medical problems as they grow older, including male infertility.
"We know that babies born from ICSI have increased risk of some problems later in life and infertility is one of them," said Allan Pacey, chairman of the British Fertility Society and an IVF specialist at Sheffield University.
"For these reasons we should be prudent over the use of ICSI. So let's use ICSI when it's needed, and not as some kind of guarantee against fertilisation failure, which is how some clinics approach it."
Professor Jardine, who steps down as chair of the HFEA in the new year, said she shares the concerns of some experts, who believe that many fertility clinics are opting to use ICSI simply because it is easier to achieve rapid fertilisation of an egg, rather than using it specifically as a treatment for male infertility.
About half of the couples given ICSI have male-related fertility problems, while about 12 per cent have joint male and female factors, and 10 per cent have specifically female fertility problems. In 20 per cent of cases, ICSI is used for "unexplained" reasons, according to data gathered by the HFEA.
One of the pioneers of ICSI, André Van Steirteghem of the Brussels Free University Centre for Reproductive Medicine, warned in 2010 that IVF clinics are routinely overusing the treatment despite the risk of long-term health problems in the children conceived by the technique.
"The health of children has to be considered the most important outcome of artificial reproductive technology treatment. It's fair to say that overall these children do well [but] there are a few more problems with these children," Dr Van Steirteghem said.
"It doesn't mean that when you use ICSI there will be more problems, but it is important that we have to see what comes about in the future, so long-term monitoring is extremely important. ICSI has been overused," said Dr Van Steirteghem. He advises the HFEA on new developments in fertility treatment.
However, Professor Pacey said that Britain is one country that is probably not overusing ICSI overall: "As a country overall we've got it about right, because about half of the fertility problems are male related and half are female related, and there is a 50:50 split between ICSI and conventional IVF."
"But there may be some individual clinics that are doing it more than they should. They are frightened of fertilisation failing. The HFEA should be focusing on these individual clinics with high ICSI levels," he added.
Join our commenting forum
Join thought-provoking conversations, follow other Independent readers and see their replies