The deep-fried Mars bar vs porridge: Two Scottish favourites go head to head
It may seem a no-brainer, but scientists are to test the effects of the fabled snack on blood vessels
Roger Dobson
Sunday 25 August 2013 00:09 Comments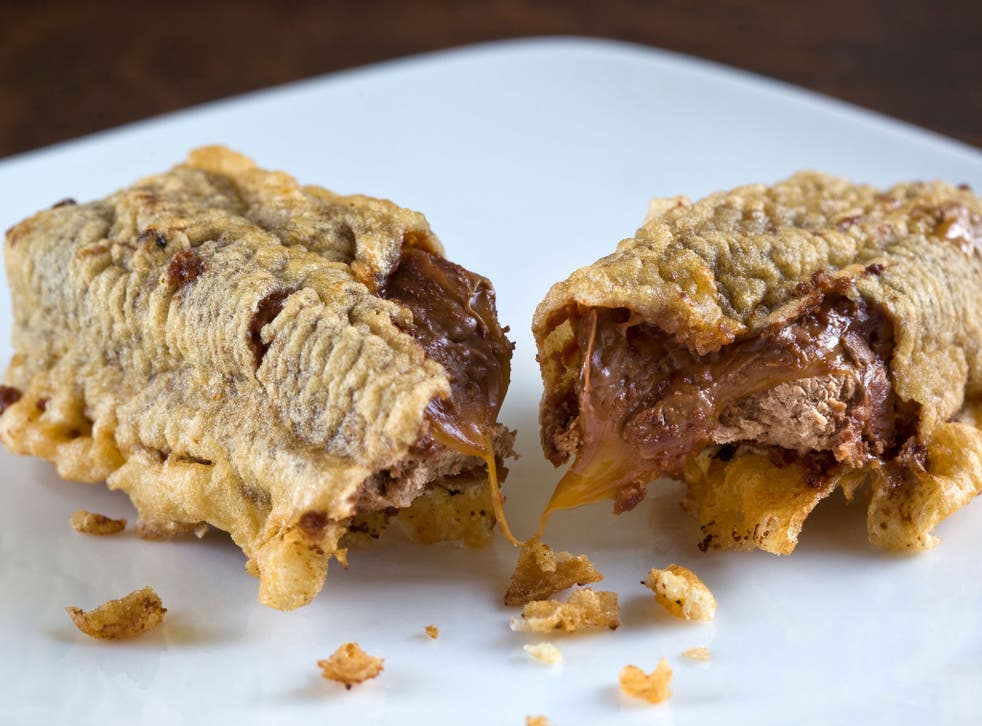 The health effects of that fabled Scottish snack, the deep-fried Mars bar, are to be tested in a clinical trial which will form the first scientific study into the impact that the snack, reputedly most popular in Glasgow, has on the human body.
Researchers at Glasgow's Western Infirmary hospital will compare the effects with those that occur after eating a more conservative, and healthier, Scottish dish – a bowl of porridge.
"The deep-fried chocolate bar... has been cited as a symbol of all that is wrong with the high-fat, high-sugar Scottish diet," says Professor Matthew Walters, the lead consultant for stroke in West Glasgow, who is director of the Scottish Stroke Research Network. "Despite the snack's reputation, no medical research has been performed to examine the effects of consuming a deep-fried chocolate bar on the human body, and that is what we are going to do," he explained.
"In this student project we will look at what happens to blood vessels in the brain and compare the effects of fried chocolate with another traditional Scottish delicacy, porridge."
Porridge has been shown to reduce the risk of cardiovascular disease, but its effect on brain blood flow has yet to be investigated. In the study, 24 healthy volunteers aged under 40 will eat either a regular deep-fried Mars or a bowl of porridge, several days apart, and ultrasound scans will assess the impact on blood vessels, including the largest artery in the brain.
Regular, moderate consumption of chocolate has been associated with reduced stroke risk, and the same team has demonstrated a change in brain blood vessels after eating a 100g bar of chocolate. Antioxidants present in the chocolate may be responsible for this.
William Dunn, the student who will perform the scans, said: "We hope that the results will shed more light on the links between diet and stroke, and allow health-conscious Glaswegians to make a more informed choice in the chip shop."
Folklore has it that the deep-fried Mars was first eaten in 1995 in Aberdeen. By 2004, a survey of 627 fish-and-chip shops in Scotland, published in The Lancet, showed that 22 per cent sold deep-fried Mars bars. Average weekly sales were 23 bars, but 10 shops reported selling up to 200, with a typical price of 60p. Other foods that the fish-and-chip shops had been asked to fry include Snickers bars, bananas, and Creme Eggs.
Three shops each said they had been asked for deep-fried ice cream and deep-fried Maltesers.
"Encouragingly," said the researchers, "we did also find some evidence of the penetrance of the Mediterranean diet into Scotland, albeit in the form of deep-fried pizza."
Register for free to continue reading
Registration is a free and easy way to support our truly independent journalism
By registering, you will also enjoy limited access to Premium articles, exclusive newsletters, commenting, and virtual events with our leading journalists
Already have an account? sign in
Join our new commenting forum
Join thought-provoking conversations, follow other Independent readers and see their replies