The Fantastic Voyager
Voyager One left earth in 1977 on a five-year trip to Jupiter. 11 billion miles later, it is set to become the first man-made object to leave our solar system. Jonathan Brown tells its remarkable story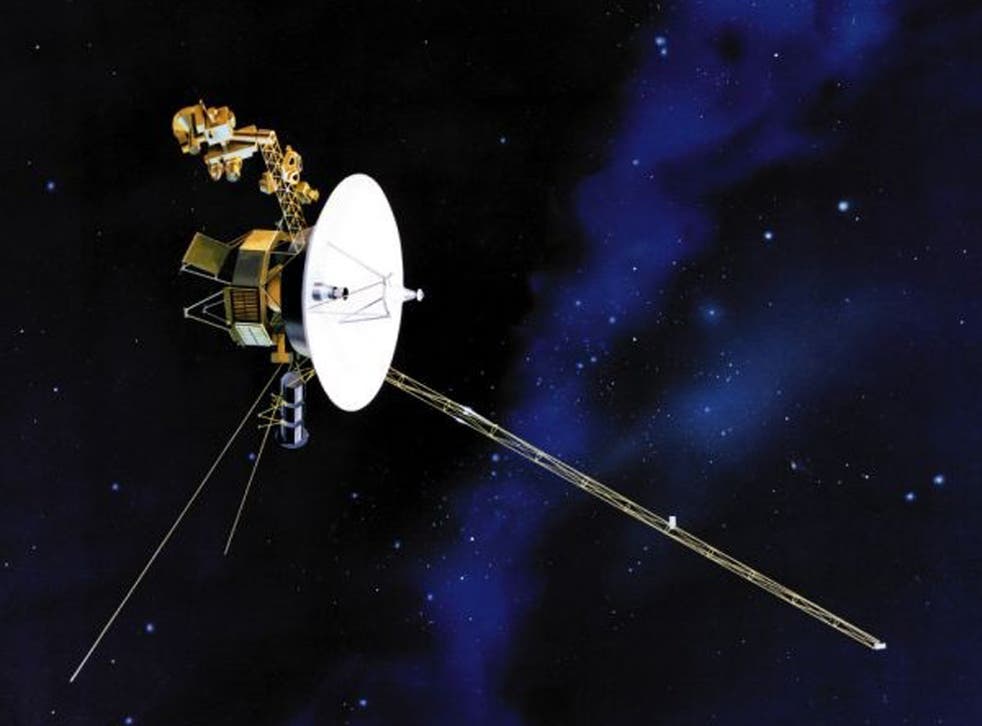 It is a journey that will never end and it began on August 20 1977, at the Kennedy Space Centre in Cape Canaveral, Florida when a Titan-Centaur rocket blasted into a clear blue sky.
Back then the excited scientists had what now seem like relatively limited hopes for the payload spiralling above them in a plume of white smoke.
Voyager One, which was launched two weeks after its sister probe Voyager Two, was meant to exploit a rare geometric arrangement of the outer planets occurring just once every 175 years.
This unusual alignment meant that a space ship could "swing by" Jupiter and Saturn with the help of gravity. It would give Nasa scientists and those at the Jet Propulsion Laboratory near Los Angeles, or so it was hoped, the first ever close up view of our "neighbourhood" – Saturn's rings and the larger moons of the two planets.
But Voyager's journey did not stop there. It was a time of renewed interest in space travel – certainly in the public's mind – with cinema audiences queuing up for a glimpse of the newly released Star Wars.
Yet even the most optimistic of the Nasa engineers who had salvaged the Voyager project out of the budget-cut remnants of the Planetary Grand Tour programme of the 1960s, could have envisaged that the science they were conducting might echo the fantasies of George Lucas's cinematic fiction.
Today, after nearly 35 years in perpetual motion, armed with a computer boasting just a fraction of the processing power of the average smart phone, Voyager One is poised to open up a new frontier in man's exploration of space.
The 775kg probe is still sending back data despite the ravages of its fantastic voyage. Now it is on the brink of interstellar space.
Hurtling at more than 10 miles per second it is currently immersed in the foamy walls of the heliosopheric bubble – an area where charged particles blown off the Sun come up against the stellar winds blowing through the remainder of the galaxy.
In other words it has reached the edge of our solar system and is set to penetrate into a new and unvisited area of the cosmos previously only observable through powerful telescopes.
Dr Edward Stone of the California Institute of Technology in Pasadena is now in his late 70s but retains a central role in the Voyager project for which he was the original chief scientist. "When the Voyagers launched in 1977, the space age was all of 20 years old," he explained recently. "Many of us on the team dreamed of reaching interstellar space, but we had no way of knowing how long a journey it would be – or if these two vehicles that we invested so much time and energy in would operate long enough to reach it," he added.
Nasa originally created two vehicles believing one was likely to perish. It also estimated they might work for five years. A veteran of 14 Nasa missions, Dr Stone's enthusiasm remains undimmed. "The laws of physics say that someday Voyager will become the first human-made object to enter interstellar space, but we still do not know exactly when that will be," he adds.
"The latest data indicates we are clearly in a new region where things are changing more quickly. It is very exciting. We are approaching the solar system's frontier."
Voyager One completed its key landmarks more than three decades ago. Despite being launched later, it was on a faster, shorter trajectory than its sister probe. It reached Jupiter on 5 March 1979 and Saturn on 12 November 1980. The twin probes gave the world its first close up view of Saturn's rings revealing not just a few, as seen from earth, but many thousands.
It also brought an initial glimpse of the planet's mysterious satellite Titan and while Voyager One headed off in the direction of interstellar space, Voyager Two was directed towards Uranus and then blue Neptune where it captured the first and only photographs of our distant neighbours.
In 1990 the probe's ability to charge the human imagination through powerful imagery was again demonstrated. Legendary cosmologist Dr Carl Sagan, who had been present at the launch of 23 years previously, and had pressed Nasa to create what has now become one of the most famous pictures ever taken.
On Valentine's Day the cameras on Voyager One were pointed back towards the sun creating the family portrait of our solar system. Earth appeared as a small "pale blue dot" taking up just a single pixel. Dr Sagan later said: "That's home. Think of the rivers of blood spilled by generals and emperors so that, in glory and triumph, they could become the momentary masters of a fraction of a dot."
But perhaps Dr Sagan's other most famous contribution to the $865million (£551m) mission was the inclusion of the Golden Phonograph Record. This extraordinary time capsule was meant to show alien life forms, should they ever come across it, a little of what our planet and human civilisation is all about. The gold-plated copper disc should remain playable for a billion years – 5,000 times longer than modern humans have existed. It includes recordings of the wind, whale noises and greetings in 55 languages.
There is also message from then US President Jimmy Carter. While some have criticised the inclusion of a pulsar map giving Earth's position, which, it has been suggested might lead hostile life forms to seek and destroy us, others have compared the disc's inclusion to Iron Age scratchings – primitive but revealing of a lost civilisation.
And what of the future? Voyager's plutonium power sources will last until 2025, perhaps less, when we will lose touch with this increasingly distant outpost of human endeavour. In the meantime it will continue to feed back data – information which now takes nearly 17 hours to reach Earth.
But the story does not stop there. As it breaks through the heliosphere and into interstellar space, it will speed up from its current velocity relative to the sun of up to 40,000mph to about 500,000mph. Yet even at that rate it will not encounter another star for 40,000 years when it will pass within 1.7 light years of red dwarf star Ross 248.
And because distances in space are so immense the chances of it colliding with a piece of matter are virtually zero. Which means it will never stop travelling. Ever.
Register for free to continue reading
Registration is a free and easy way to support our truly independent journalism
By registering, you will also enjoy limited access to Premium articles, exclusive newsletters, commenting, and virtual events with our leading journalists
Already have an account? sign in
Register for free to continue reading
Registration is a free and easy way to support our truly independent journalism
By registering, you will also enjoy limited access to Premium articles, exclusive newsletters, commenting, and virtual events with our leading journalists
Already have an account? sign in
Join our new commenting forum
Join thought-provoking conversations, follow other Independent readers and see their replies