The lost world beneath the Antarctic ice
British scientists search for life forms hidden more than 400,000 years ago beneath Antarctic ice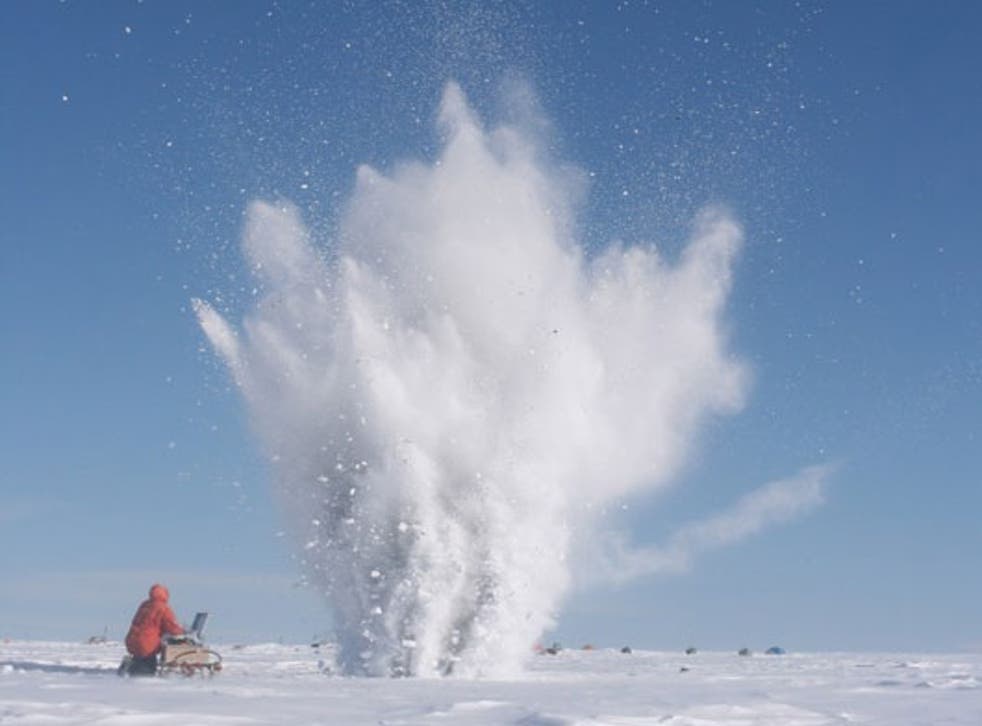 British scientists are about to mount one of the boldest-ever missions, to search for life forms that have survived for possibly millions of years in a frozen "lost world" beneath an ancient ice sheet.
This week, a team of Antarctic scientists has been given the go-ahead to drill through a two-mile-thick sheet of ice that has sealed a sub-glacial lake from the rest of the biosphere for at least as long as Homo sapiens has walked the Earth.
They hope to find species that have survived below the ice sheet since it formed between 400,000 and two million years ago. Finding life in such an extreme environment would be one of the most important discoveries of the century, raising the prospect of searching for extra-terrestrial life on Europa, a moon of Jupiter where life is thought to exist beneath a frozen ocean. The scientists plan to use sophisticated ice-drilling technology developed in the UK to penetrate the ice cap and enter the liquid-water world of Lake Ellsworth in West Antarctica, one of about 150 sub-glacial lakes scientists have recently mapped with ice-penetrating radar.
Lake Ellsworth, about the size of Lake Windermere, is thought to be more than 300ft deep with a floor covered in thick sediment. The scientists who surveyed it believe it is a prime candidate for sub-glacial life.
"It is a dark, cold place that has been sealed from the outside world and it's likely to contain unique forms of life," said Professor Martin Siegert of Edinburgh University, the principal investigator on the Ellsworth project. "This is a benchmark in polar exploration: our team will be the first to explore this ancient lake. Microbiologists think deep-water sub-glacial lakes are unique extreme environments where unusual microbes might adapt and survive. These environments may be the closest analogues on Earth to Europa, which has a thick icy crust above a liquid ocean."
The British team has been promised more than £6m by the Natural Environment Research Council, and its experts are being drawn from a consortium of universities, including Bristol and Edinburgh, and specialist centres such as the National Oceanography Centre in Southampton and the British Antarctic Survey in Cambridge.
They intend to break into Lake Ellsworth in the Antarctic summer of 2012-13 with a pair of scientific probes designed to capture living organisms, or the chemical signs of life. It will be the first time any nation has explored these mysterious sub-glacial lakes and the British probes are specially designed to be sterile to prevent microbial contamination from the surface.
Technical problems have dogged a similar Russian project to penetrate a much bigger lake called Vostok in East Antarctica. The Russian project is also mired in controversy because it is based on a non-sterile drilling technology that uses kerosene as a lubricant, which could easily contaminate the pristine environment of Lake Vostok.
"The Russians won't be putting a probe into Lake Vostok; they are just going to puncture through the lake water," Professor Siegert said. "But they are having problems drilling through the ice and they stopped again this season. In terms of who is leading the science of this work, then it's our project because it's the UK that's putting a probe in and taking direct measurements and samples, and taking sediments from the floor of the lake; that will be the first time."
A healthy competition between Russia and Britain has spurred each side in the race to be first to enter a sub-glacial lake. But Professor Siegert emphasised that it is not just about being first. "Competition is something that drives science. But if the race was the only thing that was driving us, we'd have done it by now. We've been working on this project for 10 years. It's important to us and it would be lovely of course to be the first, but science is far more important that winning a race.
"There is a race, and it would be wrong of me to say that that's not interesting," he added. "In some ways it's motivational, but that's not why we're doing it. The scientific objectives are what we are focusing our attention on."
Although Antarctica's sub-glacial lakes are buried beneath an immensely thick ice sheet, the lakes' water remains unfrozen due to geothermal heat rising from deep underground and the immense pressure of the ice pushing down on the water; the water remains liquid at minus 1C or minus C.
Scientists believe any living organisms that have survived in the lakes despite the total darkness have done so by consuming organic detritus and other nutrients that accumulated in the lake's sediment many millennia ago.
If these microbes do exist, they would almost certainly have evolved in near-total isolation from the rest of life on Earth, and for such a length of time that they might now be markedly different from similar life forms found at the surface.
"We hope to discover more about how life can exist in extreme environments and how Antarctica has changed in the past, which might help us to understand more about other places on Earth," Professor Siegert said.
Britain has pioneered an ice-drilling technology that uses hot water to melt the ice. This has the advantage of sterilising the equipment as it descends, but the scientists also intend to filter water to remove any dead bacteria or viruses that may be introduced into the drill hole from the surface.
Once the 14in-wide drill-hole is finished, the scientists will have 36 hours before it closes. The first probe will capture video images, samples from the water column and surface sediment from the lake's bottom. A second "gravity probe" will be lowered to penetrate and recover several feet of sediment from the floor of the lake.
Professor Martyn Tranter, of Bristol University, who will oversee the water analysis, said: "Any microbes feeding on material at the bottom of the lake will be giving off a particular chemical signature that we hope to pick up in the water. If we find anything living beneath the ice it will not only be very exciting in itself, but could have implications for life in similar ice environments, such as other planets."
But the key to success will be to prove that any microbes recovered from the lake are genuine inhabitants, and not just the result of microbial contamination from the drilling itself.
Next stop: Jupiter's moon
*A universal truth in science is that liquid water is necessary for life, which is why the focus of the search for extraterrestrial life is on Europa, a moon of Jupiter that is believed to have an ocean of unfrozen water beneath a thick crust of ice.
One of the strongest pieces of evidence in support of a liquid ocean beneath Europa's ice-encrusted surface emerged in 2000 when the Galileo spaceprobe detected fluxes in the moon's magnetic field which indicated that water was circulating under its thick layer of surface ice. Nasa, the American space agency, plans to send a fleet of small spacecraft to Europa within the next decade to survey Europa close up.
Although the surface of Europa hovers around minus 160C, it is thought that water beneath the icy crust is prevented from freezing by tectonic friction caused by the tug of gravitational forces between Jupiter and its 12 moons. Mineral-rich, hot-water vents could be spewing nutrients into Europa's ocean, providing any life there with a rich source of food and energy.
Register for free to continue reading
Registration is a free and easy way to support our truly independent journalism
By registering, you will also enjoy limited access to Premium articles, exclusive newsletters, commenting, and virtual events with our leading journalists
Already have an account? sign in
Register for free to continue reading
Registration is a free and easy way to support our truly independent journalism
By registering, you will also enjoy limited access to Premium articles, exclusive newsletters, commenting, and virtual events with our leading journalists
Already have an account? sign in
Join our new commenting forum
Join thought-provoking conversations, follow other Independent readers and see their replies