The smaller the better: Size of a man's testicles is linked to his parenting skills
Men with larger testes are much less likely to display good parenting skills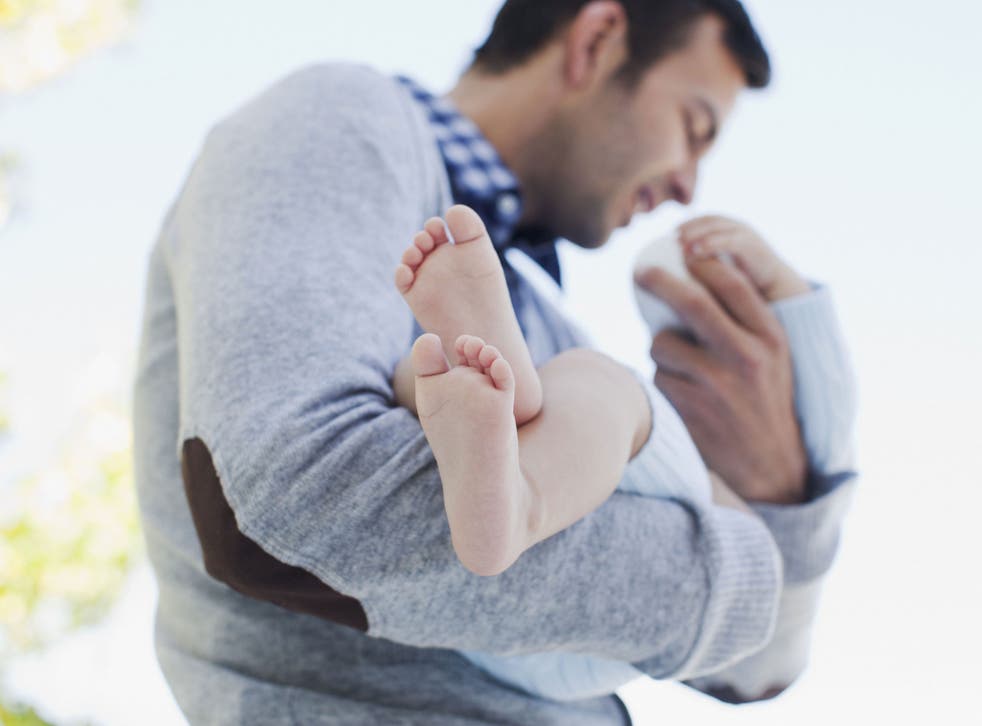 The relative size of a man's testicles may influence the chances of him being a good father according to a study suggesting a biological basis for parenting abilities in men.
Men with larger testes are significantly less likely to display good parenting skills compared to men with smaller testes because of a well-established trade-off in evolution between mating and child-rearing, scientists said.
Larger testes are linked with higher testosterone levels and sperm counts, as well as increased promiscuity and, in humans, marital breakdown and divorce, the researchers said.
A study has also revealed that men with larger-than-average testes are also less likely than other men to show an interest in the skills and effort of child rearing, such as changing nappies or bathing a child, suggesting that some men are biologically predisposed to being poor fathers.
The findings suggest that humans are subject to an evolutionary principal, called life history theory, stating that males tend to make a trade-off between investing their effort into mating and fertilising females, rather than helping to rear offspring, the scientists said.
"Our data suggest that the biology of human males reflects a trade-off between investments in mating versus parenting effort," said James Rilling, an anthropologist at Emory University in Atlanta, Georgia, who led the research.
The study involved 70 men who lived with their partners and were fathers to children aged between one and two. They were asked about details of their parenting as well being analysed for brain activity when shown photographs of their children - a measure of parenting.
Although the study found a link between parenting and testes volume in 53 of the men who had agreed to have their testes measured, the association was not absolute, with some men bucking the trend, Dr Rilling said.
"The fact that we found this variance suggests personal choice. Even though some men may be built differently, perhaps they are willing themselves to be more hands-on fathers," he said.
"It might be more challenging for some men to do these kinds of caregiving activities, but that by no means excuses them," said Dr Rilling, who led the study published in the journal Proceedings of the National Academy of Sciences.
Men who are good fathers are more likely to have children who grow up to be happy and well-balanced adults, which is why it is important to analyse the reasons why some men make good parents, Dr Rilling said.
"It's an important question because previous studies have shown that children with more involved fathers have better social, psychological and educational outcomes," he explained.
A key part of the study was to use an MRI scanner to assess the mens' brain activity in an region called the ventral tegmental area, a part of the brain associated with reward and parental motivation, said Jennifer Mascaro, a research student at Emory University.
"The men with smaller testes were activating this brain region to a greater extent when looking at photos of their own child," Ms Mascaro said.
However, Dr Rilling said that the conclusions of the study assumed that testes size was not changed by the act of becoming a father. "We're assuming that testes size drives how involved the fathers are," Dr Rilling said.
"But it could also be that when men become more involved as caregivers, their testes shrink. Environmental influences can change biology. We know, for instance, that testosterone levels go down when men become involved fathers," he added.
Another potential complication is whether boy's childhood upbringing can affect the size of his testes.
"Some research has shown that boys who experience childhood stress shift their life strategies. Or perhaps fatherless boys react to the absence of their father by adopting a strategy emphasizing mating effort at the expense of parenting effort," Dr Rilling said
Join our new commenting forum
Join thought-provoking conversations, follow other Independent readers and see their replies