Tim Peake test drives UK-based rover from space in simulated Martian landscape
Under Major Peake's guidence the rover travelled 20m during the two-hour test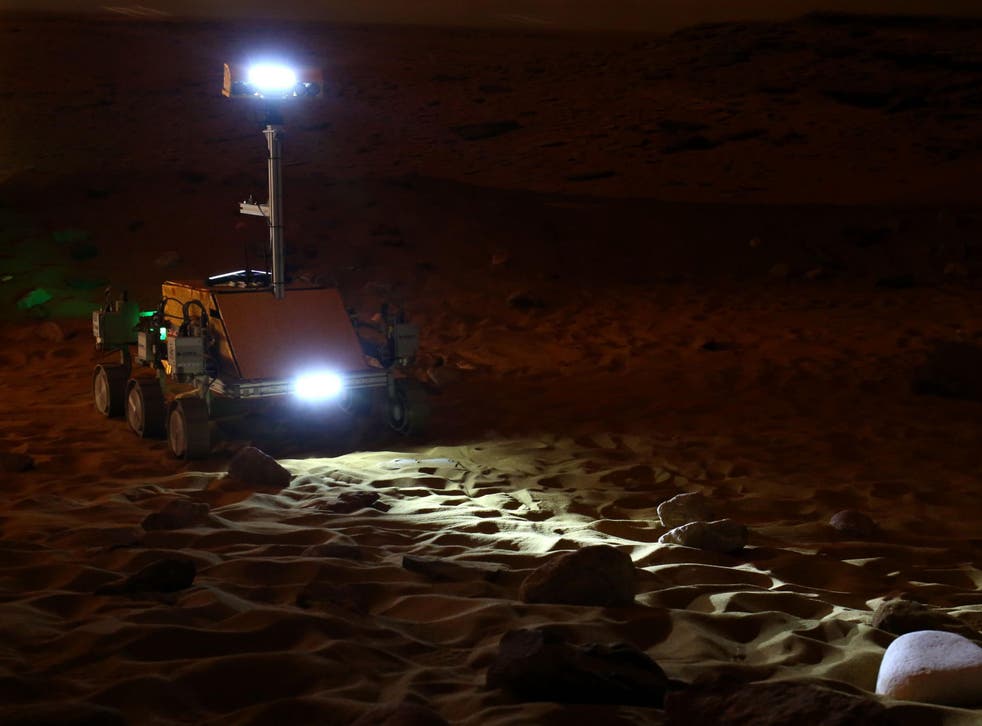 British astronaut Tim Peake has undertaken a pioneering mission, managing to successfully control a robot on Earth while some 250 miles above the planet on the International Space Station.
Major Peake commanded the rover on Friday through a simulated Martian landscape in a hangar in Stevenage, Hertfordshire.
Before the experiment, Major Peake was told he had to guide the robot over the fake sandy, rocky surface into a cave and find painted targets before exiting in 90 minutes.
The exercise was part of the Multi-Purpose End-To-End Robotic Operation Network (METERON) programme looking at how astronauts can work robots from space in the hope that such devices can be controlled on other planets from Earth.
Under his guidance the rover, nicknamed Bridget after film star Bridget Bardot, travelled around 20m during the two-hour test and entered the fake cave.
As the experiment drew to an end loud cheers erupted from Stevenage's Airbus Defence and Space control room, while Major Peake's driving was described as "measured" and "careful" by mission robot engineer Dr Elie Allouis.
"We're inside the cave and the first target has been identified," Major Peake told mission control during the live streamed experiment.
The experiment did encounter problems when the rover briefly became stuck on a large fake rock and lost signal for around ten minutes, but was ultimately deemed a success.
Dr Allouis said his team were "elated" by the results of the experiment, adding: "Tim found targets, avoided obstacles - almost all of them - and returned to the entrance of the cave."
Bridget weighs around 300kg and can travel at a maximum speed of 2cm per second on a flat surface.
Last year, Danish astronaut Andreas Mogensen guided a rover on earth to insert a peg into a hole from the ISS.
The ExoMars rover is scheduled to be launched to Mars in 2018. It will take nine months to reach the Red Planet and use parachutes to land safely on the surface.
It will be the first rover sent to Mars specifically designed to find evidence of past or present life.
Additional reporting from agencies
Register for free to continue reading
Registration is a free and easy way to support our truly independent journalism
By registering, you will also enjoy limited access to Premium articles, exclusive newsletters, commenting, and virtual events with our leading journalists
Already have an account? sign in
Register for free to continue reading
Registration is a free and easy way to support our truly independent journalism
By registering, you will also enjoy limited access to Premium articles, exclusive newsletters, commenting, and virtual events with our leading journalists
Already have an account? sign in
Join our new commenting forum
Join thought-provoking conversations, follow other Independent readers and see their replies