Tyrannosaurs may have hunted in packs like wolves, new research suggests
Mass dinosaur grave studied in Utah as evidence indicates beasts could have pursued prey together, contrary to popular assumptions about their nature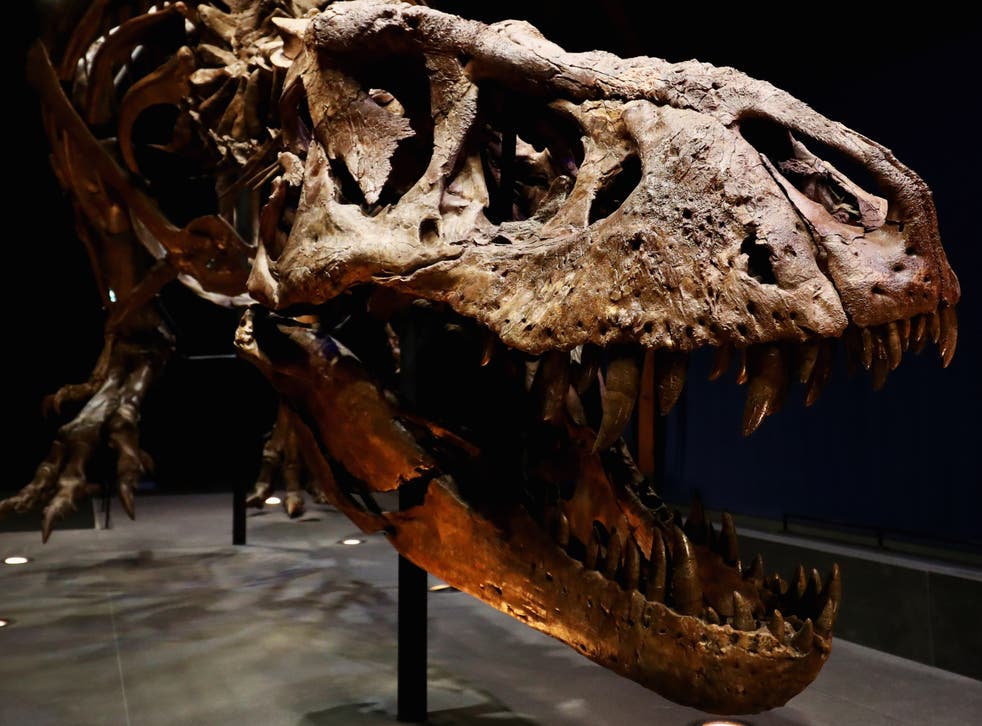 Leer en Español
The Tyrannosaurus rex, often imagined as the solitary king of the dinosaurs, may in fact have been a social carnivore inclined to hunt in packs like wolves, new research has suggested.
Paleontologists from the University of Arkansas examining a mass tyrannosaurus death site near the Grand Staircase-Escalante National Monument in southern Utah concluded that the dinosaurs had all died in the same location, rather than seen their bone fossils washed in from the surrounding area.
Kristi Curry Rogers, a biology professor at Macalester College, said the researchers' geochemical analysis of the site, where the remains of multiple species of fish, turtles and other dinosaurs have also been found, represented a "good start" but said that more evidence was needed to determine the extent of the species' social habits.
"It is a little tougher to be so sure that these data mean that these tyrannosaurs lived together in the good times," she said. "It's possible that these animals may have lived in the same vicinity as one another without travelling together in a social group, and just came together around dwindling resources as times got tougher."
The Utah canyon site has been known as the Rainbows and Unicorns quarry since 2014 when Bureau of Land Management palaeontologist Alan Titus discovered a treasure trove of fossils there.
It is the third such tyrannosaurus grave site to be found in North America, with others located in Montana and Alberta, Canada, which likewise prompted suggestions the dinosaurs could be more social than first thought.
However, the idea has been dismissed in the past on the basis that the creatures were unlikely to be intelligent enough to collaborate and coordinate their hunting strategies as wolves do.
US president Joe Biden's new secretary of the interior, Deb Haaland, visited the state earlier this month to consider applications that the Bears Ears National Monument and Grand Staircase-Escalante be restored to their previous area size after it was cut down by Donald Trump's administration.
Her recommending such a step would mean the safeguarding of a region clearly valuable for the prehistoric secrets it holds.
Register for free to continue reading
Registration is a free and easy way to support our truly independent journalism
By registering, you will also enjoy limited access to Premium articles, exclusive newsletters, commenting, and virtual events with our leading journalists
Already have an account? sign in
Register for free to continue reading
Registration is a free and easy way to support our truly independent journalism
By registering, you will also enjoy limited access to Premium articles, exclusive newsletters, commenting, and virtual events with our leading journalists
Already have an account? sign in
Join our new commenting forum
Join thought-provoking conversations, follow other Independent readers and see their replies