Nasa spots mysterious storm clouds gathering over Uranus and Neptune
Images from Hubble space telescope reveal unusual weather patterns on giant gas planets
Josh Gabbatiss
Science Correspondent
Sunday 10 February 2019 18:02 Comments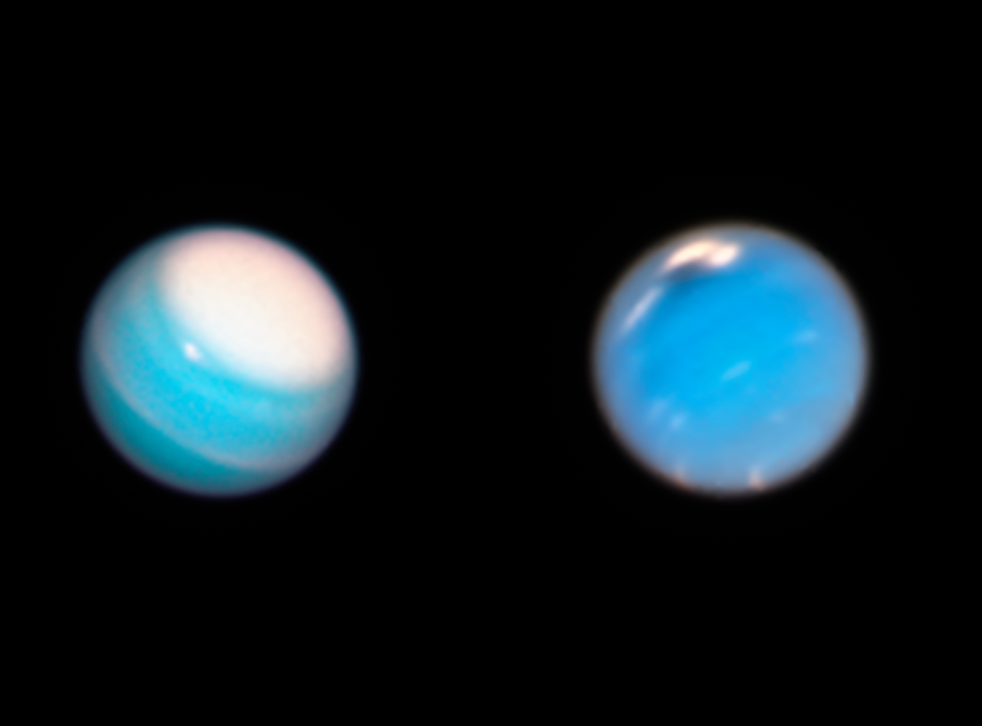 Mysterious storms have been spotted raging on the surfaces of Uranus and Neptune in an annual check-up of the planets carried out by Nasa.
Every year, the Hubble space telescope takes photos of the solar system's gas giants as part of a programme to help better understand the four planets.
In its latest survey it revealed Uranus' north pole was entirely covered by an enormous "bright stormy cloud cap".
Meanwhile Neptune has developed a dark vortex measuring about 6,800 miles across, similar to previous events captured by the Voyager 2 spacecraft in 1989 as it flew past the distant planet.
Uranus and Neptune have seasons just like on Earth, but instead of lasting mere months they tend to span decades.
Nasa's most stunning pictures of space

Show all 30
Scientists think the storm clouds gathering over Uranus are a combination of seasons progressing and an unusual feature of the giant planet.
Unlike the other planets that make up the solar system, Uranus is tilted to the side meaning that during the summer the sun shines on the north pole almost exclusively, never setting.
With the planet now reaching the middle of its summer and the polar cap storm seeming to become more prominent, experts think the changes may result from this seasonal shift which influences movements in the atmosphere.
It is unclear how storms form on Neptune, although scientists think the initial vortices begin to swirl deep in the planet's atmosphere, closer to the core, before reaching higher altitudes and becoming visible at the surface.
Support free-thinking journalism and attend Independent events
As Hubble continues to take snapshots of these remote planets, experts hope they will be able to build up a clear picture of weather patterns on these faraway worlds.
Ultimately this could make it possible to make predictions about trends in a similar manner to meteorologists working on Earth.
Register for free to continue reading
Registration is a free and easy way to support our truly independent journalism
By registering, you will also enjoy limited access to Premium articles, exclusive newsletters, commenting, and virtual events with our leading journalists
Already have an account? sign in
Join our new commenting forum
Join thought-provoking conversations, follow other Independent readers and see their replies