Video: Chimpanzees have faster working memory than humans, according to study
Japanese scientist demonstrates the prowess of chimps in remembering in less than half a second the precise position and correct sequence of up to nine numbers on a computer screen
Steve Connor
Thursday 14 February 2013 20:34 Comments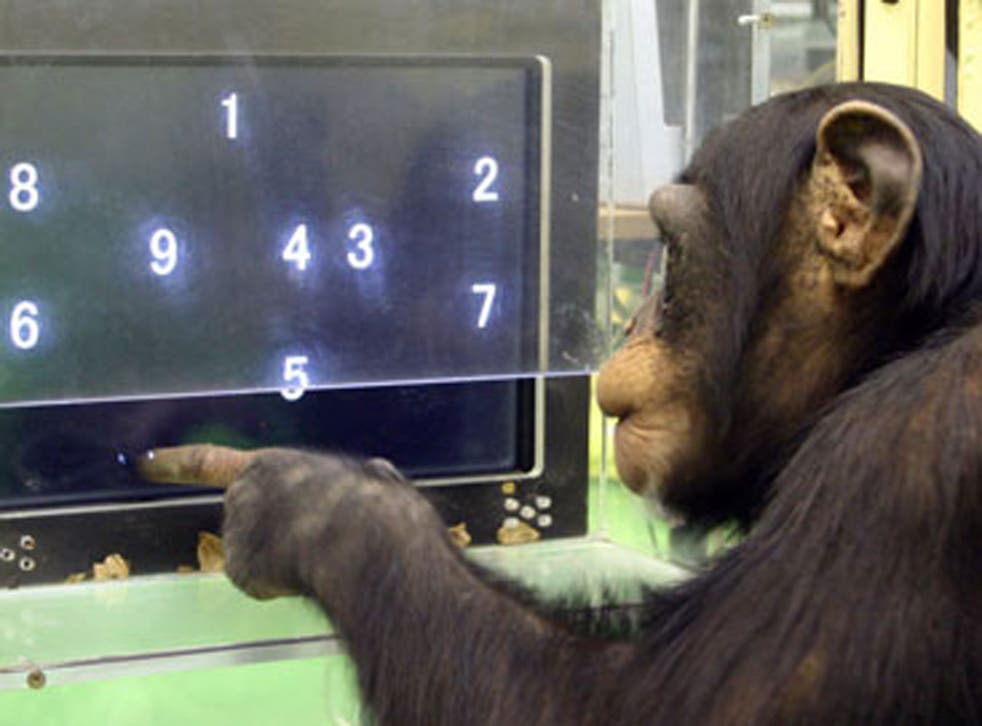 Chimpanzees have a faster working memory than humans according to a remarkable study showing that it takes them a fraction of a second to remember something that it would take several seconds for humans to memorise.
A Japanese scientist has demonstrated the prowess of chimps in remembering in less than half a second the precise position and correct sequence of up to nine numbers on a computer screen.
The numbers are shown together randomly distributed on a computer screen and as soon as the chimps press the number "one" the rest of the numerals are masked. However, they can almost invariably remember where each number was.
It is impossible for people to do the same cognitive task that quickly, said Tetsuro Matsuzawa, a primatologist at Kyoto University. "They have a better working memory than us," he told the American Association for the Advancment of Science meeting in Boston.
Professor Matsuzawa had carried out the memory experiments on a female chimp called Ai, which means "love" in Japanese, and Ayumu, her son who was born in 2000 and has shown even better memory skills, he said.
Professor Matsuzawa suggested that chimps have developed this part of their memory because they live in the "here and now" whereas humans are thinking more about the past and planning for the future.
In the wild they also have to make very quick spatial decisions such as the exact positions in a tree of ripe fruit and the precise location of potential enemies in a rival troupe of chimps, he told The Independent.
Videos of Ayumu and Ai show just how good they are at the task, better than any humans that have tried the same test apart from certain individuals who suffer from Asperger's syndrome.
Register for free to continue reading
Registration is a free and easy way to support our truly independent journalism
By registering, you will also enjoy limited access to Premium articles, exclusive newsletters, commenting, and virtual events with our leading journalists
Already have an account? sign in
Join our new commenting forum
Join thought-provoking conversations, follow other Independent readers and see their replies