Vital embryo research driven out of Britain
Scientists abandon plan to develop stem cells after funding dries up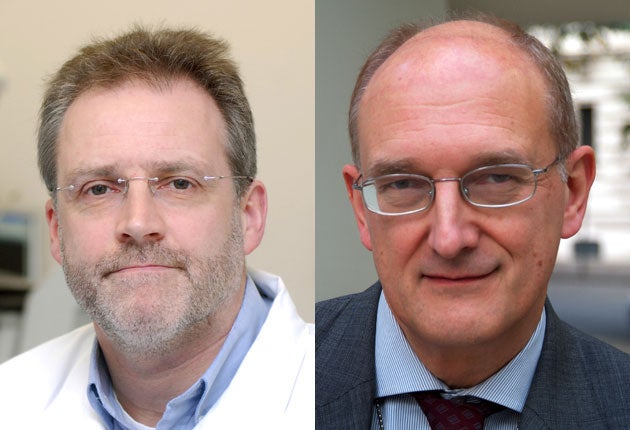 All research involving the controversial creation of animal-human "hybrid" embryos has been refused funding in Britain and one of the three scientists licensed to carry out the work has left the UK for a job in Australia.
Every one of the three projects to develop embryonic stem cells from cloned embryos created by fusing human cells with animal eggs has now been abandoned, after publicly-funded research councils refused to back the studies aimed at developing new treatments for incurable illnesses ranging from heart disease to Parkinson's.
Two of the projects fizzled out earlier this year and the third is now understood to have ended after a funding application was aborted and the research licence issued by the Human Fertilisation and Embryology Authority (HFEA) expired in July without being renewed, The Independent has learned.
The news is a blow to those who lobbied intensively last year for a change to the law that would allow the creation of hybrid embryos for research purposes. The new Human Fertilisation and Embryology Act, which came into force this month, was specifically amended to permit the creation of cloned embryos from human cells mixed with the eggs of either cows, pigs, sheep or other animals.
When the issue was debated in Parliament, many leading scientists, including the heads of the funding councils, warned that it would be a travesty if this kind of research was banned in Britain. It now appears that their own research committees have dismissed the grant applications from all three licence holders as not worth funding.
Although the work was not specifically allowed under the old 1990 Act, it was permitted under licence by the HFEA.
Professor Justin St John of Warwick University, who held one of the three HFEA licences for research involving the cloning of human-animal hybrid embryos, has resigned from his post as head of reproductive biology and is due to fly to Australia today to take up a position at Monash University, which is renowned for its work in the field of embryonic stem cells.
Professor St John refused to answer questions on the reasons for his departure but it is understood he is disillusioned with the funding environment in Britain and the amount of bureaucracy involved in getting ethical approval for this kind of work. In a statement he said: "I am moving to Monash University in Melbourne because it's a world-class university for the study of reproduction, development and stem cells and they have offered me a job."
However, when he was interviewed by The Independent in January just prior to submitting his funding application for creating animal-human hybrid embryos, Professor St John was asked about the refusal to fund the other two hybrid-embryo projects. "Some people will be extremely happy about that," he said.
Asked whether he thought there were people on the funding committees of the research councils who were morally opposed to this work, Professor St John said he had not submitted a funding application at that stage and was not in a position to comment.
"I haven't had back a set of reviewers' comments so I can't make a valued judgement as to whether it's for real scientific reason ... or whether the funding councils just don't want to fund this work," he said.
The heads of the two research councils responsible for funding work into animal-human hybrid embryos reacted angrily this year to suggestions that members of the funding committees morally opposed to this type of work may be influencing a decision on whether it should receive public money.
Sir Leszek Borysiewicz, the chief executive of the Medical Research Council, which turned down one of the three licence holders, said that the peer-review system of assessing funding applications "rules out the possibility of a personal moral view influencing the final outcome of a proposal".
Colin Miles, head of systems biology at the Biotechnology and Biological Sciences Research Council, which turned down another licence holder, said: "Having an HFEA licence to conduct a certain type of research does not automatically entitle researchers to funding. They must still compete for funding based on scientific excellence and strategic impact and the potential of the project to add significantly to the body of knowledge in that area."
The two other HFEA licence holders for research into animal-human hybrid embryos were Professor Stephen Minger of King's College London, who has left the university to work in industry and whose licence has now expired, and Lyle Armstrong of Newcastle University, who created 278 hybrid embryos from human cells and cow eggs before abandoning the work at Newcastle through lack of funds. He now works in Spain.
Professor St John's application was to create lines of embryonic stem cells from hybrid embryos created by fusing the egg cells of pigs with human cells from patients suffering from a disease of the heart muscle. He had already carried out extensive work on generating mouse-pig hybrid embryos, funded by the Medical Research Council.
Last year, leading scientists, politicians and commentators applauded Parliament for passing the Human Fertilisation and Embryology Bill, which was supported by both Gordon Brown and David Cameron and allowed creation of animal-human "admixed" embryos for stem-cell research.
Join our commenting forum
Join thought-provoking conversations, follow other Independent readers and see their replies