Rewilding: Wildcats to be released into Scottish Highlands in effort to restore wild population
Persecution, death due to road traffic and inbreeding with domestic cats means the species is one of the rarest mammals in Britain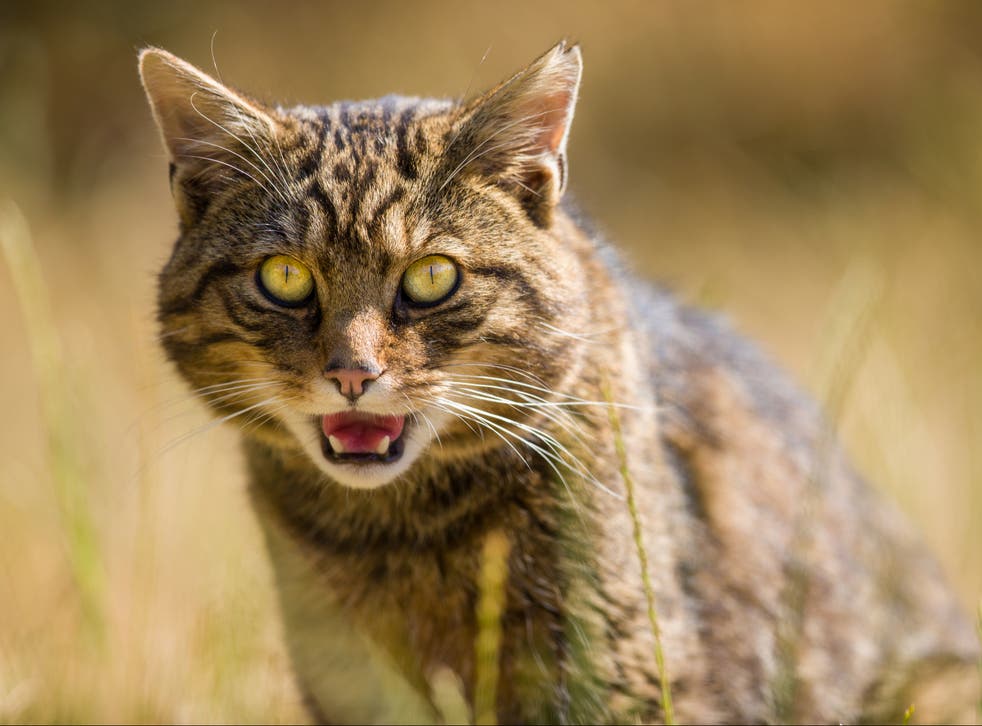 Wildcats were once widespread across Britain, but by the mid 19th century were wiped out across Wales and England with just a few hundred individuals surviving in remote parts of the Scottish Highlands.
With numbers now reduced so much the species faces extinction, a rewilding project to save the animal in Britain is set to release the first of a group of the striking cats into the Cairngorms.
The first of 16 wildcats has arrived at a breeding centre ahead of its release into the wild in what has been described as a "major step" in returning the species to its native range.
A young female cat named Nell has been brought from Alladale Wilderness Reserve in northern Scotland and has "settled well" into the centre, which is not open to the public, but provides breeding space, veterinary care, remote monitoring and training to prepare cats for life in the wild, conservationists said.
It is hoped any kittens she rears will be among the first cats released into the Scottish Highlands next year as part of the Saving Wildcats project to restore the critically endangered species in Scotland.
The European wildcat – the species of wildcat found in Scotland – is on average bigger and stouter than the domestic cat, has longer fur and a shorter non-tapering bushy tail. Though it is a protected species, it faces persecution, as gamekeepers can easily mistake them for feral cats.
Read more:
As well as persecution, numbers of wildcats have declined due to them being hit and killed by car drivers, while steady habitat loss has also had a significant impact on their range.
Another key threat is interbreeding with domestic cats: it is believed there are fewer pure-bred Scottish wildcats than there are tigers in the wild.
David Barclay, Saving Wildcats conservation manager, said: "Saving Wildcats is an incredibly exciting partnership bringing together the necessary resources and expertise to save Scotland's iconic wildcat.
"Nell is the first cat to be introduced into our breeding for release centre at Highland Wildlife Park and she has settled well into her new surroundings.
"A further 15 cats will be arriving at the centre in the coming weeks, giving us a healthy, genetically diverse population to breed from.
"Offspring will then be transferred to larger pre-release enclosures as they mature where they will undergo a dedicated training programme to prepare them for life in the wild."
He added: "We hope the first cats will be ready to be introduced into a site in the Scottish Highlands in 2022."
Register for free to continue reading
Registration is a free and easy way to support our truly independent journalism
By registering, you will also enjoy limited access to Premium articles, exclusive newsletters, commenting, and virtual events with our leading journalists
Already have an account? sign in
Register for free to continue reading
Registration is a free and easy way to support our truly independent journalism
By registering, you will also enjoy limited access to Premium articles, exclusive newsletters, commenting, and virtual events with our leading journalists
Already have an account? sign in
Join our new commenting forum
Join thought-provoking conversations, follow other Independent readers and see their replies