Scott Pruitt: Timeline of the scandal-ridden tenure of resigned EPA chief
Renting a flat from an energy lobbyist and spending $4m on security are just some of the scandals during his nearly 17-month term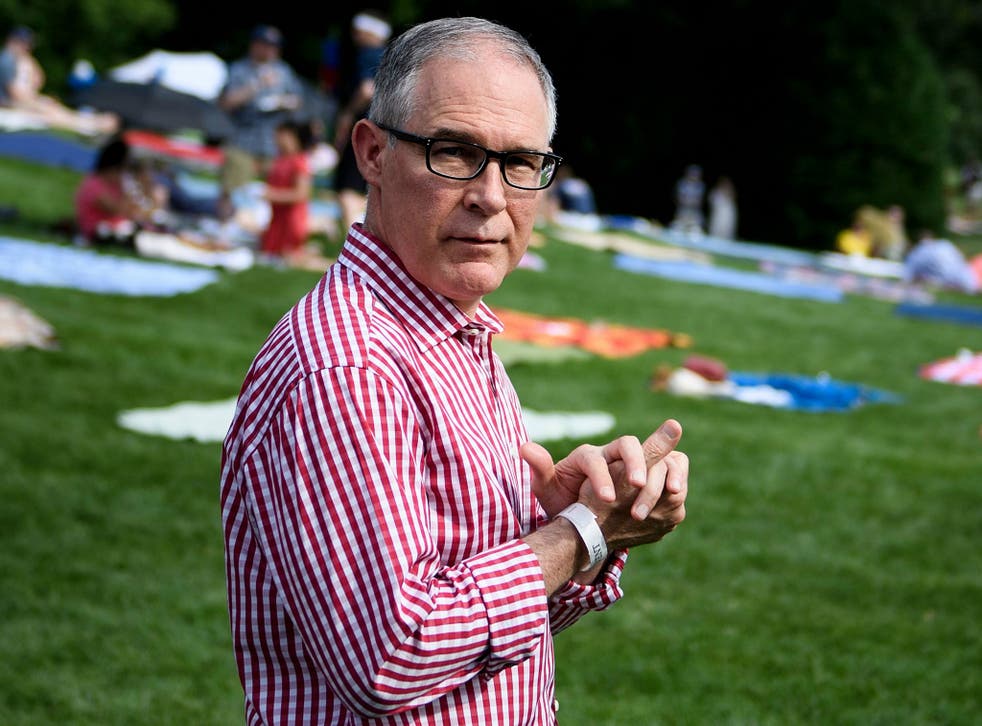 Scott Pruitt has resigned from his post as Environment Protection Agency (EPA) chief, according to a tweet from Donald Trump.
The president said Mr Pruitt had "done an outstanding job, and I will always be thankful to him for this". Andrew Wheeler, his Senate-confirmed deputy and former coal lobbyist, will take over as Acting Administrator.
Mr Pruitt was plagued with scandal throughout his 16-month term in office, but ultimately fulfilled Mr Trump's promise to deregulate the coal and energy sectors and dismantle Barack Obama's climate change legacy by beginning the withdrawal process from the Paris Agreement and rescinding the Clean Power Plan, which would have dramatically cut carbon emissions from power plants.
Mr Pruitt's tenure was nonetheless dogged by accusations that he was misusing public money and the power his office gave him.
Early on in his tenure, Mr Pruitt began renting a flat in Washington DC which was owned by the wife of J Steven Hart, an energy lobbyist who appeared to have business exporting liquefied natural gas.
It was later revealed that Mr Pruitt was paying just $50 per month for the prime real estate.
On 29 March 2017, Mr Pruitt's security detail broke down the door of that flat, believing the administrator had been unconscious and unresponsive inside, ABC News reported. It remains unclear what prompted the panic since an official police report had never been filed, but the EPA reimbursed Mr Hart's wife nearly $2,500 for the door.
Scott Pruitt confrontation at a restaurant 'I urge you to resign'
Two scientists resigned from a consulting committee to the agency on 12 May and they told The Independent at the time that Mr Pruitt's open political bias to favour the coal and oil/gas sectors was counter to the purpose of their work.
"I can't be a future prop for bad science," one said.
On 15 May 2017, Mr Pruitt made one of his first decisions at the EPA - to reverse a ban on the pesticide chlorpyrifos.
Several farmers subsequently got sick from exposure to the previously banned chemical.
It also emerged that Mr Pruitt lied about speaking to the manufacturers of chlorpyrifos - Dow Chemical - before making the decision to reverse the ban.
On 24 July of last year it was revealed that Mr Pruitt took personal trips home to Oklahoma but he filed for a reimbursement for the expenses from taxpayer money as if it was official EPA business.
A particularly embarrassing day for Mr Pruitt occurred on 28 September 2017 when several news reports were published regarding his spending on US taxpayer money.
EPA Chief Scott Pruitt suggests global warming could be good for humans
The administrator's travel is found to be nearly $60,000 (£45,000) in excess of what was necessary as he took private charter and military flights when commercial flights would have sufficed.
This was also the day when the first rumblings about Mr Pruitt's vast security detail were heard - his predecessors Gina McCarthy and Lisa Jackson had scant security teams in comparison. The agency head had been taking agents from the EPA's enforcement division to add to his personal protection rotation.
Among other expenditures, it was revealed the EPA spent $43,000 (£32,500) on a "cone of silence" in the form of a soundproof booth around Mr Pruitt's Washington DC office in order to prevent leaks and eavesdropping.
On 16 December 2017, Mr Pruitt hired the Definers Public Affairs firm for $120,000 (97,000) to assist with media affairs. Allan Blustein, an executive of that contractor, spent his time investigating EPA employees - not political appointees - who were perceived to be anti-Trump.
Then in April, Mr Pruitt's staff reportedly researched if he could purchase a private jet subscription with public funds. He also spends taxpayer money on first-class tickets for official travel due to "security concerns" like verbal threats from environmental advocates.
The following month Mr Pruitt's staff barred journalists from entering a public meeting on contaminated drinking water though one meeting attendee told The Independent there was space in the room.
10 photographs to show to anyone who doesn't believe in climate change

Show all 10
Last month, as a result of forced testimony in front of Congress, it was revealed Mr Pruitt spent $4m (£3m) on his security detail, which had been in place since his first day in office and not the result of a "threat assessment" as he had claimed.
Other expenses outlined in spending documents obtained through a Freedom of Information Act request, was the nearly $3,000 (£2,264) Mr Pruitt spent on "tactical polos" and "tactical pants".
He also spent $88,603 (£66,902) on radios and accessories such as travel chargers and gun holsters, according to The Intercept, which first reported on the issue.
While some Republicans had argued over the months that Mr Pruitt's time at the helm helped trim the fat of the EPA in terms of staff cutbacks and not replacing retiring government workers, his headlines may have been seen as an unnecessary distraction for the White House and Mr Trump.
Register for free to continue reading
Registration is a free and easy way to support our truly independent journalism
By registering, you will also enjoy limited access to Premium articles, exclusive newsletters, commenting, and virtual events with our leading journalists
Already have an account? sign in
Register for free to continue reading
Registration is a free and easy way to support our truly independent journalism
By registering, you will also enjoy limited access to Premium articles, exclusive newsletters, commenting, and virtual events with our leading journalists
Already have an account? sign in
Join our new commenting forum
Join thought-provoking conversations, follow other Independent readers and see their replies