The Independent's journalism is supported by our readers. When you purchase through links on our site, we may earn commission.
Solar panel CEO blames Trump tariff for layoffs
The company expects losses of up to $50m this year alone 
Mythili Sampathkumar
New York
Thursday 01 March 2018 01:54 Comments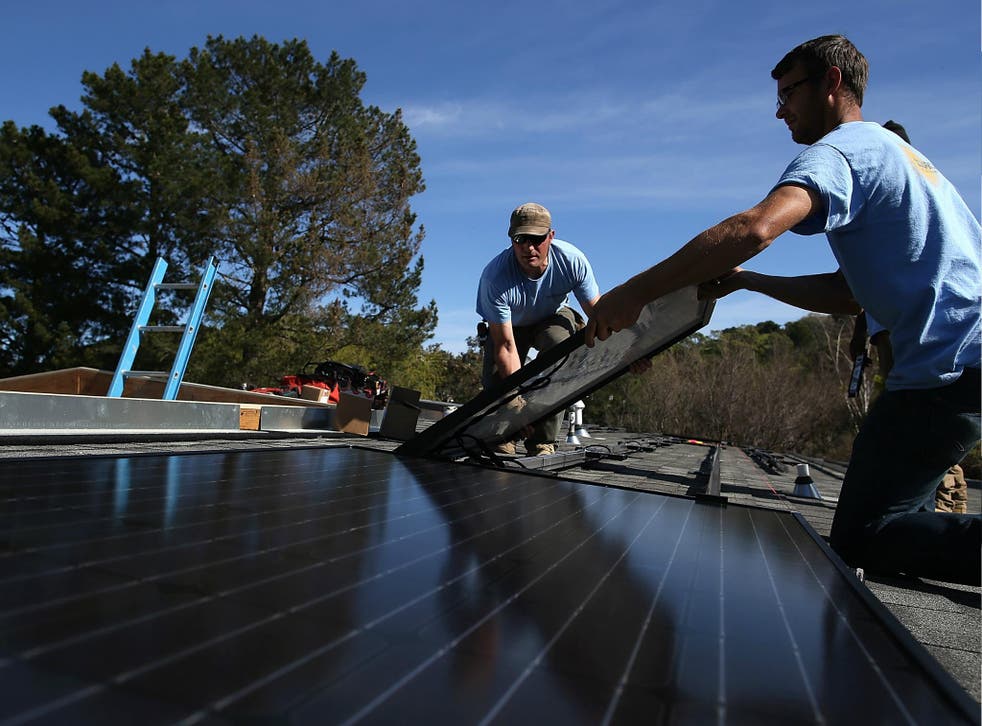 US President Donald Trump's tariff on imported solar panels has caused one American company to sack hundreds of its workers, according to its CEO.
Tom Werner of SunPower said the company has started the process to let go 150 to 250 people due to an expected loss of $50m this year alone due to the 30 per cent tariffs.
The publicly traded company will ultimately be able to save 10 per cent in operational costs through the cuts, Mr Werner told The Hill newspaper.
Mr Trump approved the tariff in January 2018 executive order, claiming: "You're going to have people getting jobs again and we're going to make our own product again. It's been a long time".
The problem: only 14 per cent of the 260,000 people who spend "a majority of their time on solar projects" are in panel manufacturing - most are involved in the installation of panels and associated products and services, according to the New York Times.
The tariff is designed to help US manufacturers of solar panels to compete with lower-priced Chinese imports.
The tariff angered the $28b solar power industry in the US, which gets about 80 per cent of its products through imports.
An entire island is being powered by solar energy
Mr Werner said he feared future losses for the San Jose, California-based SunPower would be closer to $100m because of the tariffs.
SunPower also announced it would have to stop a $20m investment that would have created new jobs in the US through factory expansions.
Mr Werner and others are holding out hope for a tariff exemption. He said he attended several meetings with the Department of Commerce, Department of Energy, and US Trade Representative on the matter.
Though optimistic about the waiver, Mr Werner said in the event that SunPower does not qualify: "We'll have to cut costs even more, we just don't have the money. A cursory review of our balance sheet would see there is not sufficient money which would mean decreased American investment — we'd focus on foreign markets where we don't have to pay a tariff".
World news in pictures

Show all 50
Companies will only be notified of the waiver exemption on 16 April at the earliest, but it could take longer for the government to make their assessment.
Eugene Wilkie, the owner of a solar installation company in Washington state, wrote a series of tweets on the tariff.
He said in one tweet: "The solar industry employs the kind of "forgotten" Americans whom Trump champions: small contractors who employ blue-collar workers earning a median of $26 an hour; one in 10 are veterans."
Over the next five years, the new tariffs are projected to reduce US solar installation growth by 10 to 15 per cent, research firm Wood Mackenzie calculated.
Ironically, the request for the high tariff came from two solar energy companies - Suniva and SolarWorld - which are majority Chinese-owned and a German company's subsidiary, respectively. They told the US Trade representative they could not compete with foreign-produced prices.
China, as the world's largest producer of solar panels, has said the tariff is an "overreaction."
"The [US] decision ... is an abuse of trade remedy measures, and China expresses strong dissatisfaction regarding this," Wang Hejun, the head of the commerce ministry's Trade Remedy and Investigation Bureau, said in a statement
Register for free to continue reading
Registration is a free and easy way to support our truly independent journalism
By registering, you will also enjoy limited access to Premium articles, exclusive newsletters, commenting, and virtual events with our leading journalists
Already have an account? sign in
Join our new commenting forum
Join thought-provoking conversations, follow other Independent readers and see their replies