School built for Syrian refugee children wins top architecture prize
Building was made using Superadobe techniques seen in traditional structures such as Mali's Great Mosque of Djenne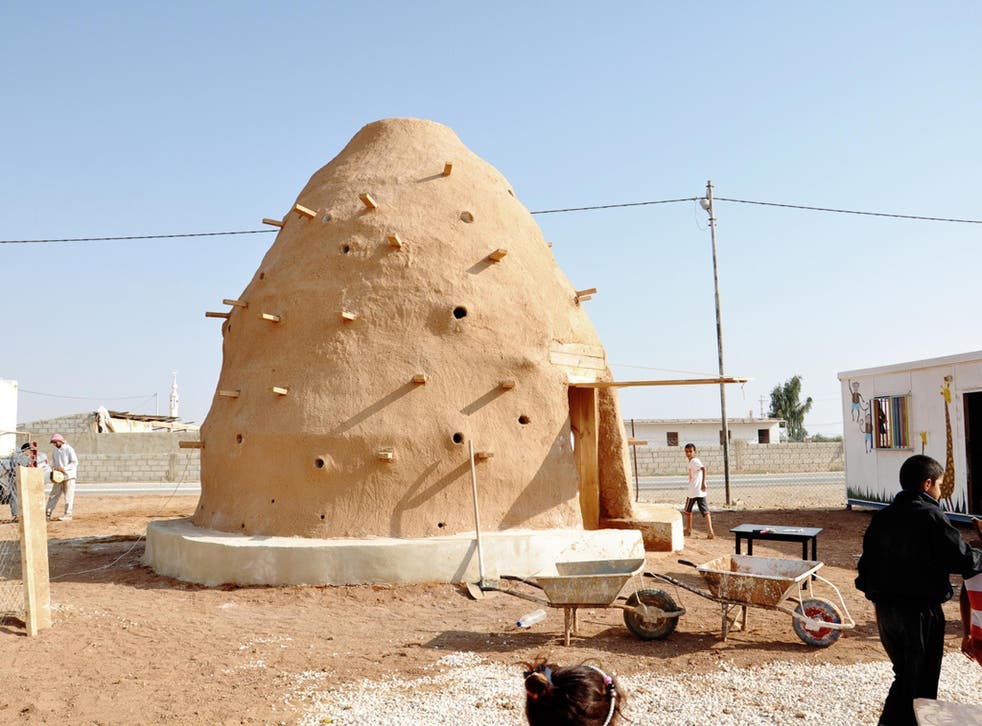 The 100 schools for Refugee Children, a project launched by NGO Emergency Architecture and Human Rights (EAHR), has won a top architecture prize for its imaginative design and focus on bringing education back to a whole generation of Syrian refugees.
The school made from sandbags is located in the Zaatari refugee camp in Jordan, close to the Syrian border – despite its initially temporary nature the camp has grown into a permanent settlement for many fleeing conflict. Children living in camps such as Zaatari have little access to social security, sanitation and educational facilities.
Unicef has warned of a potential "lost generation" of Syrian refugees who have lost out on access to education and will lack the skills one day needed to rebuild their country. The United Nations has estimated 4.3 million are not going to school, with 730,000 of these living in refugee settlements outside of Syria.
"When we visited Jordan in 2014, we realised that most of the problems related to education are outside and not inside the camps. Because they do not attract as many international NGOs and visibility, host communities are in dire need of assistance, especially in terms of number and quality of schools," EAHR director Michele di Marco told The Jordan Times.
School for Refugees – Zaatari, Jordan

Show all 12
EAHR are aiming to build 100 schools and football fields in the camp and others surrounding Syria, School 01 was made in collaboration with local Jordanian NGO, Acting for Change Jordan and required the extension of an existing school to provide access to a higher number of students. EAHR have said the school will be used by children in the mornings and by adult refugees in the afternoon to learn reading and writing skills.
The design process began by consulting refugees and locals living in the area, whom EAHR said: "Knew more about what they needed than an NGO could." The need for a low-cost way of building community buildings was at the top of the agenda – as well as structures that could withstand the harsh conditions seen in the desert.
"In their situation, refugees need simple, fast, low cost and sustainable solutions, which is what we are providing with these classrooms," said Mr Di Marco.
The technique the project chose was one familiar to many Syrians, choosing a combination of the Superadobe technique – a Nasa and UN approved home building method which uses filled sandbags and barbed wire and traditional beehive vernacular techniques seen in Africa and the Middle East, similar to the techniques used to construct the Great Mosque of Djenne in Mali.
The Superadobe design, the brainchild of Iranian architect Nader Khalili, ensures structures retain up to 5C of heat in the winter and are 7C cooler than outside in the summer months.
"Due to the limited choice of building methods and materials, as well as the harsh environment characterised by hot summers and cold winters, the beehive style was the best solution," said the team. "This kind of building technique does not require high-tensile-strength reinforcements and can be built quickly with unskilled labour while performing better than tents, cement blocks and corrugated metal sheets in terms of thermal insulation".
Rammed-earth structures are present in many Syrian cities, meaning refugee labourers are familiar with the building techniques."Most of these people used to work with these materials back in Homs, so they know how to handle them. They just needed a bit of professional help with the typology and the building technique," Mr Di Marco explained.
Um Sultan, a 98-year-old refugee living in Zaatari recalls the resistant nature of beehive buildings, from experience at his home back in Syria, "I used to make the plaster for our house every year. We used mainly soil and water, then mixed it with straw. Straw makes the structure more resistant, especially when it rains".
The success of the project, now nicknamed "the dome" by local residents, has attracted attention from many in the architecture world, winning top prize at the XX Architecture Urbanism Biennial in Chile and the award of Small Structure Building of the Year bestowed by ArchDaily.
EAHR now hope to expand the project into other refugee camps across Jordan.
For more information or to adopt a classroom, head to ea-hr.org.
Join our new commenting forum
Join thought-provoking conversations, follow other Independent readers and see their replies