Syrian war: Ceasefire has 'failed and has ended', say besieged anti-Assad rebels
Seven-day cessation of hostilities expired at midnight on Sunday and has not been renewed 
Monday 19 September 2016 15:01 Comments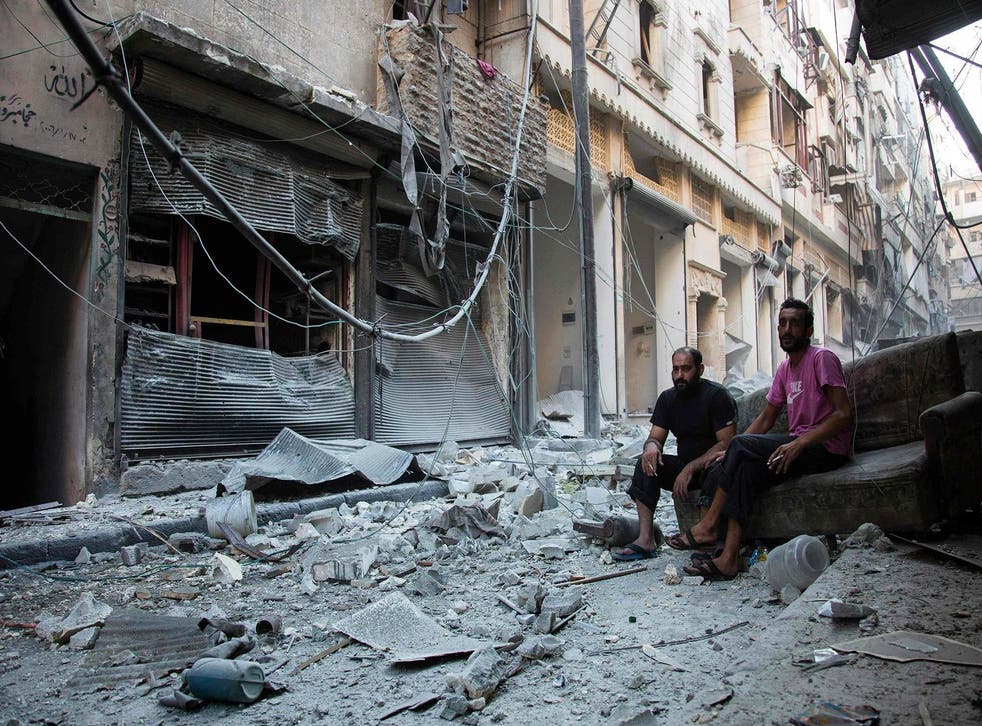 The US and Russian brokered ceasefire in the Syrian civil war has "practically failed and has ended," a Syrian rebel official has said.
Zakaria Malahifji, head of the political office of the Aleppo-based group Fastaqim, told Reuters on Monday that there was "no hope" that promised aid would be delivered to besieged east Aleppo, as per the terms of the truce.
A UN aid convoy has been languishing on the Turkish-Syrian border for six days, unable to proceed without permission papers from the Syrian government.
UN officials, aid groups, and representatives of the US and Russian governments all expressed frustration that the trucks carrying food and medicines have not reached the approximately 275,000 people in need in Aleppo.
Speaking to Reuters from the Turkish city of Gaziantep, Mr Malahifji said he did not expect the vital deliveries to get through.
"There is no hope. It has been a number of days of procrastination. Every day there is a pretext," he said. "There is no hope of aid being delivered currently."
Mr Malahifji added that he believed rebel factions in the city were gearing up for renewed military action.
Gov. Gary Johnson does not know what Aleppo is
The week-long ceasefire was supposed to alleviate suffering in besieged east Aleppo by opening humanitarian corridors into the city, and lead to a marked reduction in violence. Monitoring groups report it mostly held up, although a rebel-held neighbourhood was hit by an airstrike on Sunday.
If successful, the ceasefire was supposed to lead to unprecedented talks between Russia and the US on co-ordinated airstrikes against extremist groups Isis and Jabhat Fatah al-Sham, the al-Qaeda affiliate previously called al-Nusra.
However, the agreement expired at midnight on Sunday, and the US and Russia are now at loggerheads over a US-coalition led airstrike aimed at Isis militants that hit a Syrian army base over the weekend.
The incident provoked Russia, a long standing ally of President Bashar al-Assad's government, into calling for an emergency United Nations council meeting on Saturday, where Russian Ambassador Vitaly Churkin said the attack put a "very big question mark" over the future of the ceasefire.
Register for free to continue reading
Registration is a free and easy way to support our truly independent journalism
By registering, you will also enjoy limited access to Premium articles, exclusive newsletters, commenting, and virtual events with our leading journalists
Already have an account? sign in
Join our new commenting forum
Join thought-provoking conversations, follow other Independent readers and see their replies