Tesco apologises after shopper says he was thrown out of store for being too fat
'I'll admit I'm carrying a few extra pounds but that's no reason to discriminate against me'
Yasmin Harisha
Sunday 12 August 2018 11:44 Comments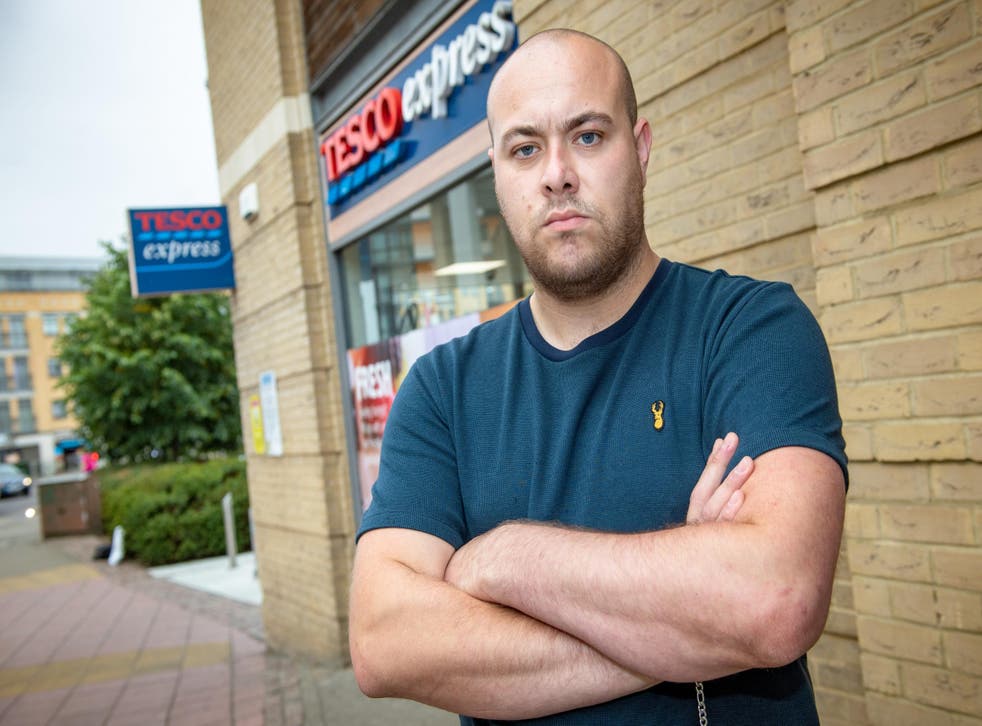 A customer claims he was thrown out of Tesco for being overweight – after going to buy an ice cream without a shirt on.
Matthew Brackley, 27, says he was "manhandled" out of the supermarket by a security guard who verbally assaulted him.
He believes the only reason he was ordered to leave was because of his weight – as a slimmer shopper in the store at the time was not asked to leave.
Mr Brackley said: "It's disgraceful. It was about 33C and I had my T-shirt off. There's nothing wrong with that, it's not a crime.
"I'll admit I'm carrying a few extra pounds but that's no reason to discriminate against me.
"I have problems with my body and weight and I overcame my fear [of walking around without a top on].
"I should be able to walk with my top off, there's no law you can't have your top off.
"All I wanted to do is get an ice cream on a hot day."
Mr Brackley said he was "minding his own business" when he visited the Tesco Express store in Cambridge last week.
He says the security guard walked over to him and began to shout at him.
"The security guard came over to me and was very rude to me, he just started saying 'get out the shop'," said Mr Brackley.
"At this point I didn't know what I had done and I was confused.
UK news in pictures

Show all 50
"I asked him what I did wrong and he couldn't answer, he just said can you leave the shop.
"It's not as if I went in and jumped all over the food. I wanted an ice cream and was going right back out.
"So I went back in because I thought I hadn't done anything wrong and then the security guard got in my face and got spit all over my face – I slowly pushed him to say 'get out my face'."
Mr Brackley also claims that he had to act in self defence because the security guard got uncomfortably close to his face which meant he had to "gently" push him to the side.
However, there was at least one other topless shopper in the store at the time, who had "muscles and looked fit".
Since the incident, Tesco has apologised to Mr Brackley and offered him compensation.
But Mr Brackley wants to see the security guard undergo further training to avoid incidents like this happening in the future.
He said: "I am speaking out about this because I don't want it to happen to anyone else.
"It's a matter of principle and people shouldn't be treated differently over their weight.
"If this man works with the public, he needs to know how to behave appropriately around them."
A spokesman for Tesco said: "We have fully investigated this incident with the guard's employer TSS and have concluded that no further steps need to be taken."
SWNS
Register for free to continue reading
Registration is a free and easy way to support our truly independent journalism
By registering, you will also enjoy limited access to Premium articles, exclusive newsletters, commenting, and virtual events with our leading journalists
Already have an account? sign in
Join our new commenting forum
Join thought-provoking conversations, follow other Independent readers and see their replies