Would a Texas law take away workers' water breaks? A closer look at House Bill 2127
Opponents of a sweeping Texas bill blocking local governments from enforcing their laws say it would deprive workers of water breaks during a historic heat wave, among other dangers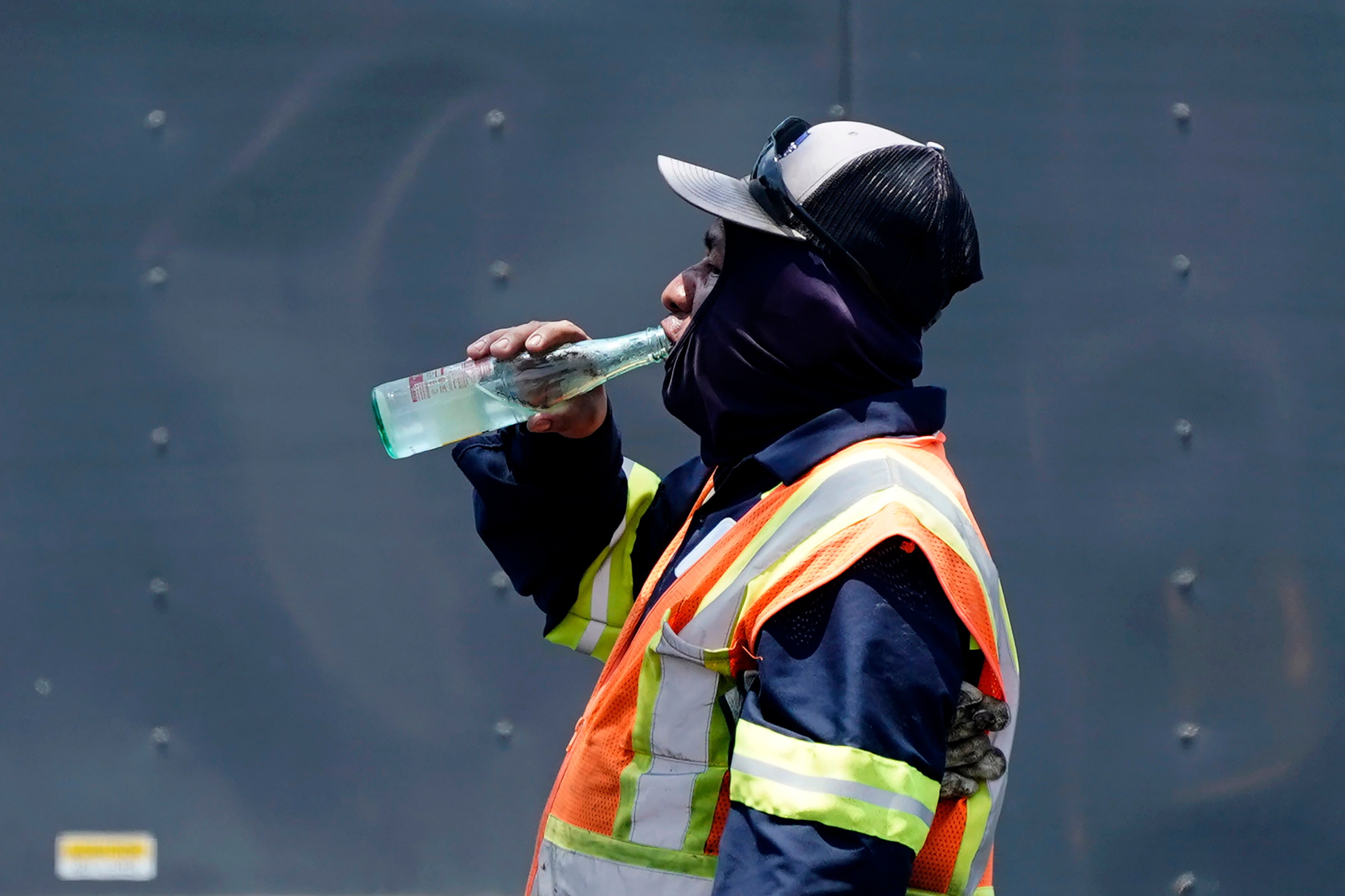 As unrelenting heat set in across Texas this summer, opponents of a sweeping new law targeting local regulations took to the airwaves and internet with an alarming message: outdoor workers would be banned from taking water breaks.
Workers would die, experts and advocates said, with high temperatures topping 100 degrees Fahrenheit (38 degrees Celsius) and staying there for much of the past two months.
But a closer look at the law, and the local ordinances requiring water breaks, reveals a more complicated picture.
At least one political analyst said the dispute is less about worker protection and more about politics, as conservative Republicans and progressive Democrats battle for control of local governments.
House Bill 2127, passed by the Republican-dominated Legislature in April and set to take effect Sept. 1, blocks local governments from enforcing legislation clashing with existing state law. Cities and counties would be required to demonstrate that their policies are in compliance.
Proponents say it will help Texas to live up to its pro-business reputation by eliminating red tape created by a slew of ordinances that may differ city-by-city.
"This legislation will streamline regulations so Texas job creators can have certainty," said Republican state Sen. Brandon Creighton, a co-sponsor of the bill.
Democrats, in contrast, have nicknamed the bill the "Death Star" for the breadth of its potential impact on a wide array of ordinances regulating natural resources, agriculture and labor. Houston and San Antonio are suing to block it.
The law's opponents have particularly homed in on the fact it does not expressly mandate water breaks for outside workers. That has struck a chord during a summer when the state and other areas of the U.S. are baking under historically high temperatures.
"The water break narrative is ... especially compelling as Texas experiences a heat wave," said Mark Jones, of Rice University's Baker Institute for Public Policy.
But, he added, there is no evidence that most employers don't already provide water breaks, and it's not clear cities with such regulations even enforce them.
"The narrative that somehow the Republican Legislature is going to prohibit workers from being able to take water breaks is not accurate," he said.
David Chincanchan begs to differ. The policy director of the Workers Defense Project, a nonprofit statewide organization advocating for migrant workers' rights, said Austin and Dallas have "clear enforcement mechanisms" and penalties for failing to meet water break requirements.
Republican legislators intended specifically to eliminate water breaks, adding language to that effect to later versions of their bill, he said.
"It can't be called an unintentional consequence when they knew exactly what would happen and refused every opportunity to prevent it from happening," Chincanchan said.
Jones said the bill is more about politics than policies. He noted the loudest opposition has come from cities where progressive Democrats are in control and said the bill is designed to take autonomy from those cities.
"This is part of the growing tension between the blue cities and counties in the major urban areas and the Republican-controlled state government," he said.
Leaders of the Texas AFL-CIO, a labor federation of 240,000 union members in the state, acknowledge most employers already provide more water breaks than what is required by ordinances in Dallas and Austin, according to spokesperson Ed Sills. He has not seen local enforcement of water breaks.
But minimal standards are still important on "an issue of life or death," Sills said.
"If a law is on the books, it still influences behavior," he said, adding that some of the other targeted ordinances deal with tenant rights, predatory lending and excessive noise.
Workers Defense Project spokesperson Christine Bolaños agrees. She said employers in Texas cities with water break requirements often provide more breaks than those in cities without them.
Bolaños, who has spoken with workers about their heat illnesses, added that Spanish-speaking and migrant construction workers can be especially vulnerable because language barriers may prevent them from fighting for their rights or joining a union that could protect them. As a result, she said, their experiences with heat illness are more likely to go undocumented.
The absence of a specific regulation mandating rehydration work pauses wouldn't mean all supervisors give fewer breaks, Bolaños said.
"But it will be on a case-by-case basis and that floor of protection will no longer be in place," Bolaños said. "Construction workers are now going to be left at the mercy of the level of morality of their employers."
Statistics show heat can kill. There have been at least 436 work-related deaths from environmental heat exposure in the U.S. from 2011-2021, according to U.S. Bureau of Labor Statistics data.
With legal challenges pending, the full effect of the bill is untested for now.
That could take years, said Ryan Marquez, a clinical associate professor at the University of House Law Center.
"This bill is broad," Marquez said. "It's hard to say exactly how far it will go."
___
The Associated Press receives support from several private foundations to enhance its explanatory coverage of elections and democracy. See more about AP's democracy initiative here. The AP is solely responsible for all content.