Calais 'Jungle' like 'Lord of the Flies', with more than a thousand children in container compound, claim volunteers
Exclusive: Children are struggling to survive in difficult and dangerous conditions, volunteers told The Independent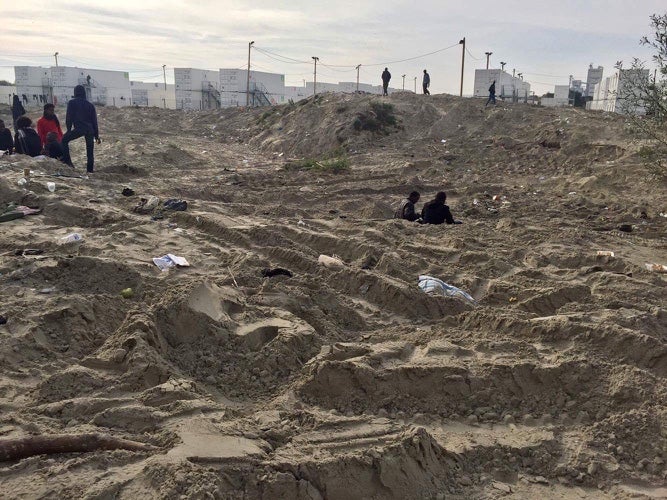 The Calais Jungle has become like Lord of the Flies, with 1,500 children left unsupervised, sleeping in bare containers and free to roam the adjacent camp site, close to heavy machinery being used to dismantle and remove the wreckage, volunteers have told The Independent.
Taps supplying drinking water to the compound have been turned off, and food for the young refugees, who are mostly boys aged between 10 and 17, is not being supplied by the authorities, aid organisations claim.
Nobody is allegedly allowed inside the containers except for a handful of security guards, raising serious concerns about the safety of the Jungle's most vulnerable occupants.
Calais 'Jungle' exodus: Charity boss likens refugee treatment to Nazi persecution
A small group of volunteers from three tiny charities told The Independent they are working "round the clock" to distribute bottled water, food, and blankets to the children, in a bid to support them. The task is extremely difficult, they said, because the organisations have only been given about 20 passes between them permitting access to the razed Jungle site.
Members of the grassroots aid organisations Refugee Community Kitchen, Calais Kitchens, and Little Ashram Kitchen, said they have had to distribute supplies from the roadside by the fenced-off compound. Only French officials can access the restricted container site, volunteers said, but they have not been present on a day-to-day basis.
Volunteer Steve Bedlam told The Independent: "They've left them with no support whatsoever. They've just left these 1,500 kids since Friday and gone."
No official organisations are distributing water, Mr Bedlam said, leaving the three volunteer-run organisations sending in thousands of litres everyday. Food is also extremely limited.
"There's running water in the toilets, but the sinks have been turned off," Mr Bedlam said. "This has been confirmed by several of the kids. When we bring water in a truck it goes crazy. People are grabbing at it, like they want to get six bottles."
A French organisation was supplying one hot meal a day, Mr Bedlam said, but it was not nearly enough food for a teenage boy, leaving the camp occupants reliant on volunteers.
Many of the children also had no blankets or shoes, he said, and some unregistered refugees are still sleeping outside in the "freezing cold". Another volunteer told The Independent she believes there are 12 children in each container, and she said one boy told her he had slept on a table.
In the past, Mr Bedlam said, the food charities were supplementing camp infrastructure; many people were able to cook for themselves, and there were restaurants. Now, there is no infrastructure left, putting an enormous strain on a small group of people.
"The volunteers are hard hit on this as well, it's taking its toll," he said. "When the jungle was full with all the resources it had there – all the community centres, the mosques, the churches, the schools – there were a lot more people there to give support: elders, women, families, they were all there to give support to these people. Now there's no one there. It's doubled our workload. We've never put so much food out; three meals a day to 1,500 people, it's a tough call."
He said the kitchens had been staying from 7am until 11pm at night. Volunteers have now decided to try and have a presence outside the compound at all times, because they are concerned about the safety of the children.
"From the point we leave onwards there's nobody there apart from security and police," Mr Bedlam said. "We're trying with the other volunteer groups that are out here to have people there round the clock, just as observers to make sure the kids don't leave because they are more vulnerable when they leave than if they stay."
He added: "We're trying to keep them there until some authorities can come along and make some proper decisions and do something."
Mr Bedlam said he was also concerned media reports the camp had been cleared, based on misleading statements made by French authorities earlier in the week, could cause donations to volunteer groups to dry up.
"Last time there was an eviction, the press said it was over, and our donations dropped off," he said, "but it's not over, the most vulnerable are still here."
In addition to food and water, volunteers are trying to provide emotional and practical support to the stranded refugee children, who have not been provided with youth workers.
"The questions we're getting from the kids when we're serving food are things like 'when am I going to England?', 'when are the buses coming?, 'I need phone credit to call my mum', 'how can I contact my family in the UK?', 'have you got any blankets?', 'have you got any shoes or socks?'," Mr Bedlam said. "I mean it's the most basic needs, but we just don't have the answers. When it comes to knowing whether or not they're going to get any help from the authorities we just have to say 'we're sorry, we don't know'."
Mr Bedlam added that during the daytime, children are "running around all over the burnt out Jungle".
"It's dangerous," he said. "You've just literally got 1,500 kids going in and out, wandering around as much as they want. There's no control, no one stopping them leaving. Thank god for volunteers or it would literally be 1,500 kids sitting in a bombsite."
Cecelia Bittner, from Calais Kitchens, agreed. She told The Independent on the telephone from a hospital in Calais, where she had taken an unaccompanied teenage boy to seek medical care: "They have bikes and they're all zipping around. It's kind of like Lord of the Flies right now.
"No one is allowed in the containers. As far as we can tell they have some security guards, but there are virtually no adults around apart from us."
She said there is a serious lack of information surrounding the situation: "To be honest there's really very little communication. We have a lot of people working on trying to find out what's going on, but we really don't know. There's apparently some political system going on, but we have no idea what it is."
Like Mr Bedlam, Ms Bittner emphasised the need to keep the children occupied. She said teams of volunteers had set up football matches and helped them top up their phones.
"There are groups like the Refugee Youth Service who have been working tirelessy to protect these kids, because they are super vulnerable right now," she said.
"If you want to know where the government presence is," she added, "it is giant vehicles and machines destroying the Jungle all around the kids. That's why we're really trying to keep the kids occupied and keep them where it's safer, because otherwise they're all just riding their bikes around where these huge machines are."
Little Ashram Kitchen said in a statement on Facebook: "The idea that these children are being adequately provided for, simply because they (or at least most of them) have received accommodation, is false.
"They have, once again, lost their communities and homes and social spaces and schools. They have been given misinformation, and are currently without adequate care, many without any idea what will happen to them next. They are now without the accountability and guidance provided by older community members, and are perhaps more vulnerable than ever.
"There is so much frustration and uncertainty and boredom. This leads to tension and fighting. The only consistent adult presences provided by the state are the CRS (the French riot police) and the CAP security. This cannot be."
On Saturday, President Francois Hollande said Britain should help by taking more children.
A Home Office spokesperson said: "[The Home Secretary] reaffirmed the UK's commitment to working with the French to make sure all minors eligible to come to the UK continue to be transferred as quickly as possible.
"Any child either not eligible or not in the secure area of the camp should be cared for and safeguarded by the French authorities. We understand specialist facilities have been made available elsewhere in France to ensure this happens."
Mr Bedlam said volunteers had heard rumours since Friday that buses were coming to collect the children, but so far they had not arrived.
"I'm sure someone will come and someone will sort this out, but the crazy thing is that they've left it so far with nobody there," he said. "Anything could have happened to these kids."
He said he felt the eviction and demolition of the camp had been a relative success, until the end. "On this last bit they've failed miserably," he said. "To leave behind 1,500 young men and children with no support whatsoever, I don't get that."
He added: "I think the British Government and the French government are having a bit of a tit-for-tat at the moment."
"The French government are basically leaving these kids and going 'we've done our bit, come on do your bit'. But they're messing with kids' lives. It's not fair. They're pawns in a political game."
Join our commenting forum
Join thought-provoking conversations, follow other Independent readers and see their replies