The things that Anne was really frank about
Love, sex, parents and being Jewish...
Tuesday 22 October 1996 00:02 BST
Comments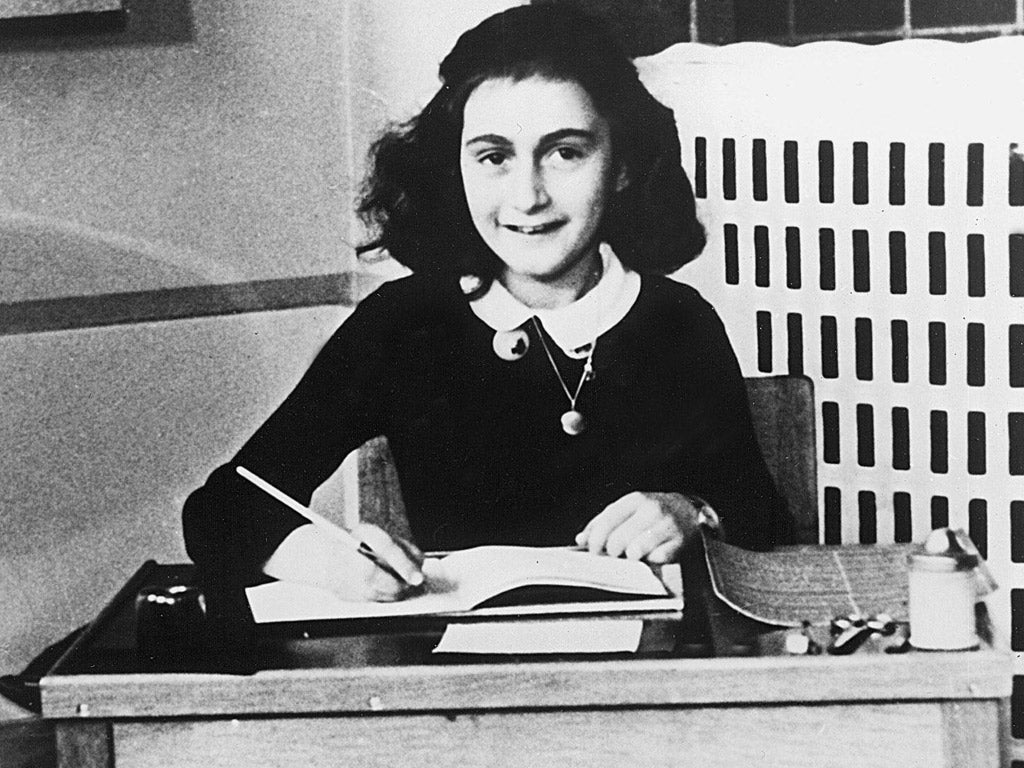 The public is to be given its first chance to read the unedited version of Anne Frank's diary in a move by her cousin to halt her "canonisation" in the eyes of the world.
The definitive new translation restoring her most outspoken remarks and diary entries - censored by Anne's father, Otto Frank, before it was published in 1947 - will be printed by Viking in the UK next February.
The unexpurgated version, previously only available in a critical edition studded by footnotes and read by academics, is 30 per cent longer than the old edition which has sold more than 25 million copies worldwide.
It reveals Anne's frank comments about her family's helpers in hiding, thoughts on her burgeoning sexuality, and angriest outbursts against her fellow residents in the "Secret Annexe".
Buddy Elias, 71, Anne's cousin and the president of Basle-based Anne Frank Foundation, told The Independent that the public should know the truth about the Jewish teenager forced to hide for two years in the annexe to an Amsterdam warehouse during the Second World War.
"I'm sure they will gain a different impression of Anne," he said of the new edition. "It's really her. It shows her in a truer light, not as a saint, but as a girl like every other girl. She was nothing, actually; people try to make a saint out of her and glorify her. That she was not. She was an ordinary, normal girl with a talent for writing."
It was 9 July 1942 when the 13-year-old Anne went into hiding with her parents and older sister, Margot, the van Pels family, father, mother and son Peter - called the van Daans by Anne - and Fritz Pfeffer, an irritable dentist whom Anne christened Alfred Dussel.
The new Diary presents a less forgiving author. "Father has a friend, a man in his mid-seventies, who's sick, poor and deaf as a post. At his side, like a useless appendage, is his wife, 27 years younger and equally poor, whose arms and legs are loaded with real and fake bracelets and rings," she wrote in a restored entry for September 1942.
The following month she remarked irritably: "Everybody teased me quite a bit yesterday because I lay down on the bed next to Mr van Daan. `At your age!' `Shocking!' and other remarks along those lines. Silly, of course. I'd never want to sleep with Mr van Daan the way they mean."
A November entry about her impending period was seen as too shocking to print in the 1940s. "PS. I forgot to mention the important news that I'm probably going to get my period soon. I can tell because I keep finding a whitish smear in my panties."
In January 1943, Anne reported a confidential chat with Peter van Pels, with whom she was falling in love. " `Peter, the German word Geschlechtsteil means `sexual organ' doesn't it? But then the male and female ones have different names.' `I know that.' "The female one is a vagina, that I know, but I don't know what it's called in males.' `Hmm.' `Oh, well,' I said. `How are we supposed to know these words?' "
The following month she wrote about another talk with Peter. "He said he'd never be able to feel like a Christian, but that after the war he'd make sure nobody knew he was Jewish. I felt a momentary pang. It's such a shame he still has a touch of dishonesty in him."
With understandable vanity, Mr Frank also censored a comment about himself. "All those cute nicknames seem so affected," Anne wrote of her parents in March 1944, "and Father's fondness for talking about farting and going to the lavatory is disgusting."
Anne was open-minded about sex, but her father felt the morality of the day would not tolerate her views.
He removed a comment she also made in March. "It's not wrong for a man to bring a little experience to marriage. After all, it has nothing to do with the marriage itself, does it?"
Her frank remarks about her body were also seen as too shocking. "Until I was 11 or 12, I didn't realise there was a second set of labia on the inside [of the vagina], though you couldn't see them. What's even funnier is that I thought urine came out of the clitoris. I asked Mother one time what that little bump was, and she said she didn't know. She can really play dumb when she wants to!"
By April she had become closer to Peter. "I told him all about girls, without hesitating to discuss the most intimate matters. I found it rather amusing that he thought the opening in a woman's body was simply left out of illustrations. He couldn't imagine it was actually located between a woman's legs. The evening ended with a mutual kiss, near the mouth..."
Miep Gies, one of the Dutch women who brought food and comfort to the Franks throughout their imprisonment, is mentioned in a censored entry which illustrates the painful, wary atmosphere of the time.
"Miep came up one afternoon all flushed and asked Father straight out if we thought they too were infected with the current anti-Semitism.
"Father was stunned and quickly talked her out of the idea, but some of Miep's suspicion lingered on. They're doing more errands for us now and showing more of an interest in our troubles..."
An entry in May 1944 was removed by Mr Frank because of the distress it might cause another helper, Bep Voskuijl, who died in 1983.
"Bep's engaged! This news isn't much of a surprise, though none of us are particularly pleased. Bertus may be a nice, steady, athletic young man, but Bep doesn't love him, and to me that's enough reason to advise her against marrying him..."
The diary stops abruptly on 1 August 1944. Three days later, the SS invaded Anne's sanctuary. Its residents were taken on the last transport from the transit camp of Westerbork to Auschwitz.
Anne died there in February or March 1945. The only survivor was Mr Frank, who died in 1980 after devoting his life to his daughter's memory.
Join our commenting forum
Join thought-provoking conversations, follow other Independent readers and see their replies