The world this week: Joan of Arc is burned at the stake and Ginger Spice sings goodbye to girl power
Sam Hancock trawls the archives for the key events and notable deaths from this week in history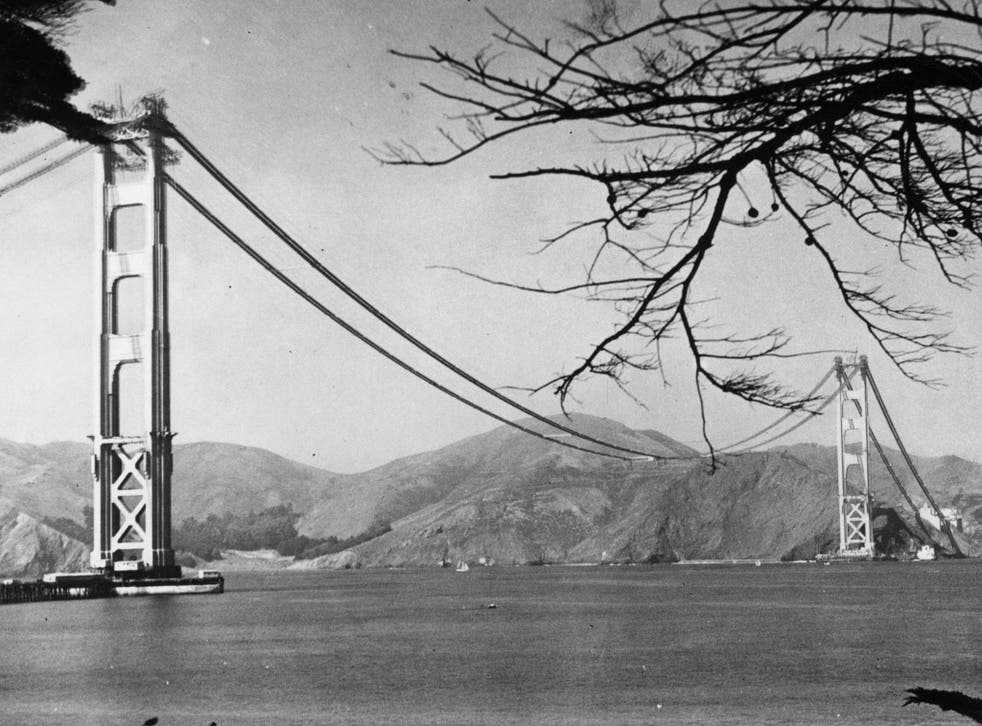 27 May
The Golden Gate Bridge, which connects San Francisco with Marin County, opened in 1937.
The royal navy sunk Germany's Bismarck in 1941, killing more than 2,000 German soldiers. Adolf Hitler hoped his 823ft battleship would signal a new era in German surface battle fleet.
The Sex Pistols released "God Save the Queen" in 1977, the single caused widespread controversy and was eventually banned by the BBC.
The 2006 Yogyakarta earthquake killed more than 5,700 people in Java, Indonesia. Tens of thousands were injured and hundreds of thousands were left homeless.
The Sex Pistols' 1977 Jubilee pageant

Show all 6
Deaths: John Calvin, 1564, Protestant religious reformer and theologian; Jawaharlal Nehru, 1964, India's first prime minister; Clive Granger, 2009, British economist who won the Nobel Prize for Economic Sciences in 2003.
28 May
Amnesty International was founded in 1961. A campaign for the charity was announced with an article called "The forgotten prisoners" by Peter Benenson.
In 1967, Sir Francis Chichester arrived home in the UK after racing around the world solo in nine months.
Pakistan received a global backlash when it tested five underground nuclear devices in 1998. Officials later said it was a response to India's recent nuclear tests.
Seven terrorists attacked Ahmadi Muslim mosques in Lahore, Pakistan, in 2010. Ninety-four people were killed and more than 120 were injured.
Deaths: Maya Angelou, 2014, American author, poet, actor and director; Edward VIII, British monarch; John Russell, 1878, British prime minister; Anne Brontë, 1849, English author and poet.
29 May
Bing Crosby recorded "White Christmas" in 1942. The single went on to become the bestselling Christmas single of all time.
Edmund Hillary and Tenzing Norgay were named the first people to reach Mount Everest's summit in 1953.
Manchester United were the first English club to win the European Cup in 1968, beating Portugal's Benfica by four goals to one.
Barack Obama granted the US military permission to train Syrian rebels to fight the regime of their president, Bashar al-Assad, in 2014 and all al Qaeda-linked groups.
Deaths: Humphry Davy, 1829, English chemist and physicist; Bahá'u'lláh, 1892, Persian spitural leader and founder of the Bahá'í Faith; Jeff Buckley, 1997, the singer-songwriter best known for his haunting cover of Leonard Cohen's "Hallelujah"; Dennis Hopper, 2010, American actor and director.
30 May
Joan of Arc was burned at the stake in 1431 at the age of 19. She is now a recognised Christian saint.
Spanish explorer Hernando de Soto discovered Florida in 1539.
Bangladesh's president, Zia Rahman, was assassinated in Chittagong in 1981 as part of a failed coup attempt.
Sex and the City released its first feature film in 2008 in the US. Fans of the HBO comedy series had waited four years for the film to premiere after its final series wrapped in 2004.
Deaths: Alexander Pope, 1744, English poet who wrote The Rape of the Lock and The Dunciad; Voltaire, 1778, French philosopher; Boris Pasternak, 1960, Russian author, poet and Nobel Prize laureate; Fazal Mahmood, 2005, Pakistani cricketer.
31 May
South Africa became an independent republic in 1961 after it was forced to leave the Commonwealth of Nations for its apartheid regime of racial segregation.
Ginger Spice, aka Geri Halliwell aka Geri Horner, left the Spice Girls in 1998 to launch her solo career.
Former FBI agent Mark Felt was named as "Deep Throat" in 2005. He was the informant who, as part of the 1970s Watergate scandal, helped The Washington Post uncover the dirty secrets of Nixon's administration.
Deaths: Joseph Haydn, 1809, Austrian composer; Elizabeth Blackwell, 1910, the first woman to receive a medical degree in the US; Chris Haney, 2010, Canadian journalist who created the board game Trivial Pursuit.
1 June
CNN launched in 1980 and became the world's first 24-hour televised news network.
Crown Prince Dipendra, heir to the Himalayan throne, shot dead his entire family in 2001 before turning the gun on himself. It was said he killed his family after arguing with his mother about his choice of bride.
Air France flight 447 crashed into the Atlantic in 2009. All 228 people on board died in the crash and authorities took mroe than two years to find the wreckage on the ocean floor.
Deaths: James Gordon Bennett, 1872, who published The New York Herald; America's 15th president, James Buchanan, 1868; fashion designer Yves Saint Laurent, 2008.
2 June
Babe Ruth, one of American baseball's greatest ever players, retired from the sport in 1935. He played 22 seasons, 10 World Series and scored 714 home runs.
In 1953, Queen Elizabeth II was crowned at a coronation ceremony in Westminster Abbey.
Pope John Paul II became the first pontiff to visit a communist country when he landed in Warsaw, Poland in 1979.
Uefa banned English football clubs from competing in Europe in 1985. The ban followed the death of 39 (32 Italians, four Belgian, two French and one Northern Irish) football fans at Brussels' Heysel Stadium in a riot at that year's European Cup final. The ban was lifted in 1990.
Deaths: Racing car driver and designer Bruce McLaren, 1970; Rex Harrison, English actor who appeared in My Fair Lady, 1990; Bo Diddley, 2008, American singer-songwriter.
Support free-thinking journalism and attend Independent events
Join our new commenting forum
Join thought-provoking conversations, follow other Independent readers and see their replies