Sumatran tiger killed by potential mate at London Zoo
Big cats were being introduced for first time as part of mating programme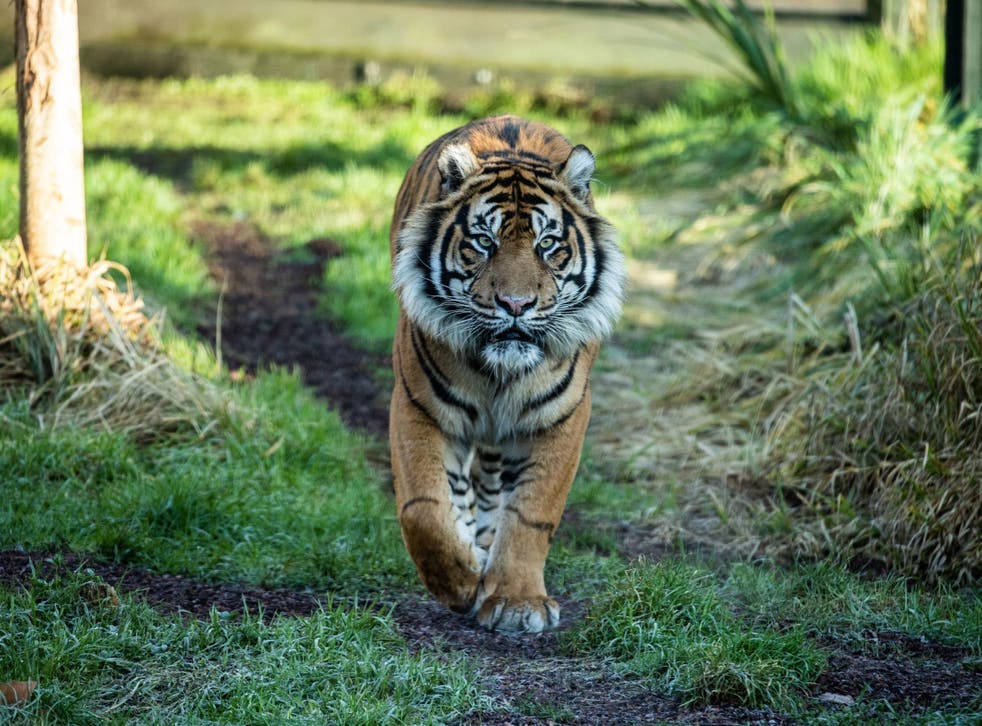 A critically endangered female tiger has died after being attacked by a prospective mate at London Zoo.
Melati, a seven-year-old Sumatran tigress, was killed during her first encounter with 10-year-old Asim.
The male tiger arrived at the zoo 10 days ago as part of a Europe-wide breeding programme designed to save their critically endangered species from extinction.
The two big cats were initially kept seperate in adjoining enclosures so they could become familiar with each other before being brought together.
The zoo said experts "observed obvious positive signs" during "careful monitoring" of the tigers' reactions before introducing them on Friday.
Animals take shelter from Hurricane Irma at Zoo Miami

Show all 8
In a statement, it added: "As with all big cats, introductions, however carefully planned, are always considered to be high risk.
"Their introduction began as predicted, but quickly escalated into a more aggressive interaction.
"Zoo staff immediately implemented their prepared response, using loud noises, flares and alarms to try and distract the pair, but Asim had already overpowered Melati."
Zookeepers eventually secured Asim in a separate paddock, but Melati had died by the time vets could reach her.
The zoo, in Regent's Park, said staff were "devastated" by the loss of the tiger.
"We are heartbroken by this turn of events," it added.
Asim, whose name means "protector" in Arabic, was moved to London Zoo from Ree Park Safari in Denmark.
The day after his arrival, London Zoo's head tiger keeper Kathryn Sanders said: "Asim is a handsome, confident cat who is known for being very affectionate with the ladies in his life – we're hoping he'll be the perfect mate for our beautiful Melati."
Staff had observed the two tigers "chuffing", which Ms Sanders said was "a happy sound they make to let each other know they have good intentions".
There are thought to be as few as 400 Sumatran tigers remaining in the wild.
Join our new commenting forum
Join thought-provoking conversations, follow other Independent readers and see their replies