Tokyo Olympics Coverage Advisory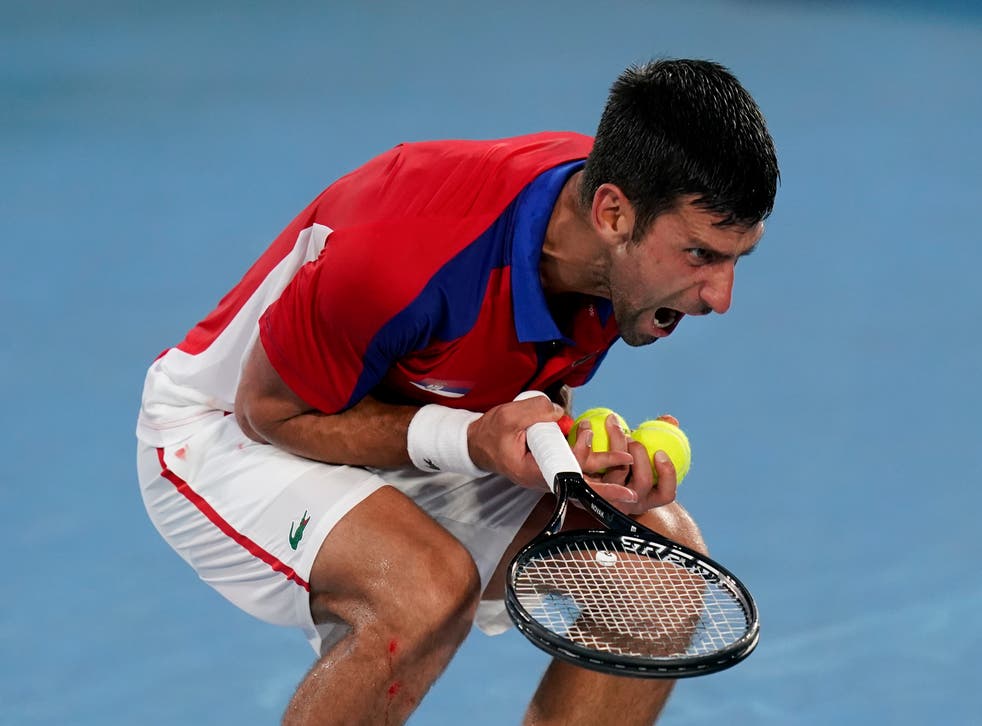 Today is day seven of the Tokyo Summer Games. The AP plans coverage from all events. All times bellow are U.S. Eastern.
Find our latest plans in Coverage Plan. For the latest stories, video and photos, visit the Olympics hub in AP Newsoom.
UPCOMING:
TALES OF THE GYMTERNET--The online club of diehard gymnastics fans lurched into full gear as the Olympic Games began. Many prominent voices in the sport have a love-hate relationship with this corner of the internet. Thousands of aggressive gymnastics supporters band together online to push for fairness and accountability in the sport and believe it should get attention even in Olympic off-years. But critics describe its passionate, often hostile, approach to outsiders as self-defeating: they want people to love the sport as much as they do, but they mock those who don't as "four-year-fans" and are quick to attack the uneducated who wander into their space. By Claire Galofaro. UPCOMING: 1,000 words and photos.
OLY--SWIMMING-INCLUSIVITY--TOKYO -- Alice Dearing has an Afro a voluminous puff she finds difficult to protect in most swimming caps. Her solution was Soul Cap, made extra large to protect the natural hair of Black swimmers. But FINA rejected the use of the cap in the Tokyo Games, a move Simone Manuel found harmful to efforts to encourage Black children to take up swimming. Manuel at the Rio Games became the first Black female swimmer to win an Olympic gold medal and finds there's been little uptick in swimmers of colors at the elite level since her breakthrough moment. By AP Sports Writer Jenna Fryer. UPCOMING 800 words, photos.
OLY--GYM-SUNI'S SPLASH - Newly minted Olympic all-around gymnastics champion Sunisa Lee says she's still committed to going to Auburn in two weeks. It may be hard. Her newfound notoriety will come with opportunities she didn't imagine when she arrived at the Games. By Will Graves. UPCOMING: 500 words, photos.
SENT:
OLY--TEN-TENNIS-- Serbia's Novak Djokovic lost to Alexander Zverev of Germany 1-6, 3-6, 6-1 in the semifinals of the tennis tournament at the Tokyo Olympics, dashing his hopes to become the first man to win all four Grand Slam tournaments and Olympic gold in the same year By AP Sports Writer Andrew Dampf. SENT: 500 words, photos.
OLY--ATH-THE HUMBLE SPRINTER — The man positioned to take over the sprint game in the post-Usain Bolt world is Trayvon Bromell. He's a 26-year-old American who is as unassuming as he is fast. By National Writer Eddie Pells. SENT: 800 words, photos. With: OLY-ATH-TRACK-AND-FIELD.
OLY--SWM-SWIMMING — Tatjana Schoenmaker knocked off the first individual world record in swimming at the Tokyo Olympics. The 24-year-old South African won the women's 200-meter breaststroke with a time of 2 minutes, 18.95 seconds, breaking an 8-year-old record. It was the third world record set at the Tokyo Aquatics Centre, with the first two coming in women's relays. Evgeny Rylov and Emma McKeon also shined in the pool. Russia's Rylov completed a backstroke double, knocking off American star Ryan Murphy again in the 200 back. McKeon gave the mighty Aussie women another gold in the 100 freestyle. By Sports Writer Paul Newberry. SENT: 900 words, photos.
OLY-SWM-RUSSIA-DOPING - American backstroke star Ryan Murphy says doping remains a huge problem in swimming and he wonders if all his competitors are clean. Murphy's comments came after he lost for the second time this week to Russia's Evgeny Rylov, who took gold in the 200-meter backstroke. Murphy says he's not accusing Rylov of wrongdoing. But Murpy was clearly taking aim at a country that has repeatedly run afoul of doping rules. Russia was allowed to compete in Tokyo, but can't use its national anthem during medal ceremonies and is referred to as the Russian Olympic Committee. Rylov, who has long been one of the world's top backstrokers, denied being involved in any doping schemes. By AP Sports Writers Paul Newberry and Beth Harris. SENT: 700 words, photos.
OLY--GYM-WOMEN'S ALL-AROUND--TOKYO - Sunisa Lee, with Simone Biles watching from the stands, wins the all-around at the Olympics, the fifth straight American woman to do so. She edges Brazil's Rebeca Andrade, the first all-around medalist from Latin America. Biles was the overwhelming favorite before withdrawing because of her mental well-being. By Will Graves. SENT: 900 words, photos.
OLY--ABOVE AND BELOW-PHOTO GALLERY - The Associated Press is using 13 robotic cameras and over 30 remote devices to capture images at the Tokyo Games. This is a selection of some images. SENT: 180 words, photos.
THE SPIT GAME - About 30,000 people from scores of nations are spitting into tiny plastic vials every day at the Olympics in a routine that's grown crucial in going ahead with the pandemic-era Games, according to organizers. By Yuri Kageyama. SENT: 770 words, photos.
OLY-GLF--MEN'S GOLF-- SXander Schauffele is trying to treat the Olympics as just another golf tournament. His play in the second round showed a sense of urgency. He made two eagles and closed with three straight birdies to match the Olympic record at 63. Schauffele has a one-shot lead over Carlos Ortiz of Mexico. The star attraction is Hideki Matsuyama, and he was making a charge of his own. The Masters champion was 6 under for his round and three off the lead. He had a short birdie chance on the 17th hole when the round was suspended by storms.. By Golf Writer Doug Ferguson. SENT: 850 words, photos.
OLY--BKO--US CHANCES-- The U.S. is fully aware of the chatter from other basketball teams who believe they're going to leave the Tokyo Olympics with a gold medal. It inspires the Americans. By Basketball Writer Tim Reynolds. SENT: 650 words, photos.
OLY--BVL-BEACH DIVERSITY- Beach volleyball is seeking new sands to conquer. After decades of domination by the United States and Brazil where it is played on the coasts from Southern California to Copacabana, the sport is growing more diverse thanks to FIVB outreach in countries where it doesn't have a long tradition. By AP Sports Writer Jimmy Golen. SENT: 650 words, photos.
OLY-ANDREW-NO MASK - Michael Andrew, who made waves for saying he wasn't vaccinated against COVID-19, didn't wear a mask behind the scenes after swimming his final at the Tokyo Olympics. He didn't violate Olympic rules, which allow athletes to remove their masks while talking to media. But most athletes keep their masks on. By AP Sports Writer Beth Harris. SENT: 470 words, photos.
OLY-CSEH'S FAREWELL - László Cseh outlasted longtime rivals Michael Phelps and Ryan Lochte. Now, the six-time Olympic medalist is bidding farewell himself. The 35-year-old Hungarian great retired as one of the world's best swimmers to never win gold in five Olympics. Beth Harris. SENT: 480 words, photos.
OLY-RELAY FLOP-DRESSEL - Caeleb Dressel says the US couldn't have won a gold medal in the 4x200 freestyle medal, even if he had participated. Olympic icon Michael Phelps criticized the US team for not putting Dressel in the race. would've given the Americans a shot at gold. The US was shut out of the medals for the first time ever in a relay they entered. By AP Sports Writer Paul Newberry. SENT: 600 words, photos.
OLY--VOL-FRUSTRATED AMERICANS-- The frustration is building for the U.S. men's volleyball team after a second loss in pool play at the Olympics. The Americans fell in four sets to Brazil and now likely will need to win their final pool play match against Argentina to avoid being eliminated before the quarterfinals for the first time since the 2000 Games. By Josh Dubow. SENT: 600 words, photos.
OLY--WPO-WATER POLO--TOKYO — Maggie Steffens broke the Olympic scoring record when she scored four times to lead the United States to an 18-5 victory against the Russian team. Steffens got her 48th career goal in the Olympics in the third period to snap a tie with Tania Di Mario of Italy for the top spot. Steffens scored again on the next possession to lift the U.S. to a commanding 12-3 lead. Stephania Haralabidis also scored four times as the U.S. bounced back from its first loss at the Olympics since 2008. By AP Sports Writer Jay Cohen. SENT: 600 words, photos.
OLY--FUKUSHIMA'S HEARTACHE -The coronavirus has left venues eerily empty and prompted concern over an Olympic-driven COVID-19 surge. But for many in Japan's northern prefectures, the greatest heartache of these Pandemic Games is the missed chance to tout their recovery following the Tōhoku earthquake of 2011 and the ensuing tsunami and nuclear disaster that ravaged the area. By Sports Writer Jake Seiner. SENT: 800 words, photos.
______
EXPLAINERS
OLY--EXPLAINER-WHAT KIND OF CHAMPION - Is an Olympic champion by definition a world champion? Can you be a world champion without being an Olympic champion? What's the difference, anyway? SENT: 400 words, photos.
OLY-GYM-EXPLAINER-THE-TWISTIES – How "the twisties" which stopped Simon Biles cold. SENT: 860 words, photos.
______
DAILY FIXTURES
— OLYMPICS ROUNDUP — Highlights of the day from the 2000 Summer Games.
— TOKYO OLYMPICS-THE LATEST — Real-time updates and photos from every venue around the 2020 pandemic-delayed Summer Games.
— TOKYO OLYMPICS-WHAT TO WATCH — A guide to key storylines each day. Moves after 1 a.m.
— MEDAL BRIEFS — A roundup of the day's gold medals.
______
GRAPHICS
— TOKYO OLYMPICS-MEDAL COUNT — Keep track of who's ahead in the medal race with our nation-by-nation medal tabulation.
— TOKYO OLYMPICS-MEDAL BRIEFS — A roundup of the day's medals at the Tokyo Summer Olympics.
— The AP