Top 10 bathroom innovations of the future from voice recognition to hovering mirrors
A face recognition systems that automatically adjusts water temperature to your personalised settings? Consumers have big ideas for the bathrooms of the future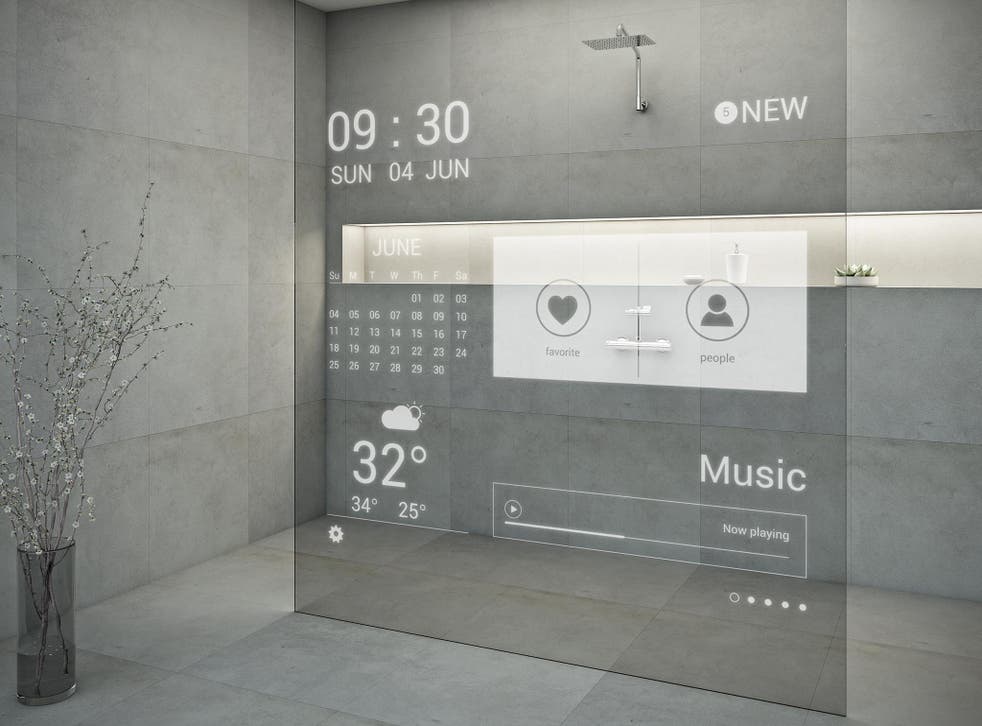 New research has revealed the innovations that consumers would most like to see in the "bathroom of the future", with automatic facial recognition technology topping the list of desirables.
The survey, completed by 1,100 consumers and carried out by DigitalBridge, a technology company that offers innovative bathroom space planning and visualisation tools, found a consensus of excitement among consumers that tech is soon to transform the home. One in five (46 per cent) think that this transformation will be most exciting in the bathroom. A further 28 per cent said that the kitchen is most ripe for innovation and just 9 per cent believe that the living room will see most technological change in future.
Half of people also claimed that they would be more likely to shop with a brand that offered them access to technologies such as augmented reality (AR) or artificial intelligence (AI). This figure rises to 59 per cent among 25-34 year olds.
Despite this, when questioned on their current bathroom tech, 68 per cent of people stated that they believe their bathroom is outdated – with 42 per cent of these even stating that it is very outdated. Just 14 per cent thought their space was of a modern standard and only 6 er cent believed it to be very modern.
Manufacturers and retailers therefore have a lot to gain if they can offer exciting, new and groundbreaking innovations to this audience, and encourage them to upgrade.
When asked which innovations they would most like to see in the next 10 years, 18 per cent said that facial recognition, which automatically sets the user's preferred lighting or water temperature variables when entering the room, would top the list.
A further 16 per cent of people said they would love to see an in-shower voice device, which allows them to add shampoo, toothpaste and other essentials to their shopping list when they are running low.
An AR simulator, which shows how a hairstyle could look and provides step-by-step instructions on how to achieve it, came third on the list.
David Levine, CEO of DigitalBridge, said: "As outlandish as some of these innovations may sound, they're actually not far off being a reality. Breakthroughs in AR and AI are steadily making their way into our homes through devices such as Amazon's Alexa and software such as Google's ARCore and Apple's ARKit. Clearly, consumer appetite for groundbreaking new bathroom products is high, so the race is on for suppliers to innovate quickly, in order to take advantage of this captive audience."
The top 10 bathroom innovations consumers would love to see in the next 10 years
1. A face recognition system that automatically adjusts water temperature and pressure to your personalised settings
2. A hovering drone mirror that allows you to style the back of your hair with ease
3. An in-shower voice recognition that allows you to add shampoo, toothpaste and other essentials to your shopping list when they are running low
4. An augmented reality simulator that shows how a hairstyle could look on your head and provides step-by-step instructions on how to achieve it
5. A pep-talking mirror that gives you advice on your outfits based on a link to your personal calendar
6. Three taps – one for hot, cold and "just right"
7. A dressing machine that chooses your outfit and dresses you
8. A full body air-dryer
9. A height-adjustable sink, toilet and mirror that moves up and down depending on who is using them
10. An ambient display that allows you to make a cup of coffee and answer the doorbell from the shower
Register for free to continue reading
Registration is a free and easy way to support our truly independent journalism
By registering, you will also enjoy limited access to Premium articles, exclusive newsletters, commenting, and virtual events with our leading journalists
Already have an account? sign in
Register for free to continue reading
Registration is a free and easy way to support our truly independent journalism
By registering, you will also enjoy limited access to Premium articles, exclusive newsletters, commenting, and virtual events with our leading journalists
Already have an account? sign in
Join our new commenting forum
Join thought-provoking conversations, follow other Independent readers and see their replies