Donald Trump offers to meet with North Korean leader Kim Jong-un 'under the right circumstances'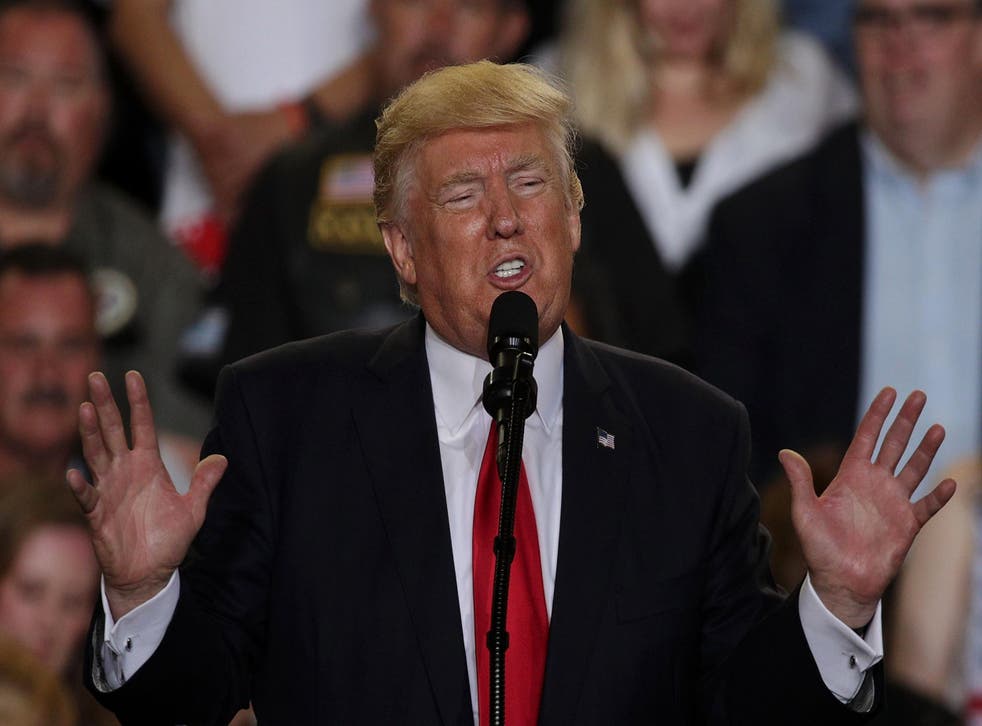 President Donald Trump says that he would meet with North Korean leader Kim Jong-un if it is "under the right circumstances".
"If it would be appropriate for me to meet with him, I would absolutely, I would be honoured to do it," Mr Trump said in an interview with Bloomberg News.
The comments come amid concerns in the US, as well as regional neighbours, about the threat posed by North Korea's nuclear weapons programme in the wake of a number of recent failed missile tests.
Tensions have escalated dramatically in recent weeks as American and other intelligence agencies have suggested the country was readying for a possible nuclear test.
The Trump administration has said all options, including a military strike, are on the table.
North Korea so far has executed five nuclear tests and a series of missile tests, defying UN Security Council and unilateral resolutions. In January, Kim Jong-un said that North Korea had entered the final stage of preparation for a test-launch of an intercontinental ballistic missile, which would have the capability of reaching the US. Trump tweeted in response at the time: "It won't happen!"
In pictures: North Korea military drill

Show all 8
Mr Trump said on Monday that "most political people would never say" they'd be willing to meet with Mr Kim. But he adds: "I'm telling you, under the right circumstances, I would meet with him. We have breaking news."
Responding to Mr Trump's comments at a daily briefing, White House Press Secretary Sean Spicer said that the conditions for a meeting between the US President and Mr Kim "were not there yet" and that a number of things – including North Korea's "provocative" actions and statements would need to be "ratcheted down immediately". Mr Spicer also said that North Korea's leadership will need to commit to dismantling the nuclear programme that poses a "threat to the region and to the US".
When asked why the president said he would "be honoured" to meet with Mr Kim, who has threatened to destroy the US, Mr Spicer responded that Mr Trump understands the threat that North Korea poses.
"[Mr Kim] is still a head of state," Mr Spicer said. "There is a diplomatic piece to this, but the bottom line is that the president is going to do what he has to do. Right now he's building a coalition in the region to isolate North Korea both economically and diplomatically to take that threat down."
President Trump's latest comments follow an interview at the weekend with CBS programme Face the Nation, in which Mr Trump said that the "small missile test" that North Korea executed over the weekend was not against his warnings about the consequences of further tests.
"I didn't say, 'Don't test a missile'," Mr Trump said, adding that Mr Kim is "going to have to do what he has to do. But he understands we're not going to be very happy."
Mr Trump said he would not be happy if North Korea performed a nuclear test, but was uncertain whether the US would respond with military action: "I don't know. I mean, we'll see."
President Trump coy on possibility of military action against North Korea
The President did offer praise for Mr Kim in that interview, calling him a "pretty smart cookie" for being able to keep hold of power in his country – but said that he "had no idea" as to whether the North Korean leader was sane.
The Trump administration has been working with China, Japan and South Korea to decide on the best strategy to deal with North Korea. North Korean media has repeatedly used war-like rhetoric to say that the country's military will defend itself against any aggression from the US.
Mr Trump and others officials have said that diplomacy – particularly pressure from China, the North's biggest ally in the region – and tighter sanctions on the regime of Mr Kim is the preferred method for dealing with the volatile situation. Mr Spicer said that the aim was to "isolate North Korea both diplomatically and economically to bring the threat down" in partnership with allies in the region.
One of the other means for dealing with potential aggression from the North is the Terminal High Altitude Area Defence (THAAD) missile defence system that the US military has installed in South Korea. That system has reached an initial operating capability to defend against North Korean missiles, US officials said on Monday, forging ahead with the system despite staunch objections from China.
Beijing has opposed activating the THAAD system, arguing the system's radar could be used to spy into its territory. Local residents have worried they will be a target for North Korean missiles. Officials said that the system – which the US has assured South Korea they will pay for – will not be fully operational for a number of months.
Join our new commenting forum
Join thought-provoking conversations, follow other Independent readers and see their replies