US allies think Donald Trump is less trustworthy than Vladimir Putin, poll shows
Nearly double the number of countries gave the Russian leader a higher score on world affairs than the US president
Mythili Sampathkumar
New York
Friday 18 August 2017 00:26 Comments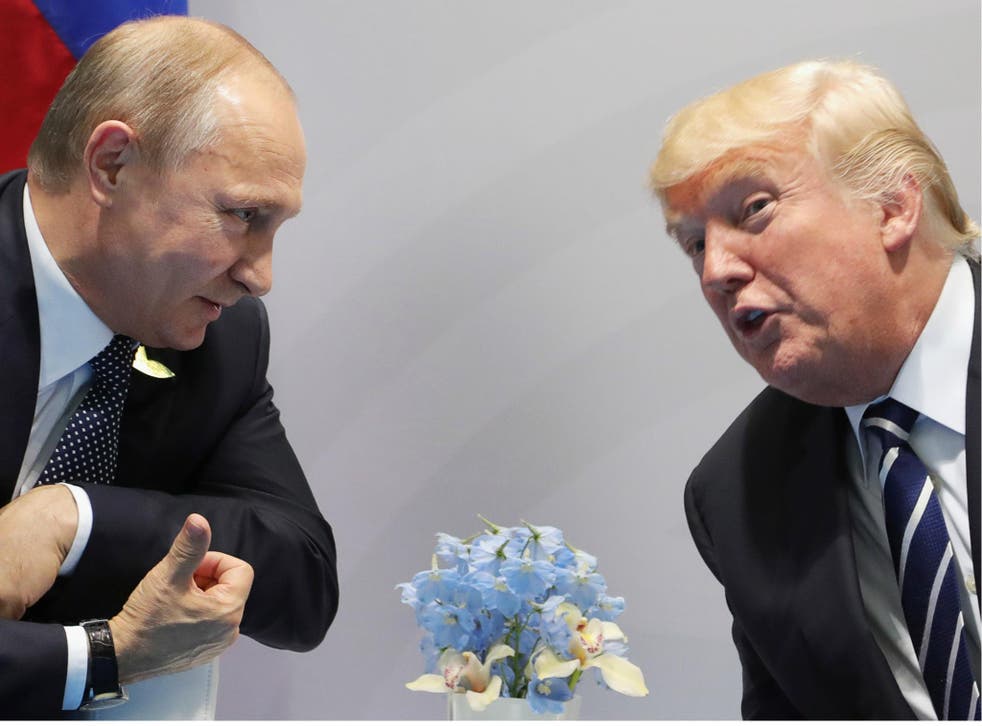 US allies and several other countries may think Russian President Vladimir Putin is a threat, but they trust him more than Donald Trump.
"Although confidence in Putin's handling of foreign affairs is generally low, in many countries he is more trusted than American President Donald Trump," the Pew Center wrote about its new poll that asked which leader they felt would "do the the right thing".
A range of 852 to 2,464 interviews of adults were conducted in 37 countries as part of the centre's Spring 2017 Global Attitudes Survey from February to April 2017.
"About a third of the nations surveyed see Russia as a major threat to their country, similar to the level of concern caused by China and the US," Bloomberg reported.
Additionally, 60 per cent of the people surveyed, including those in the US, said they had "a lack of confidence" in the Russian leader regarding world affairs.
In the US and Canada almost three times more people "disliked" Mr Putin versus those that find him favourable.
However, in June Pew released a statistic about Mr Trump from the same poll which found only 22 per cent of interviewees trusted the US leader to do the right thing when it came to foreign affairs.
Greece and Germany produced the largest disparity of trust between the two leaders. They trusted Mr Putin by 31 and 14 points more than Mr Trump, respectively.
In Germany particularly, Mr Trump only garnered an 11 per cent vote of confidence. This is likely driven by his tense relationship with Chancellor Angela Merkel over the North Atlantic Treaty Organisation, trade, and climate change.
The biggest names involved in the Trump-Russia investigation

Show all 17
Ms Merkel and several European leaders vehemently opposed Mr Trump's lack of endorsement of Article 5 of Nato - which states that when one member of the military alliance is attacked it is as if all are attacked. It was invoked in the aftermath of the 9/11 attacks.
They also expressed disapproval of Mr Trump withdrawing the US from the global Paris Agreement on climate change, an accord nearly 200 countries signed in order to lower greenhouse gas emissions and address an already-changing planet for poorer countries.
In South Korea, 27 per cent of those polled had trust in Mr Putin and Mr Trump garnered 17 per cent.
Mr Trump fiery rhetoric regarding North Korea's nuclear missile tests and technological advancement may have lowered that number as South Korean President Moon Jae-in had campaigned on a "sunshine policy" with Pyongyang, preferring to address the ongoing tensions with economic and trade policies rather than military options.
"Elsewhere, confidence in [Mr] Putin outpaced that of Trump by 31 points in Lebanon, 21 points in Vietnam and 14 points in Mexico," according to the Associated Press.
Mr Trump did have a large lead over Mr Putin of 29 points in Israel. However, the survey was conducted before the recent violence erupted at a Charlottesville, Virginia protest involving neo-Nazis and other white supremacist groups.
The US leader did not initially condemn the groups, though he did later. However, he insisted in several subsequent statements that there were some "innocent" protesters who wanted to keep the "culture" and "history" of the American South alive by preserving a statue of Civil War Confederate General Robert E Lee.
The Confederacy fought to preserve slavery in the south and lost in what became America's bloodiest war. Israel has since condemned Mr Trump's comments.
Mr Trump also edged out Mr Putin - by small margins - in Australia, Canada, Poland, the Netherlands, and the UK. All together he outscored Mr Putin in 13 countries out of 37.
Register for free to continue reading
Registration is a free and easy way to support our truly independent journalism
By registering, you will also enjoy limited access to Premium articles, exclusive newsletters, commenting, and virtual events with our leading journalists
Already have an account? sign in
Join our new commenting forum
Join thought-provoking conversations, follow other Independent readers and see their replies