UK weather latest: Coldest night of the year as temperatures hit -13C but an end to the big freeze is in sight
Police warn skiers in Scotland not to block roads with parked cars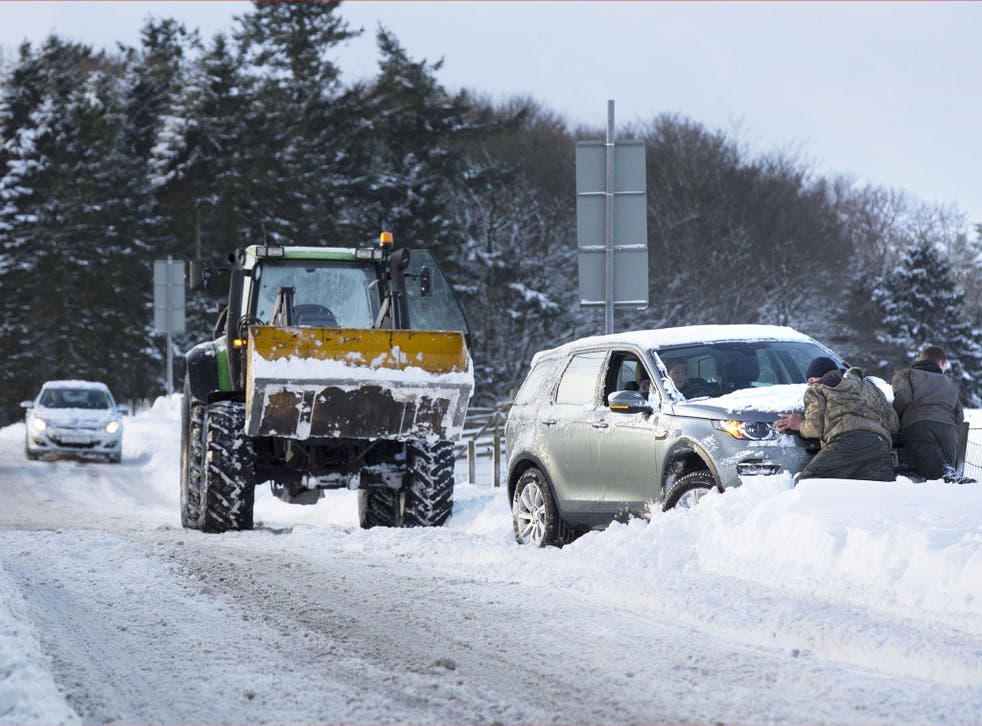 The UK shivered through the coldest night of the year so far as temperatures plunged to -13C in parts of Scotland and snow and ice covered much of the country.
Snow is falling in London today, as temperatures hover around freezing in the capital.
But with milder weather and rain sweeping in, an end to the big chill is in sight.
Skiers flocked to the Scottish mountains in such numbers that police warned cars could be seized if they got in the way of gritting vehicles.
Marco Petagna, a forecaster at the Met Office, told The Independent: "There is still over a foot of snow lying across high ground of Scotland. In Tulloch Bridge there is 32cm. Even in parts of Northern Ireland there is 26cm of snow.
"It reached -13.5 Dalwhinnie in Inverness-shire overnight, the coldest temperature this winter for the UK."
Over the weekend, skiers at the Glencoe Mountain Resort faced six-mile tailbacks, ans many drivers abandoned their cars on the roads as they tried to reach the slopes.
North Highland Police urged people heading to the Glencoe Mountain and the Nevis Range areas not to cause obstructions by parking on the side of the road or on verges.
They warned on Twitter today: "Gritters & emergency vehicles require access at ALL times. Arrive early & use car parks. Cars causing obstructions may be seized."
On Friday in Glencoe, blizzard conditions hampered a rescue operation to save two ski tourers stranded without shelter at 3,000ft. The pair were winched into a coastguard helicopter at first light on Saturday before being taken to hospital by ambulance.
Snow affects UK travel

Show all 23
Weather warnings are currently in place until 6pm in Scotland, Wales and England, reaching as far south as Hertfordshire, Essex and Suffolk. As more snow may fall today, the Met Office has warned drivers to watch out for icy patches on untreated roads.
Traffic Scotland has advised drivers to keep emergency supplies in their cars in case they get stuck. North Wales Police warned those driving in Snowdonia to expect poor conditions, while in the Isle of Man, Mountain Road was closed due to snow.
Mr Petagna added: "The main concern is the snow and ice, we have still got very cold air across the north and east of the UK.
"We are seeing rain moving in from the west and turning to snow in parts of Wales, central England, northern England and Scotland. There could be some tricky driving conditions.
"But for many areas it could only be a few hours of wintry weather as mild weather is trying to push in from the west."
As day turns to evening, the snow is expected to be confined to the Scotland, with rain sweeping in from the southwest.
A yellow warning is in place for Northern Ireland, which states that heavy rain could cause localized flooding and that journeys on public transport could take longer than usual.
Temperatures may rise to highs of 11C in south-west England today. London may reach 9C by the end of the day. But it will still remain around freezing in parts of Scotland.
Forecaster Mr Petagna added: "For much of the coming week it is turning milder but staying unsettled, spells of wet and windy. A thaw is expected for Scotland."
Additional reporting by PA
Register for free to continue reading
Registration is a free and easy way to support our truly independent journalism
By registering, you will also enjoy limited access to Premium articles, exclusive newsletters, commenting, and virtual events with our leading journalists
Already have an account? sign in
Register for free to continue reading
Registration is a free and easy way to support our truly independent journalism
By registering, you will also enjoy limited access to Premium articles, exclusive newsletters, commenting, and virtual events with our leading journalists
Already have an account? sign in
Join our new commenting forum
Join thought-provoking conversations, follow other Independent readers and see their replies