Junior doctors' strike: 40,000 prepare to stage mass walk-out in December
The increase in weekend working hours has caused the British Medical Association to call for another ballot on industrial action.
Will Grice
Sunday 15 November 2015 18:19 Comments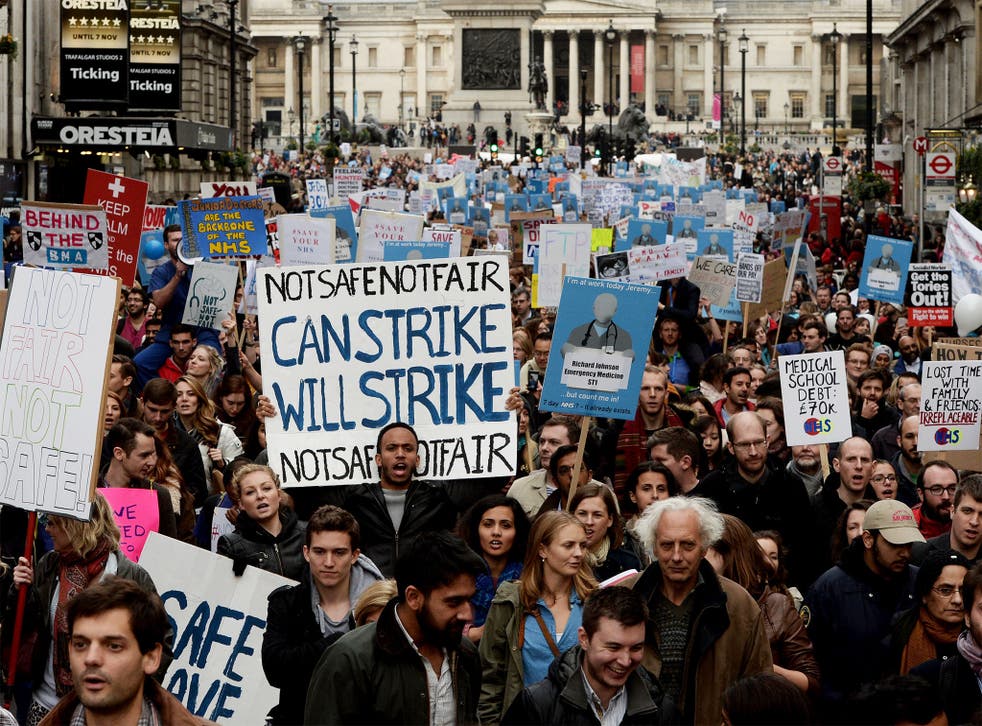 Thousands of junior doctors are preparing to go on strike next month in protest against the proposed weekend working pattern.
The British Medical Association is set to hold a ballot on Wednesday, with 40,000 junior doctors deciding whether to take industrial action.
The Government has conceded the union is likely to take action against the proposed plan, and it is believed the strike will result in hospitals only providing emergency care on 1 December, followed by an 8am – 5pm walk-out on 8 December and 16 December.
Joshua Rubenstein, a 28-year-old junior doctor, told The Independent: "I am striking because I don't want to see this unsafe and unfair contract imposed on us. I am concerned about the removal of financial penalties against trusts who overwork their junior doctors.
"Without these, I worry Trusts will not take steps to avoid juniors working excessive hours - this would be unsafe for patients. Secondly, weekend working is possible in the context of the current contract - I worked 4 in every 6 weekends during my A+E job.
"The government wants juniors to provide services at lowest possible cost. This is at a time of record level student debt, as well as students having to self-fund a fair chunk of our training - I've spent close to £4000 on courses, exams and professional fees this year.
"I don't really want a strike to go ahead - although I have no concerns about patient safety, because our consultant colleagues will cover our for us. I'm hoping the threat of a strike will pressure the government to drop their unreasonable preconditions to negotations with the BMA."
Jeremy Hunt, the Secretary of State for Health, has said the strike would "harm vulnerable patients".
The Telegraph has reported a government source claims the BMA proposed strikes would damage patient safety. "It seems impossible to see how the walkout of all junior doctors for two days could be safe for patients," the source told the Telegraph.
"We are going to continue to urge the BMA to come back to talks. We have put a very reasonable deal to doctors – it reduces their working hours and improves patient care at weekends. We are not going to budge from that position.
"When Jeremy Hunt thinks that there is a change that needs to be made in the interests of patient safety, he sticks to that. We think it's a good deal both for patients and doctors."
Register for free to continue reading
Registration is a free and easy way to support our truly independent journalism
By registering, you will also enjoy limited access to Premium articles, exclusive newsletters, commenting, and virtual events with our leading journalists
Already have an account? sign in
Join our new commenting forum
Join thought-provoking conversations, follow other Independent readers and see their replies