UK air pollution is a 'public health emergency' after emissions scandal, MPs say
Commons' environment committee says the Government must act urgently to stop up to 50,000 deaths a year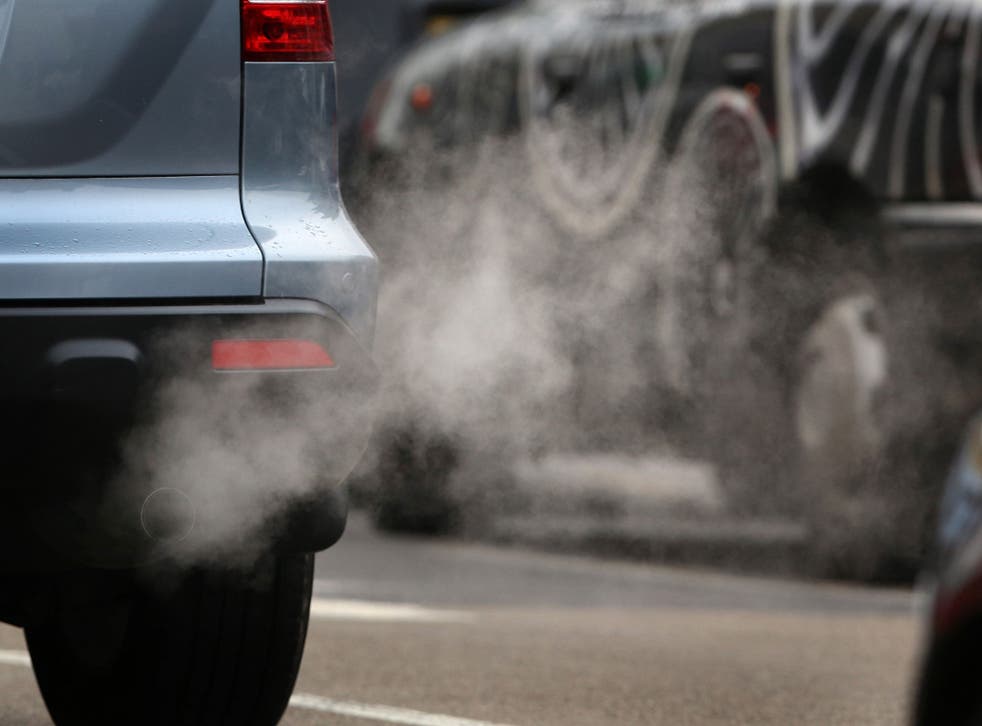 The Government must take urgent action in the wake of vehicle-emissions scandal to stop the deaths of up to 50,000 people a year from illnesses caused by air pollution, according to a report by MPs.
The Environment, Food and Rural Affairs Committee called for a scrappage scheme to be set up for diesel cars over about 10 years old; greater powers for councils to set up 'clean air zones' and charge polluting vehicles to enter; and help for farmers to reduce air pollutants from agriculture such as ammonia.
They also called for tougher, EU-wide regulations on car manufacturers following revelations that Volkswagen had installed software designed to cheat official emissions tests, adding that the German company did not appear to have "fully learnt lessons" about the need for greater transparency.
The Department for Transport also reported last week that none of the 37 top-selling diesel cars actually met pollution limits in real-world conditions.
"Poor air quality is damaging the UK's environment and harming the nation's health: emissions have declined significantly over many decades, but not far enough to prevent the early deaths of 40-50,000 people each year from cardiac, respiratory and other diseases linked to air pollution," the MPs' report said.
"The Government must act now to tackle this public health emergency."
They called for the Government to set out how "all government policies take air quality impacts into account" within weeks and for an "overarching strategy for tackling all air pollutants" by the end of the year.
The MPs pointed to a Government estimate that two types of pollution, nitrogen dioxide and tiny particles, contribute to the early deaths of more than 50,000 people a year.
"Health impacts of all air pollutants cost the UK economy some £15-20bn a year. More importantly many thousands of people bear the human costs associated with damaged cardiac and respiratory systems and life-limiting diseases," it added.
In December, the Department for Environment, Food and Rural Affairs (Defra) published a long-awaited air quality plan which focused on bringing in clean air zones in Birmingham, Leeds, Nottingham, Derby and Southampton by 2020.
The zones will use charging to discourage the most polluting vehicles, including old diesel buses, taxis, coaches and lorries, from entering the city centres. London is also set to bring in an ultra low emissions zone in 2020, which will apply to all vehicles.
But the MPs called for all local authorities to be given the opportunity to tackle pollution in this way.
Neil Parish MP, who chairs the committee, said: "Only five cities -- Birmingham, Leeds, Nottingham, Derby and Southampton -- will have new powers to charge polluting vehicles to enter new clean air zones. Councils in the dozens of other English cities currently exceeding EU pollution limits must also be given the option of using such powers if their communities support action.
"Communities must be given legal powers to set controls that meet their own circumstances—for example, some might want to charge polluting vehicles to access zones at certain times of day or to target specific bus routes."
Mr Parish said that Government schemes designed to encourage people to use less polluting vehicles – such as grants to help people buy electric and hybrid cars – were welcome.
"But more action is needed if we are to get older, more polluting diesel vehicles off the road quickly," he added.
"People need more of an incentive to purchase the more expensive low-emission vehicles: we want the Government to start planning now to introduce at the next Budget a scrappage scheme targeted at cars and vans 10 years or more old."
The report added that farmers should be given Government help to "adopt modern practices that cut emissions of greenhouse gases and local air pollutants including ammonia".
In February, the Royal College of Physicians and the Royal College of Paediatrics and Child Health warned that air pollution was damaging people from their "first weeks in the womb".
"We know that the heart, brain, hormone systems and immunity can all be harmed by air pollution. Research is beginning to point towards effects on growth, intelligence, and development of the brain and coordination," they wrote in a report called Every Breath We Take: the Lifelong Impact of Air Pollution.
"Harm to babies and children will have an impact that lasts far into the future. For the same reason, any air quality improvements we make now will have long-lasting benefits.
"When our patients are exposed to such a clear and avoidable cause of death, illness and disability, it is our duty as doctors to speak out."
Air pollution causes 7 million deaths in a year, report finds

Show all 3
A Defra spokeswoman said air quality was a "priority" for the Government.
"Our plans set out how we will achieve this through continued investment in clean technologies and by encouraging the uptake of low emission vehicles," she said.
"Cities already have powers to introduce Clean Air Zones and other air quality schemes, and our plans will require five cities to implement these zones, targeting the most polluting vehicles.
"Later this year we will also consult on a Clean Air Zone framework that will give local authorities the flexibility to make decisions about their own areas while ensuring a co-ordinated approach across the UK."
The Press Association contributed to this report
Join our new commenting forum
Join thought-provoking conversations, follow other Independent readers and see their replies