London Airbnb landlord makes £12m a year from 881 rental properties
It's a long way from the site's original mission
Dave Maclean
Friday 10 November 2017 16:43 Comments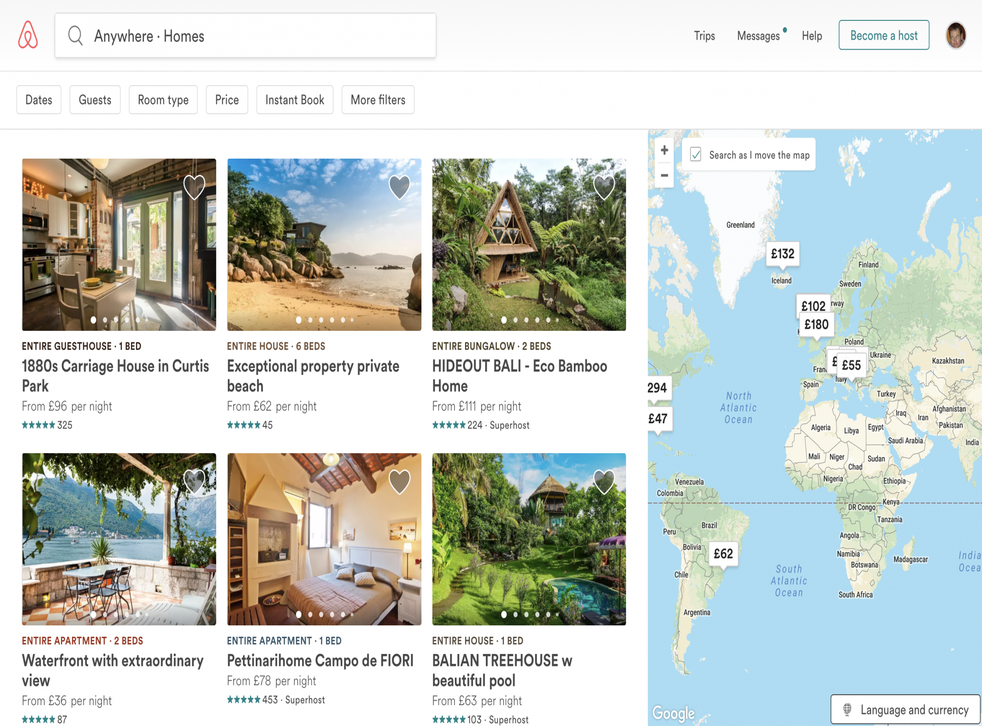 An Airbnb landlord in London made £12m in a single year - thanks to income from almost 900 rental properties across the capital.
New research says the unnamed individual or management company pulled in £11.9m revenue from a portfolio of 881 properties.
The figures were calculated by Airbnb analysis site AirDNA, which claims the individual is the highest-earning Airbnb landlord in the world.
Airbnb is a portal through which people list their entire home or rooms within their home for short-term rent, typically to tourists.
A landlord in Bali was a close second, banking £11.8m through 504 properties in Bali.
Landlords in Cape Town, Paris and Barcelona also featured among the most lucrative places for Airbnb property owners.
The analysis raises questions about Airbnb's business model - what started as a very personal way to share your apartment appears to be turning into a portal through which big companies are basing entire property management businesses.
AirDNA chief executive Scott Shatford told the Telegraph: "Airbnb is no longer a community just for individuals renting out their space or properties on their own."
But Airbnb says the typical host earns £3,000 a month and typically hosts for 36 nights per year.
The site scrapes data from the Airbnb site to come up with its calculations.
The split between individual and management companies is still around 65 per cent to 35 per cent, according to AirDNA, but it says the ratio is shifting towards the latter.
In contrast, Airbnb insists 80 per cent of its UK hosts are sharing space in their primary home.
A spokesperson said: "The vast majority of Airbnb hosts are regular people who share their homes - typically their greatest expense - to boost their income and support their families."
Register for free to continue reading
Registration is a free and easy way to support our truly independent journalism
By registering, you will also enjoy limited access to Premium articles, exclusive newsletters, commenting, and virtual events with our leading journalists
Already have an account? sign in
Join our new commenting forum
Join thought-provoking conversations, follow other Independent readers and see their replies