Alex Salmond urged to abandon 'conspiracy theories' over why Scotland did not vote for independence
Opposition politicians tackled First Minister Salmond at Holyrood Parliament
Andy McSmith
Thursday 25 September 2014 09:15 Comments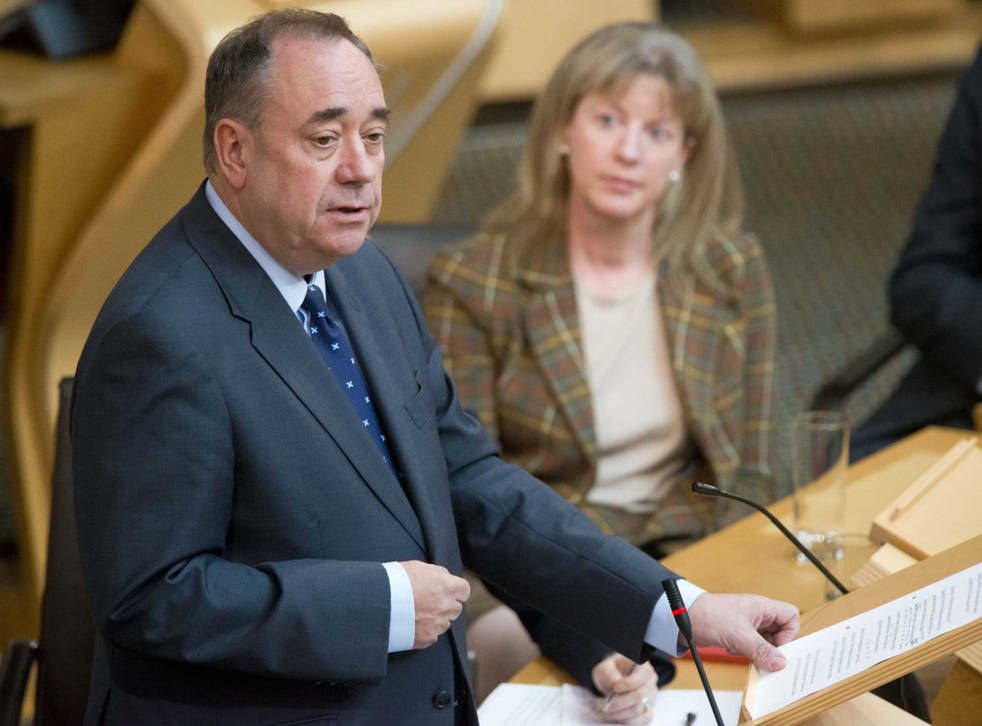 Alex Salmond has been urged to let go of "conspiracy theories" about why Scotland did not vote for independence and accept that he lost the referendum.
The First Minister was tackled by opposition politicians as the Holyrood Parliament met for the first time since the count.
Ruth Davison, leader of the Scottish Conservatives, told him: "I understand that is how many are feeling who voted for Independence. Hurt, grief, loss. But that pain is not healed by people crying foul and that grief is not ministered to by talk of a conspiracy."
Her words were echoed by the Scottish Liberal Democrat leader, Willie Rennie, who accused Mr Salmond of trying to discredit the result with a "range of bogus distractions, claims and allegations."
Mr Salmond resigned the leadership of the SNP hours after Scotland had delivered its 55-45 per cent verdict in favour of staying in the union.
In pictures: Alex Salmond's campaign for Scottish independence

Show all 9
Two days later, angered by the apparent failure of Westminster's main parties to agree on how to deliver the new powers for the Scottish Parliament during the campaign, he claimed in a BBC Sunday Politics interview: "It's the people who were persuaded to vote No who were misled, who were gulled, who were tricked effectively."
That was denied by the boss of the B&Q chain Sir Ian Cheshire, who said: "There's no conspiracy – it's called agreement."
Register for free to continue reading
Registration is a free and easy way to support our truly independent journalism
By registering, you will also enjoy limited access to Premium articles, exclusive newsletters, commenting, and virtual events with our leading journalists
Already have an account? sign in
Join our new commenting forum
Join thought-provoking conversations, follow other Independent readers and see their replies