Alton Towers closed after horror crash on The Smiler raises safety questions for theme park
Four people were seriously injured when their carriage hit a stationary cart left empty on the track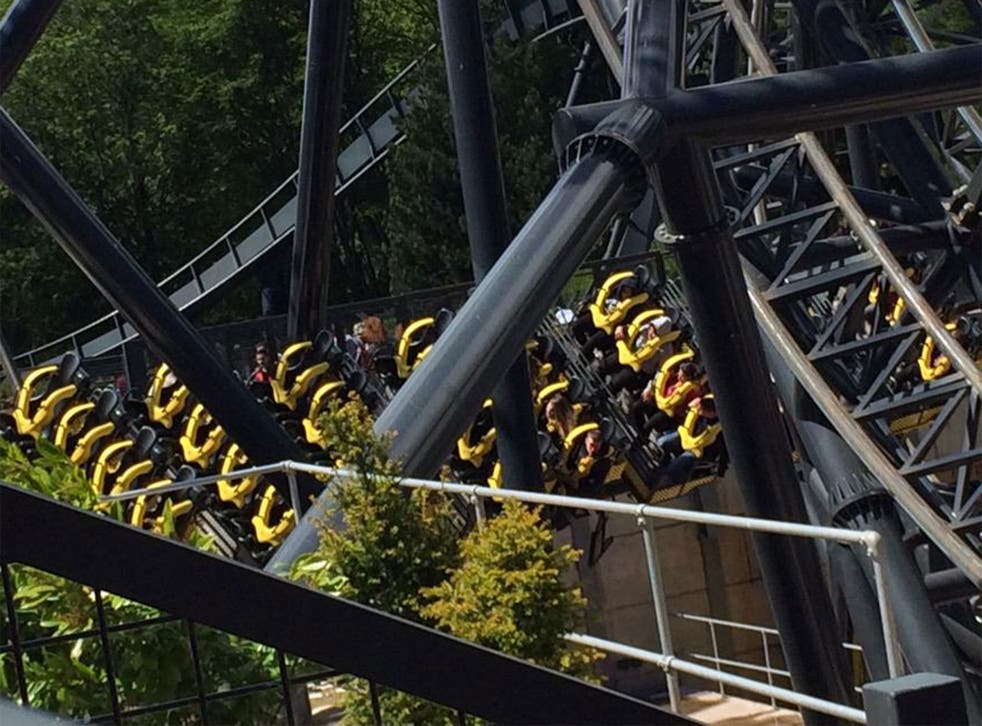 Alton Towers will remain closed today after a horrific accident on The Smiler left four people in hospital with serious injuries.
Shocked onlookers described "blood everywhere" after a carriage carrying 16 riders crashed into an empty cart that was sitting stationary on the track after a test run.
A spokesperson for Alton Towers said she could not confirm reports that one of the riders had lost a leg as a result of the accident.
Footage of the aftermath showed the carriages swinging to a standstill after the impact, with passengers screaming in pain and shouting "help us".
"Is it meant to do that?" a man behind the camera could be heard asking. "Oh my God…that (carriage) came round at full f***ing speed into the back of that one."
The rollercoaster reaches top speeds of almost 53mph and twists through 14 loops up to 30 metres high.
Danny Simm, who was at the Staffordshire theme park when the accident happened just after 2pm on Tuesday, tweeted: "People unconscious, knocked out. Blood everywhere. It really was shocking. Air ambulances landing now, people still stuck."
Another witness compared the scenes to horror film Final Destination and said she felt sick.
Two men aged 27 and 18 and two women aged 19 and 17 suffered serious leg injuries in the crash, which left some people trapped for four-and-half hours.
They were airlifted to major trauma centres after being rescued from 25 feet up in the air at an angle of about 45 degrees.
The other 12 riders - six men and six women – were treated for less serious injuries, including a man in his 20s who suffered neck and abdominal injuries.
The theme park was facing questions about its safety measures last night as people asked how an empty carriage came to be left on the track.
Described as the "world's first 14 loop rollercoaster", the Alton Towers website says The Smiler features "twisted psychological effects including optical illusions, blinding lights and near misses designed to mess with your mind".
The £18 million rollercoaster has been closed on two occasions because of safety concerns since opening two years ago, including in July last year, when debris fell from the track, and in November 2013 when four people were struck by falling wheels.
Ben Richardson, who had been on the ride before the accident yesterday, said the first carriage was "completely static" by the time the second cart was at the start of the ride.
"At that point they could have unloaded the carriage and got people away safely," he added.
"Whether that was computer error or human error, I don't know, but common sense would say, get the passengers off while you can."
A spokesperson for the theme park said it would not open on Wednesday following the "dreadful incident" and anyone with pre-booked tickets or arriving at the park will be able to get them transferred or refunded.
Nick Varney, chief executive of Merlin Entertainments, which runs the park, said: "This has been a terrible incident and a devastating day for everyone here.
"I would like to express my sincerest regret and apology to everyone who suffered injury and distress and to their families.
The best roller coasters in the world

Show all 9
"The safety of our visitors is our primary concern. The park will remain closed until we understand better the cause of this dreadful incident.
"I would like to thank the emergency services for their swift and effective response - they were outstanding."
A full investigation involving the Health and Safety Executive is underway.
Register for free to continue reading
Registration is a free and easy way to support our truly independent journalism
By registering, you will also enjoy limited access to Premium articles, exclusive newsletters, commenting, and virtual events with our leading journalists
Already have an account? sign in
Register for free to continue reading
Registration is a free and easy way to support our truly independent journalism
By registering, you will also enjoy limited access to Premium articles, exclusive newsletters, commenting, and virtual events with our leading journalists
Already have an account? sign in
Join our new commenting forum
Join thought-provoking conversations, follow other Independent readers and see their replies