Alton Towers crash: Video shows aftermath of Smiler ride collision in which four were seriously injured
Passengers on the ride can be heard screaming 'Help us' and 'Stop this f***ing ride'
Kiran Moodley
Wednesday 03 June 2015 11:19 Comments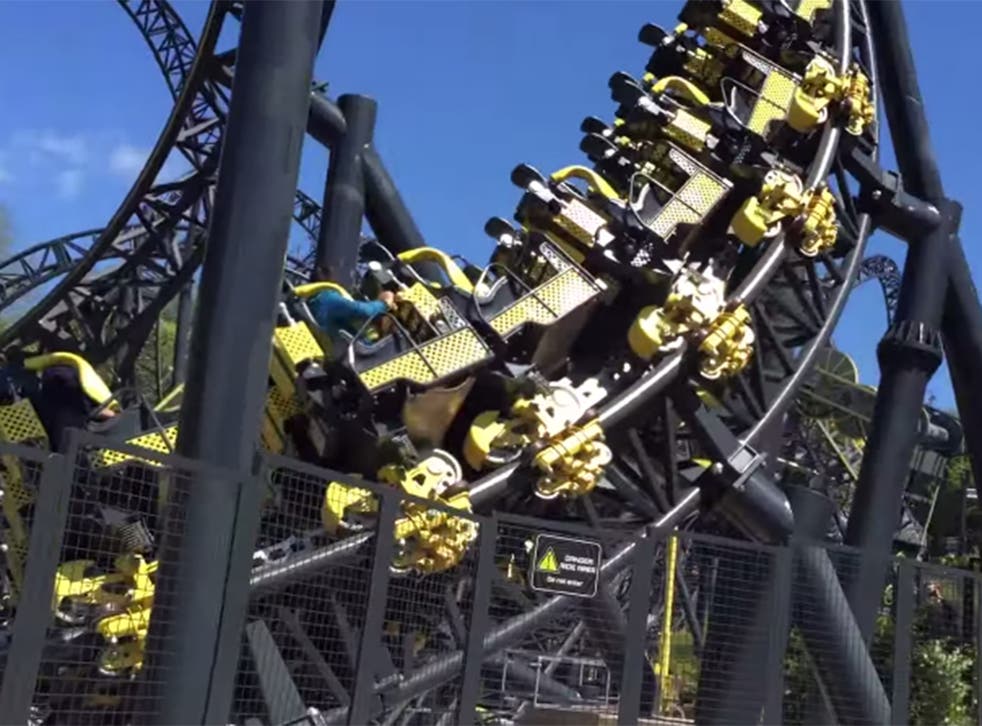 Video has emerged of the aftermath of a roller coaster crash at Alton Towers that left four people seriously injured and required the attention of the fire service, paramedics, four ambulances and an air ambulance.
Park officials confirmed that two males and two females were injured on The Smiler rollercoaster, which opened two years ago and features 14 loops.
A spokesperson for Alton Towers said there were 16 people involved in the incident "on a low section of the track", which occurred between a full carriage and one that was empty.
Video has emerged from an onlooker at Alton Towers shortly after the crash on the Smiler took place. As one of the carriages can be seen rocking back and forth on the track, frightened and panicked passengers can be heard swearing and screaming: "Help us" and "Stop this f***ing ride."
An Alton Towers spokeswoman said: "The resort's fully qualified first responders were on the scene immediately to assist with the evacuation which is ongoing, and the area has been closed to allow for access to emergency services vehicles.
"There will be a full investigation once we have recovered the guests who are our priority."
The Smiler opened in May 2013 holds the official Guinness World Record for most loops in a rollercoaster, according to the Alton Towers website.
In July 2013, the ride was closed after reports that a bolt was seen to have fallen from the track.
And in November that year the rollercoaster was again closed after plastic guard wheels came loose and hit front row riders.
The best roller coasters in the world

Show all 9
Register for free to continue reading
Registration is a free and easy way to support our truly independent journalism
By registering, you will also enjoy limited access to Premium articles, exclusive newsletters, commenting, and virtual events with our leading journalists
Already have an account? sign in
Join our new commenting forum
Join thought-provoking conversations, follow other Independent readers and see their replies