Cereal Killer Cafe attacked with paint by anti-gentrification protesters
Around 200 protesters marched through Shoreditch and Brick Lane before attacking the cafe and a nearby estate agent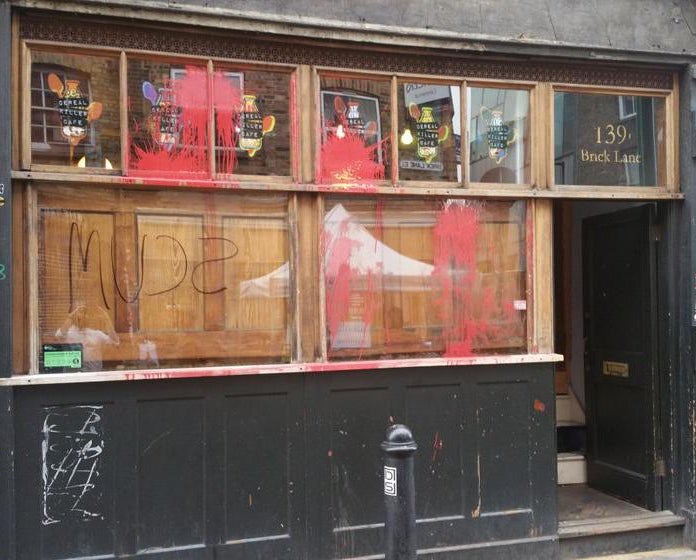 A mob of masked demonstrators has attacked a "hipster" cereal café in east London, throwing paint at its windows and daubing "scum" on the walls in an anti-gentrification protest.
UK: Anti-gentrification activists attack Shoreditch's infamous Cereal Killer cafe
The "Cereal Killer" cafe in Brick Lane was attacked by a "mob" of around 200 protesters on Saturday night, the owners said on Twitter.
The protesters, who dubbed themselves "The F*** Parade", began a march from Shoreditch High Street overground station at around 7pm, through Bethnal Green Road and Brick Lane in a call to "reclaim Shoreditch".
On a Facebook event page for the protest, organisers said they were protecting the working class people of London from "dog-eat-dog economics".
It said: "Our communities are being ripped apart - by Russian oligarchs, Saudi Sheiks, Israeli scumbag property developers, Texan oil-money t***s and our own home-grown Eton toffs. Local authorities are coining it in, in a short sighted race for cash by "regenerating" social housing.
"We don't want luxury flats that no one can afford, we want genuinely affordable housing. We don't want pop-up gin bars or brioche buns - we want community."
The event was billed as a "street party" with "music, pyrotechnics and cheeky banner drops".
But pictures from the event show chairs being thrown at a branch of the Marsh & Parsons estate agent in Bethnal Green Road.
They also burned an effigy of the so-called "hipster cop", a London police officer from Walthamstow with a long beard who inadvertently became an internet meme earlier this year.
According to the Standard, the mob was carrying torches and "pigs heads".
Alan and Gary Keery, the owners of the Cereal Killer Cafe which opened last year, have remained defiant and opened the shop as normal on Sunday morning.
A spokesman for the Metropolitan Police said one person had been arrested in the riot and another had been injured.
Join our commenting forum
Join thought-provoking conversations, follow other Independent readers and see their replies