Artist behind portrait of late Queen unveils painting of coronation procession
Dan Llywelyn Hall painted a portrait of the Queen in 2013, becoming the 133rd artist to do so.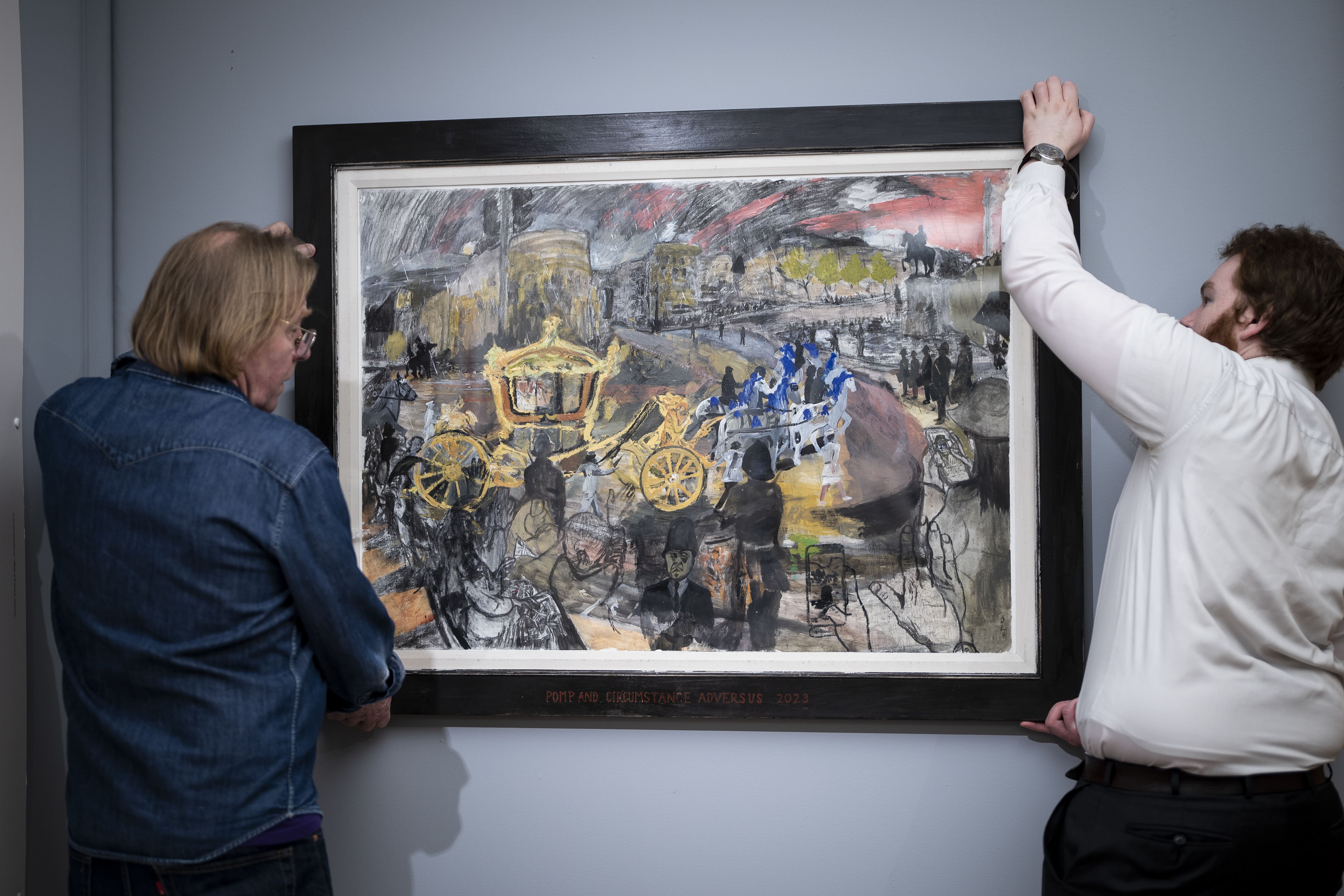 A Welsh artist who produced a portrait of the late Queen has unveiled his latest work which depicts the King's coronation procession.
Dan Llywelyn Hall's piece, named Pomp And Circumstance Adversus, was presented at the City of London Corporation's Guildhall Art Gallery on Tuesday.
The artwork shows the Gold State Coach being pulled by Windsor grey horses decked in blue, as phones are held up to take photographs and videos of the spectacle moving past.
Mr Llywelyn Hall was positioned in Trafalgar Square outside the National Gallery on Saturday, working throughout the day to capture scenes of the procession from Buckingham Palace to Westminster Abbey.
"There's a great tradition in Europe of depicting royal events through painting," he said.
"I think the immediacy and complete spontaneity of these records in art transcend photo or film, as being in the frame makes for an authentic and felt image.
"Everyone tells me the best place to watch it is from one's sofa in front of the TV, but I feed on atmosphere and need to bear witness; this is where my art is born.
"With all its contradictions, pomp and blatant ostentation, it still makes for the best piece of theatre on Earth."
Mr Llywelyn Hall was just 32 when he was commissioned to create the portrait of the late Queen by the Welsh Rugby Union.
In a red dress and pearls, she sat for an hour in the White Drawing Room of Windsor Castle in November 2012.
The piece, measuring 5ft 4ins, was unveiled at the Millennium Stadium in Cardiff to mark the 60th anniversary of her coronation.
Last year, the Cardiff-born artist travelled to Wellington Arch at London's Hyde Park Corner to capture the late Queen's state funeral.
Pomp And Circumstance Adversus will feature in the Guildhall Art Gallery's current exhibition, The Big City: London painted on a grand scale, which runs until July 30.
Wendy Hyde, chairwoman of the City of London Corporation's Culture, Heritage, and Libraries Committee, said the exhibition features some of London's most high-profile ceremonial events.
"Dan Llywelyn Hall has captured the scale, grandeur, and pageantry of King Charles III's procession so impressively, so we hope that visitors to Guildhall Art Gallery will enjoy seeing such a recent moment in history on show among our older works of art," she said.
"The Big City features paintings of some of London's most high-profile ceremonial events over the last century, including jubilees and coronations, making Dan's Pomp And Circumstance Adversus a superb fit within this popular exhibition."
The exhibition, which is open on a pay what you can basis, features 19 artists and showcases some of the largest paintings in the gallery's collection, including works not normally on public display.