Whitehall watchdog to investigate appointment of BBC chairman amid Johnson claim
The public appointments commissioner has intervened amid concerns over Richard Sharp's role helping Boris Johnson secure a loan.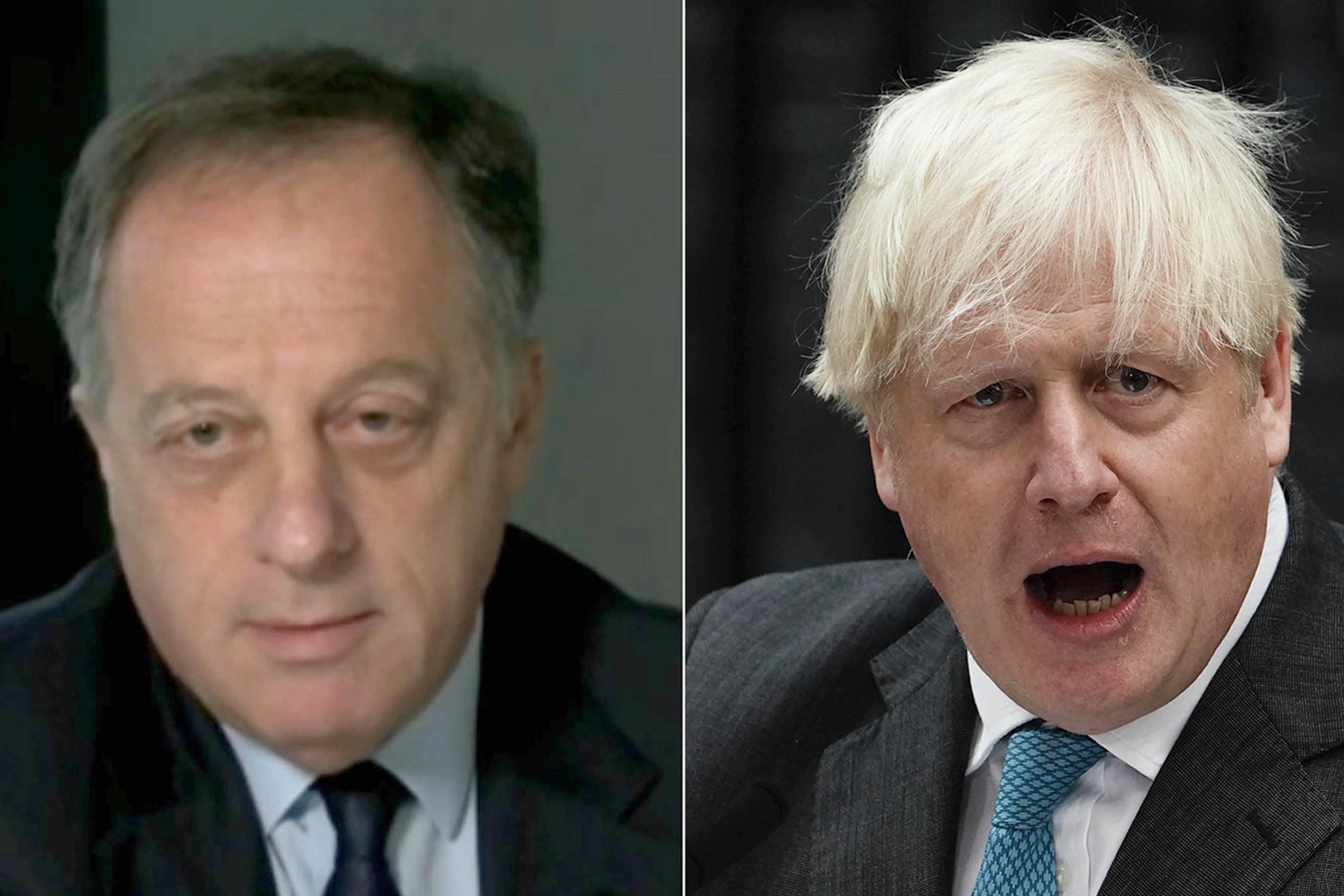 The public appointments watchdog is to investigate the selection of BBC chairman Richard Sharp amid concerns over his role in helping Boris Johnson secure a loan.
William Shawcross, the commissioner for public appointments, said he is to review the way competition for the post was run to ensure it was in compliance with Whitehall rules.
Earlier Mr Sharp announced that he was referring his appointment to the nominations committee of the BBC board following claims of a possible conflict of interest.
In a letter to shadow culture secretary Lucy Powell, who raised the case with him, Mr Shawcross said he had called for relevant papers to be sent from the Department for Digital, Culture, Media and Sport.
"The role of the commissioner is to oversee the public appointments process and ensure appointments are made fairly, openly and on merit," he said.
"I intend to review this competition to assure myself and the public that the process was run in compliance with the Government's governance code for public appointments."
Ms Powell welcomed the announcement, saying Mr Sharp and the Government "clearly have questions to answer".
Mr Sharp said: "I welcome any review that will clarify my role in this matter."
Department for Digital, Culture, Media and Sport permanent secretary Sarah Healey, who chaired the panel which interviewed Mr Sharp for the job, told MPs: "We have already received a request for documentation (from Mr Shawcross) which we will happily provide."
She told the Public Accounts Committee that candidates for public appointments were asked a series of questions about conflicts of interest and apart from Mr Sharp's political donations "no other declarations of conflicts were made".
Earlier, Mr Sharp insisted he was "not involved in making a loan or arranging a guarantee" for the then-prime minister, but acknowledged the row is a "distraction" for the broadcaster.
He told BBC staff members his role was merely to "seek an introduction" for Sam Blyth, who reportedly acted as guarantor for a loan to Mr Johnson, "to the relevant official in Government".
He said: "This matter, although it took place before I joined the BBC, is a distraction for the organisation, which I regret. I'm really sorry about it all."
Mr Johnson, who was responsible for Mr Sharp's appointment dismissed as a "load of complete nonsense", insisting that Mr Sharp had no knowledge of his personal finances.
Mr Sharp was in the process of applying for the BBC chairmanship when he made the introduction and was subsequently appointed to the role at the corporation.
He said: "I was not involved in making a loan, or arranging a guarantee, and I did not arrange any financing. What I did do was to seek an introduction of Sam Blythe (sic) to the relevant official in Government."
He said Mr Blyth – a distant cousin of Mr Johnson whom Mr Sharp has known for more than 40 years – had "become aware of the financial pressures on the then prime minister, and, being a successful entrepreneur, he told me he wanted to explore whether he could assist".
Mr Sharp, who was working in Downing Street as a special adviser to the Treasury during the pandemic, explained the situation to Cabinet Secretary Simon Case.
"I went to see the Cabinet Secretary and explained who Sam was, and that, as a cousin of the then prime minister, he wanted to help him if possible," Mr Sharp said.
"I also reminded the Cabinet Secretary that I had submitted my application for the position of BBC chairman.
"We both agreed that, to avoid any conflict, I should have nothing further to do with the matter. At that point there was no detail on the proposed arrangements and I had no knowledge of whether any assistance was possible, or could be agreed.
"Since that meeting I have had no involvement whatsoever with any process. Even now, I don't know any more than is reported in the media about a loan or reported guarantee."
In his message to BBC staff, Mr Sharp said he asked the nominations committee of the corporation's board to look at the matter to ensure "all the appropriate guidelines have been followed within the BBC since I have joined".
Mr Johnson sought to brush off the controversy, telling  Sky News:  "This is a load of complete nonsense – absolute nonsense.
"Let me just tell you, Richard Sharp is a good and wise man but he knows absolutely nothing about my personal finances – I can tell you that for 100% ding dang sure.
"This is just another example of the BBC disappearing up its own fundament."
Details of the saga around Mr Johnson's personal finances were reported in the Sunday Times and were seized on by opposition MPs.
Canadian education entrepreneur Mr Blyth said the guarantee he provided was for less than the reported sum of up to £800,000.
"The guarantee that was provided was much less than reported and was pre-approved by the Cabinet Office and Ethics prior to it being put in place," he told the National Post in Canada.
Prime Minister Rishi Sunak said the BBC chairman went through a "rigorous" and transparent recruitment process.
He added: "This appointment was obviously made by one of my predecessors before I became Prime Minister.
"The appointments process itself for appointing the BBC chairman is a rigorous process, it is independent, there are two stages to it, it is transparent and published online.
"Mr Sharp's appointment went through that full process."
The Liberal Democrats said the £115,000 allowance for Mr Johnson to run his office as ex-prime minister should be withdrawn until he answers questions about his financial arrangements.
The party's chief whip, Wendy Chamberlain, said: "Boris Johnson has a dismal track record of avoiding scrutiny and covering up his lies and deceit. We know he's only interested in following the money, so it's time to hit him where it hurts – his wallet."
Former BBC director general Greg Dyke defended Mr Sharp, telling LBC that it was important to look at how he was performing in the role.
"Is he doing a good job as chairman of the BBC and is he fighting for the independence of the BBC? And if he is, then that's fine."
Former Commissioner for Public Appointments Sir Peter Riddell suggested that there could have been greater transparency in the case.
He told Times Radio: "I think perception is really important in all these things.
Sir Peter said if any issues had been known earlier, it "would have acted as reassurance so you'd recognise there was a potential conflict.
"Whether there was – which he denies – is a matter for the investigation to establish.
"But I think it would have been in everyone's interest that there'd been much greater transparency early on."