BBC news app wasn't hacked (It just sent a hilariously bizarre message to users instead)
Twitter users asked if the public broadcaster, which later apologised, was feeling alright
Natasha Culzac
Wednesday 25 June 2014 13:08 Comments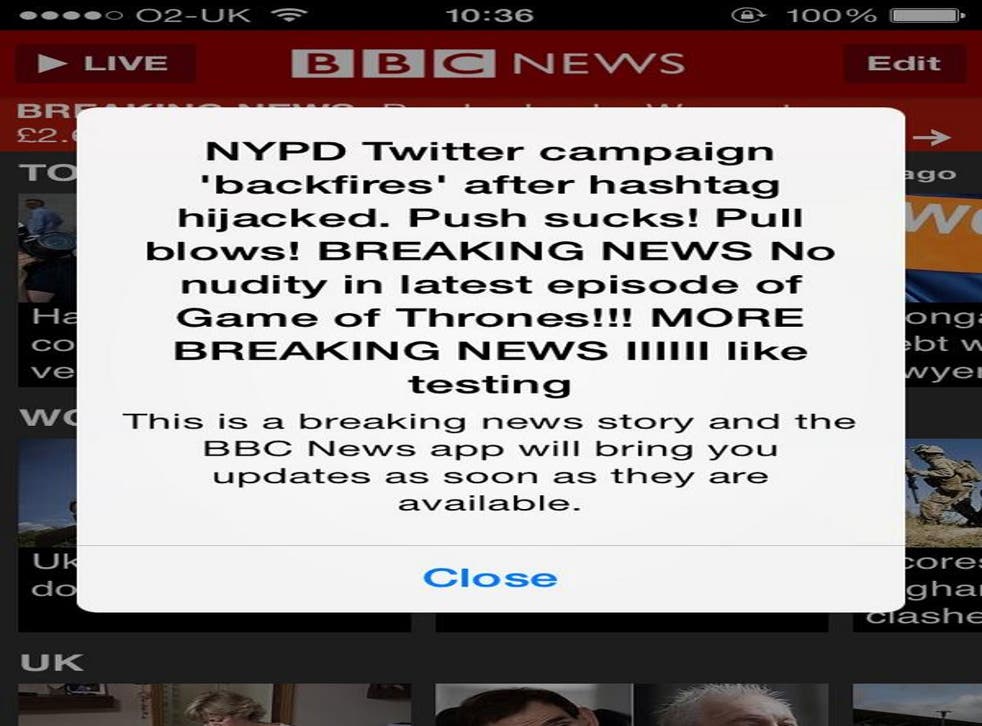 It doesn't take much to make the internet implode and today's cataclysmic event is brought to you by the BBC News app.
Millions of users were given a strange – and accidental – breaking news message this morning that read: "Push sucks! Pull blows!," before talking about nudity in Game of Thrones.
Mobile phone users were left scratching their heads wondering if the organisation had been hacked – unfortunately for one staff member, it was just the unintentional sending of two test push notifications.
The message read: "NYPD Twitter campaign 'backfires' after hashtag hijacked. Push sucks! Pull blows! BREAKING NEWS No nudity in the latest episode of Game of Thrones!!! MORE BREAKING NEWS IIIIII like testing."
A more sober tone is taken underneath with: "This is a breaking news story and the BBC News app will bring you updates as soon as they are available."
Twitter users were worried about the wellbeing of the public broadcaster. One person asked: "umm ... are you feeling ok, bbc news app?" while another quipped: "Go home BBC News app, you're drunk."
It was only send to those who subscribe to its news alerts on devices running iOS.
Alerts are sent out with breaking news stories.
The BBC has since tweeted its apologies to the app subscribers and a further statement said: "We've been in the process of testing new functionality for our Apps and a test message was sent in error this morning.
"We apologise to our App users who were unnecessarily interrupted with the alert."
Register for free to continue reading
Registration is a free and easy way to support our truly independent journalism
By registering, you will also enjoy limited access to Premium articles, exclusive newsletters, commenting, and virtual events with our leading journalists
Already have an account? sign in
Join our new commenting forum
Join thought-provoking conversations, follow other Independent readers and see their replies