Fury as BBC announces it will air Enoch Powell's 'Rivers Of Blood' speech in full
Critics say oration is 'worst incitement to racial violence' in modern Britain
Colin Drury
Thursday 12 April 2018 17:27 Comments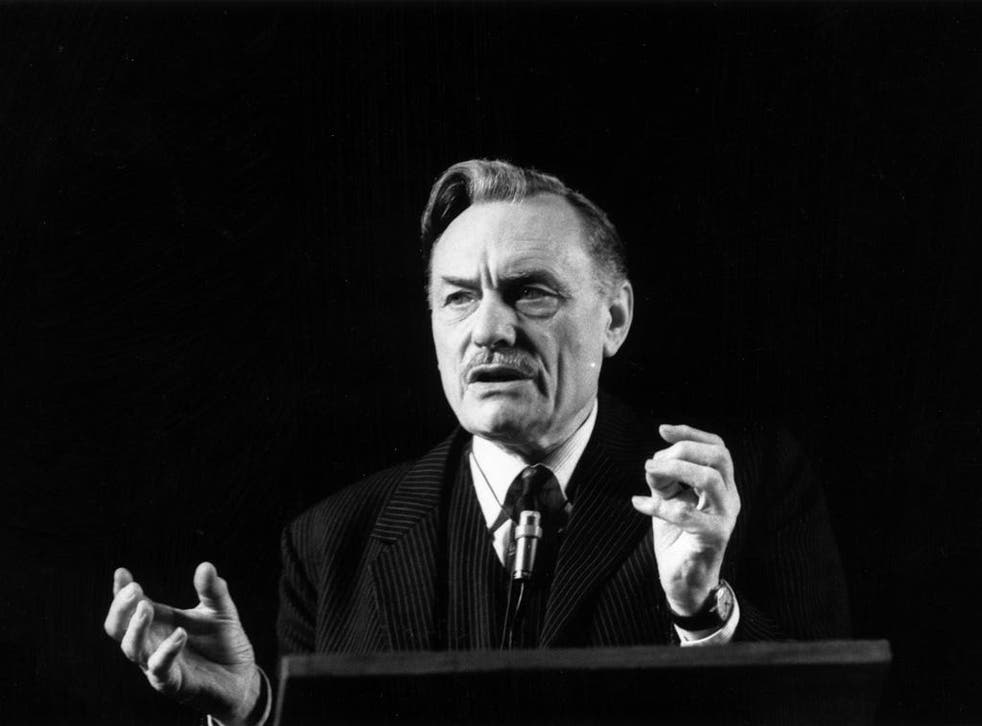 It was the speech which infamously warned that Britain would face rivers of blood if it did not reduce immigration.
Now, 50 years after shadow government minister Enoch Powell was sacked for inciting racial tensions, his speech is to be broadcast on UK radio in full for the first time ever by the BBC.
Stage and Hollywood actor Ian McDiarmid has voiced the full transcript to be aired on Saturday.
But the announcement – revealed in a tweet by the corporation's media editor, Amol Rajan – has been met with a furious backlash.
Critics said such a notorious piece of oration should not be given a new platform.
Labour peer Lord Adonis wrote: "Powell's speech… is the worst incitement to racial violence by a public figure in modern Britain. The BBC should not be broadcasting it on Saturday."
Disability campaigner Nicky Clark said: "Isn't the rivers of blood speech actually hate speech? Aren't there rules for publicly funded broadcasters?"
Since only a short section of Powell's original 1968 speech was recorded, McDiarmid – who starred as the Wolverhampton MP in a recent stage biopic – was asked to read the text.
The Scottish actor, best known for playing Emperor Palpatine in the Star Wars movies, has previously caused controversy by saying he did not believe Powell was racist.
"I no longer think so," he told The Daily Telegraph in an interview last year. "He was certainly stirring things up in a way, which we would now describe as incitement because of the impact of its language. He was surprised by that impact."
Powell – whose career was ended by the controversy – delivered the 45-minute speech to local Conservative members at a Birmingham hotel days before the second reading of the 1968 race relations bill.
He claimed the country was building its own "funeral pyre" by allowing immigration to go unchecked and called for a policy of incentivised repatriation. The speech ended with a reference to Virgil's Aeneid in which a Roman civil war is predicted: "Like the Roman, I seem to see 'the river Tiber foaming with much blood'."
UK news in pictures

Show all 50
It was later claimed the speech led to a direct spike in incidents of racial hatred. A day after delivering it, Powell was sacked as shadow defence spokesman by the Conservative Party's then leader, Edward Heath.
The BBC has not responded to a request for comment. But Mr Rajan defended the decision on Twitter, saying that, rather than being read continuously, the speech would be "broken up and critiqued" throughout the programme.
Register for free to continue reading
Registration is a free and easy way to support our truly independent journalism
By registering, you will also enjoy limited access to Premium articles, exclusive newsletters, commenting, and virtual events with our leading journalists
Already have an account? sign in
Join our new commenting forum
Join thought-provoking conversations, follow other Independent readers and see their replies