Being a transvestite has toughened me up for politics, says Izzard
Comedian and actor has had to resort to physically defending himself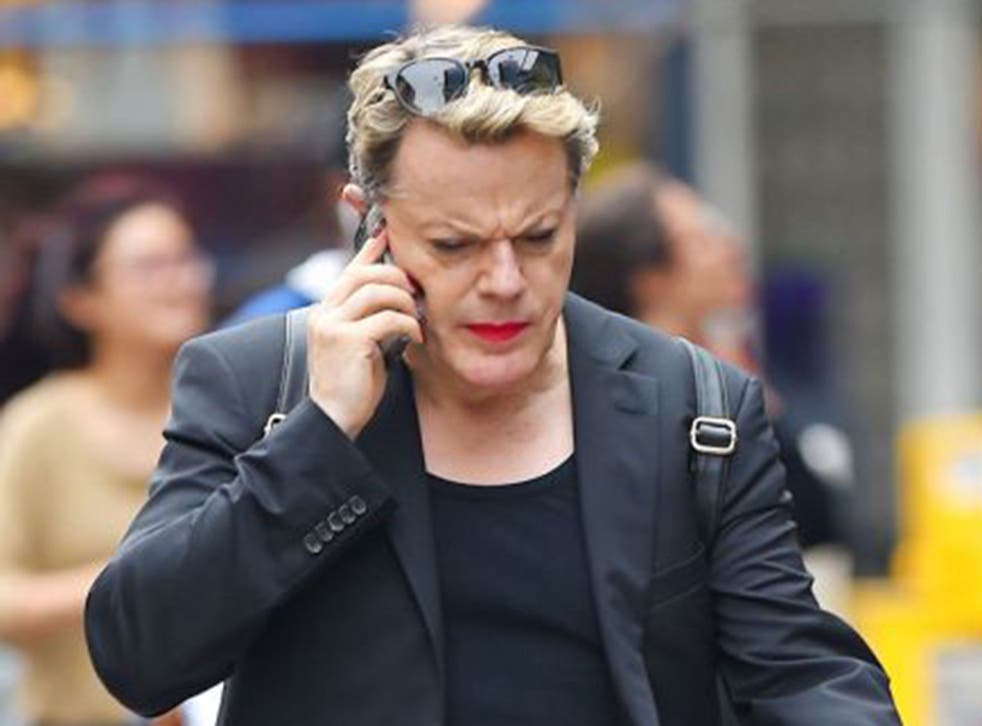 Comedian Eddie Izzard has revealed that the abuse he receives in the street for being a transvestite has got so bad that he has resorted to physically fighting off assailants.
Izzard, 52, said the verbal assaults he has endured from members of the public had toughened him up for the world of politics, as he prepares to run for Mayor of London in 2020.
"I've had people attack me on the street, I've had people shout endless abuse at me," he told the Radio Times. "If you're going to be a transvestite, and you're going to be out in public, you've got to be tough enough. I'll just try and be as positive and open as I can. And try and have a bit of privacy for myself. And see how it goes."
He continued: "I've had a couple of fights. I had one that was over in 30 seconds. This was when I'd just sold out three nights at Cambridge Corn Exchange. A guy in the street outside the venue was insulting me.
"I told him to calm down, gave him two public warnings. Then the third time I just gave him a load of invective, and he went for me, and there was a fight – an affray – then he just sauntered off. So I didn't turn screaming from that, which I was very happy about."
Izzard has spoken openly about his transvestism in his stand-up comedy shows since the 1990s, but now spends more time in what he describes as his "boy mode".
The comedican and actor, who plays Robert Watson Watt, the Scottish scientist who invented radar in the 1930s, in a new BBC drama, Castles In The Sky, said he would happily sign up for the armed forces if his nation needed him.
"You can never tell until it happens, but I hope I would stand up, volunteer, get in there, and not turn and hightail it."
Izzard's achievement of completing 43 marathons in 51 days in 2009 was an attempt to prove to that he had the physical capability required to fulfil his dream of becoming an SAS recruit.
"It's the people who stood up for it," he said of his passion for the Second World War. "It's cometh the hour, cometh the men and women… and it can happen again. I just would have been there, I would have got to D-Day.
"I don't know how I could prove that, but I just would have wanted to do my bit. And doing this drama and running the marathons is me doing my bit."
For Izzard, born in the former British colony of Aden in Yemen, there is a clear distinction between patriotism and nationalism. "Patriotism is you wishing to defend your country against people attacking it. And nationalism is you saying your country is better than the other, and in fact you'll take it to them and start invading them, which is what Hitler did."
Izzard reiterated his ambition to stand as Labour's candidate for London Mayor in 2020, although there may not be a vacancy if the party wins the 2016 election. He refuses to put his name forward for 2016 "because I've spent so many years putting this career together. If I'm going to pack it away or put it into hibernation, I need to pack it away correctly.
"There's just some stuff I need to do before then. The dramatic roles I'm getting are better and better. I went into a film with Dustin Hoffman just after doing two months' stand-up in Germany…"
Izzard will fight a London campaign as an avowed republican, which may cost him votes. "I am not into monarchy. Hereditary privilege is crazy to me. We should widen the gene pool, and elect a head of state for five years."
Join our new commenting forum
Join thought-provoking conversations, follow other Independent readers and see their replies