British man who joined pro-Russian forces in Ukraine jailed on terrorism charge
Benjamin Stimson, 41, spent four months in Ukraine in 2015 to 'escape his life in the United Kingdom' and to perform humanitarian work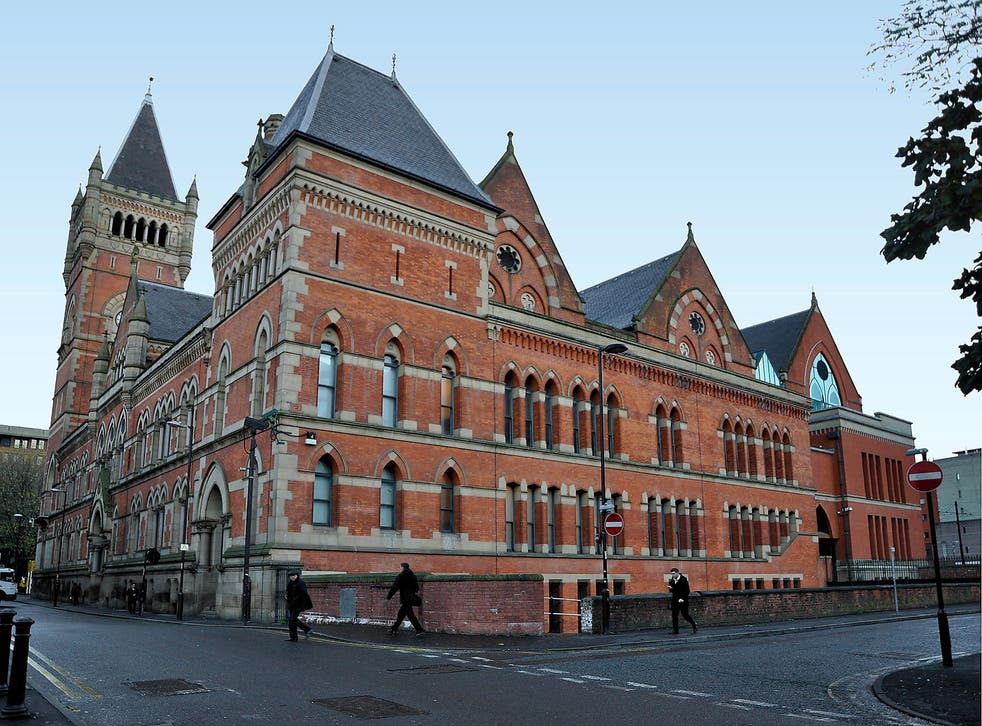 An unemployed Briton who joined pro-Russian militia fighting against Ukrainian government forces has been jailed for five years and four months for a terrorism offence.
Benjamin Stimson, 41, who went to the conflict zone in the Donbass region, is the only UK citizen to have been prosecuted for assisting the anti-Government militia in Ukraine.
While in the country, he gave a BBC interview in which he claimed he was "a working class man with no work" whose last job was on a zero-hours contract.
He said he could not live in Britain any more and was prepared to kill someone if his life was threatened on the front line in what he said he would class as "an act of war".
Stimson also posted on Facebook a photograph of himself holding an AK-47, said it was "simple n' easy" and summed up Donbass as "vodka, women and guns".
But Manchester Crown Court heard that Stimson, formerly of Oldham, Greater Manchester, did not actually engage in any fighting during his four months in eastern Ukraine in 2015 and had intended to perform humanitarian work by driving ambulances.
Sentencing him, the Honorary Recorder of Manchester David Stockdale QC said: "You ultimately did no physical harm to anyone but you assisted the militia by your presence and your involvement, and you will have given a lead to others.
"I accept you do not hold extremist views and you have expressed your regret for your actions.
"It is clear to me that your intention of going there was not to fight but to escape your life in the United Kingdom, perhaps to find adventure and to possibly carry out humanitarian work.
"There is no evidence at all that you at any stage used any violence upon anyone. There is no evidence that you actually engaged in combat.
"On the contrary there is evidence that your presentation as a fighting man was in large part an exaggeration on your own part or even the product of fantasy."
Stimson pleaded guilty at an earlier hearing to a single charge of assisting others in committing terrorism acts.
The Crown did not proceed with an additional count of engaging in conduct in preparation for terrorism.
Stimson will be considered for parole at the halfway point of his sentence and on his eventual release will have to serve an extra 12 months on licence.
Barnaby Jamieson, prosecuting, said Russia had taken steps to annex the Ukrainian territory of Crimea in 2014 and Donbass became a focal point of the resulting conflict and endured major unrest at the hands of Russian separatists.
He said: "From the perspective of the Putin government, the conflict was about creating 'Novorussia', or New Russia - and expanding Russian territory to include the entire Ukraine."
Stimson carried out "extensive" research on the conflict in the summer of 2015 and among internet search entries later found on his computer were: "Volunteer to fight in Donbass," "Britons fighting in Donbass," and "UK law on fighting overseas".
The defendant showed a particular interest in "the Army of Novorussia" and later successfully applied for a Russian visa, said Mr Jamieson.
Stimson flew from Manchester via Brussels to Moscow on August 8, 2015 and was transported to Donbass on his arrival after he established a contact prior to his journey.
Less than a week later the defendant was complaining of stomach pains and had to spend a week in a military hospital, the court was told.
In mid-October 2015, he gave an interview to BBC correspondent Tom Burridge in which his face was shielded from the camera.
Mr Jamieson said: "The defendant suggested that after watching reports in the media about far-right groups in Ukraine, he was inspired to join the rebels. He also complained of his lack of employment prospects back home.
"He went on to say 'well I just see this as a more Western imperialist aggression towards Russia, to people who are not necessarily playing the Western game. I have come here as a working class man with no work. Last job I had was in December last year, zero hour contracts. You can't live in Britain anymore now. No housing, so I voted with me feet'."
Stimson denied he was "meddling" in the conflict and said he was not a terrorist - "not like these jihadists that go out to Syria".
The defendant returned to the UK on November 23, 2015 and was arrested at Manchester Airport on suspicion of terrorism offences.
In his luggage was found various items of military clothing including some which bore the would-be flag of Novorussia, the court was told.
Mr Jamieson said: "The defendant accepts by his plea that by serving as an armed militiaman in an irregular force opposing the Ukrainian army he was assisting others with the intention of committing acts of terrorism.
"Taking up arms for a cause that was either political or ideological brings the defendant within the broadly drawn terrorism legislation. The law does not distinguish between one political/religious/ideological cause or another."
Richard Thomas, defending, pointed out there was a cease fire at the time his client was in the war zone but the defendant accepted he would have fought alongside his comrades if they had come under attack from the Ukraine government forces.
He said: "He accepts that he put himself in a position where he could have provided assistance to the militia."
UK news in pictures

Show all 50
Mr Thomas said Stimson's involvement with the militia only began in early September 2015 after his recuperation at a barracks following his discharge from the military hospital.
Within a few days of serving on the frontline he indicated a desire to leave but did not make the arrangements until early November, said the barrister.
Mr Thomas added: "He remains sympathetic to the plight of the local people but he saw the reality of the militia and what it was with the involvement of oligarchs and power and profit, and he left.
"The defendant does not hold extremist views. In his Facebook contact with a Frenchman who had also been in the Donbass region, on his return he described himself as pro-democracy and a socialist."
Stimson had a number of previous convictions for "low level" offences such as criminal damage, theft and drugs possession.
A report from a forensic psychiatrist highlighted his "troubled background", a dependency on drugs and alcohol and his suffering from depressive disorders.
Mr Thomas said Stimson was seeking help in custody for his addiction problems.
Following sentence, the defendant's father, Martin Stimson, condemned the sentence as "very severe".
He said: "It's plain, and the court accepted, that Ben went out there for humanitarian reasons to drive an ambulance.
"And the court also accepted that Ben is no danger to society, so I'm reeling from that. It's very stiff.
"Initially we thought he was going to work on a farm to get a new life so it was a surprise that he was there in that part of the world."
Detective Chief Superintendent Russ Jackson, head of the North West Counter Terrorism Unit, said: "Stimson went over to the Ukraine with the intention of joining militia groups fighting against the Ukrainian government and the images of him holding a rifle and wearing military clothing are deeply concerning.
"This case demonstrates the complex work the counter terrorism unit does to stop those who commit acts of terrorism, whether that is at home or abroad.
"He has been jailed for the role he played in a violent conflict and I hope his conviction will send a message to all those who are even considering joining conflicts."
Press Association
Register for free to continue reading
Registration is a free and easy way to support our truly independent journalism
By registering, you will also enjoy limited access to Premium articles, exclusive newsletters, commenting, and virtual events with our leading journalists
Already have an account? sign in
Register for free to continue reading
Registration is a free and easy way to support our truly independent journalism
By registering, you will also enjoy limited access to Premium articles, exclusive newsletters, commenting, and virtual events with our leading journalists
Already have an account? sign in