David Cameron and Barack Obama vow joint action against Isis in Iraq following Paris attacks
Scotland Yard has also said it is responding to heightened anti-Semitic rhetoric from extremists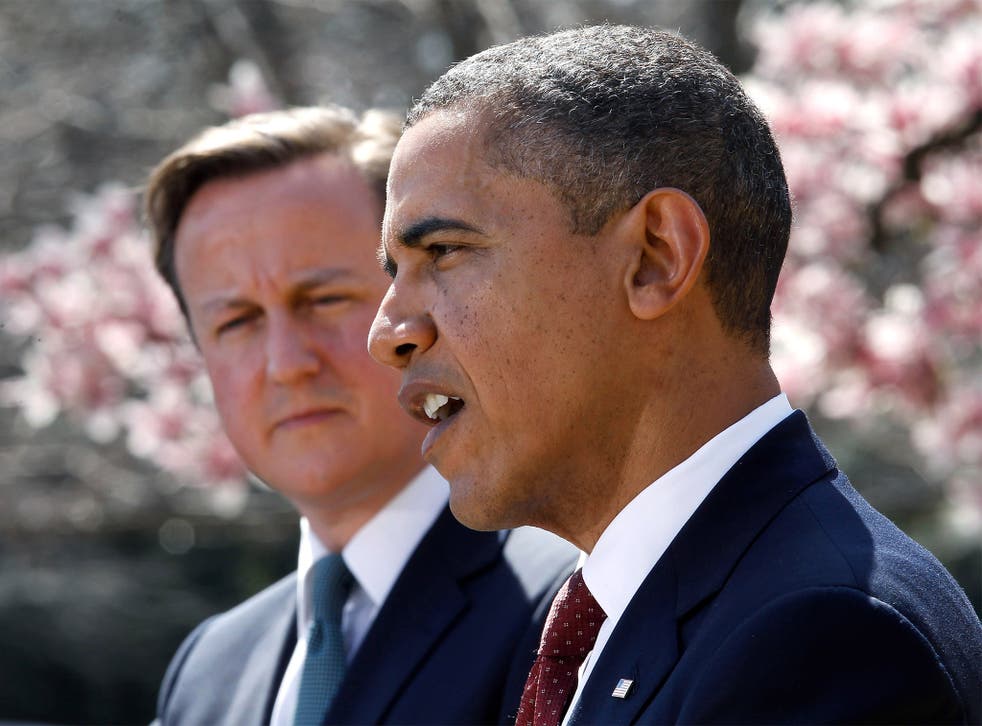 The Jewish community in the UK and serving police officers are to get more protection against terrorist attacks, as David Cameron detailed fresh measures to combat Islamist extremism at home and abroad yesterday.
Security is being strengthened at likely terror targets in response to fears that jihadists could attempt a spectacular attack similar to the Paris atrocities which claimed 17 victims last week.
Scotland Yard said it was responding to heightened anti-Semitic rhetoric from extremists and the deliberate targeting of police officers in recent terror plots.
Following talks in the White House, Mr Cameron and President Barack Obama set out moves last night to tackle the growth of hard-line ideologies in Britain and the United States and to intensify the action against Isis forces in Iraq.
Mr Cameron told a joint press conference: "We face a poisonous and fanatical ideology that wants to pervert one of the world's major religions, Islam, and create conflict, terror and death. With our allies we will confront it wherever it appears."
Mr Obama said the ideology of violent extremism "had metastasised and it's widespread and it has entered communities around the world". But he added: "I don't consider it an existential threat … We are representing the values of the vast majority of Muslims."
But it was not all unity. Mr Obama hinted at a difference with the Prime Minister by warning against the dangers of overreacting to the Paris killings. "We shouldn't feel as if because we've just seen such a horrific attack in Paris that suddenly everything should be done by the wayside," the President said.
Charlie Hebdo: Mourning in Paris

Show all 6
"We've got to make sure that we don't overreact, but that we remain vigilant and are serious about our responsibilities."
British and American officials are to work on fresh plans for combating the spread of violent ideology on either side of the Atlantic.
They will focus on ways of working with Muslim communities to challenge extremist thought and designing deradicalisation programmes, as well as action against jihadists returning from fighting abroad.
The UK will step up operations against Isis forces in Iraq, which the Government says are beginning to bear fruit. Extra drones are to be deployed in Iraqi airspace to gather information about the movement of Isis forces, while British experts are being sent to Iraq to advise local forces on dealing with explosive devices.
The British security moves were announced by Assistant Commissioner Mark Rowley of the Metropolitan Police, the national policing lead for counter-terrorism. He said the attack on a kosher supermarket in Paris and anti-Semitic rhetoric from extremists had led to a "heightened concern" about the risk to Jewish people living in Britain.
He added that the recent "deliberate targeting" of police raised fears about the dangers faced by officers.
Mr Rowley said: "The global picture of terrorist activity does give us heightened concern about the risk to the Jewish community in the UK."
Mr Cameron told Channel 4 News: "These steps were taken because of what happened in Paris and because of the situation that we face generally. There's no way you can give 100 per cent protection in a free and open society.
"I would stress that while we have incredibly capable intelligence and security services, while we have very strong counter-terrorism police, there's an enormous role for the public as well."
During the Washington summit, the two leaders agreed there should be no easing of sanctions on Russia until it "ends its aggression" in Ukraine.
In an attempt to reassure Nato members in Eastern Europe, Mr Cameron announced an extra 1,000 British troops will take part in exercises in the region, taking the total deployment to more than 3,200. They will take place in Poland, the Baltic States, Bulgaria and Germany.
Join our new commenting forum
Join thought-provoking conversations, follow other Independent readers and see their replies