Cheltenham restaurant's breastfeeding sign goes viral after offering mums free tea and place to relax
The sign was written by the manager of the Brasserie Blanc in Cheltenham after a shattered mother came in desperately needing a break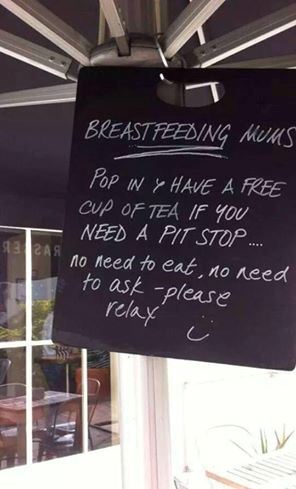 A restaurant in Cheltenham has punctuated the steady stream of stories of women being told not to breastfeed in public with one very different.
Brasserie Blanc hung a chalkboard on an umbrella outside its establishment which read: "Breastfeeding mums – Pop in & have a free cup of tea if you need a pit stop… no need to eat, no need to ask – please relax :)"
A picture of the signboard was posted to parenting Facebook page, RefreshMe, and promptly won applauds from parents across the country, while being shared almost 8,000 times and liked 11,500.
French restaurant chain Brasserie Blanc is owned by celebrity chef Raymond Blanc.
The breastfeeding-friendly sign was the brainchild of Emma O'Connor, General Manager of the Cheltenham branch.
"[The sign] was literally from a mum that was tired. I made her a cup of tea and she looked like I'd given her a million pounds," Ms O'Connor told The Independent.
"I wish I'd done it ages ago, if I'd known it would make people feel more confident.
"Sometimes you just need to sit down with your baby. Not everyone is as confident, and it's not as easy for everyone. You can't just sit on a park bench sometimes.
"We've had an unbelievable response. We've got emails from all over the place."
Ms O'Connor said that the sign was not in fact just for breastfeeding mums but also bottlefeeding mums and those who don't even need to feed, but just need a break.
Brasserie Blanc spokeswoman Kathryn Coury said that Ms O'Connor "was prompted by the fact that it was so hot. She appreciates that you get thirsty and tired when breastfeeding and wanted to make people feel that they were welcomed to come in for a pit stop."
The firm said on its Facebook page that the sign had "caused a storm in a teacup – as far as Australia & USA. The power of mums!"
Responses to the sign were largely positive, though some women said that being unable to breastfeed meant the sign made them feel guilty.
One said: "Wow!!! Perhaps a few New Zealand restaurants should think like this!!!" while another said: "It's lovely. About time people accept that breast feeding is a normal fact of life - it's not perverse or disgusting - it's about feeding and nurturing your child - for babies, waiting is not an option so if they need feeding in a public place it's great and women should be welcomed to do it."
Ms Coury confirmed that while the other 19 Brasserie Blanc outposts – in Oxford and Bristol among other locations – have a "policy of being welcoming and accommodating" for those either breast feeding or bottle feeding, they do not currently offer the free tea.
Join our commenting forum
Join thought-provoking conversations, follow other Independent readers and see their replies