Church of England issues 'unreserved' apologies to victims of Chichester child abuse after investigation reveals extent of failures
The Archbishop of Canterbury calls for a 'complete change of culture' in the Church
Heather Saul
Monday 08 July 2013 12:40 Comments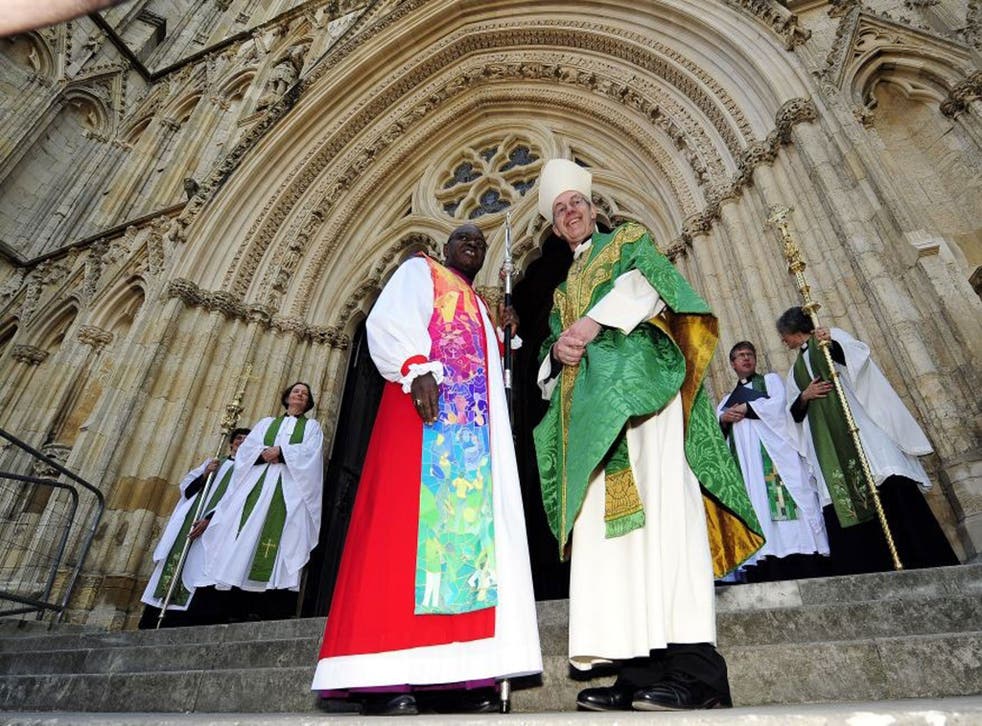 The Church of England has formally apologised for sexual abuse carried out by Anglican priests, as victims called for a full inquiry into abuse across all churches.
The General Synod was asked to back an apology issued by Archbishop of Canterbury Justin Welby and the Archbishop of York Dr John Sentamu after a final report into child abuse scandals in the Chichester Diocese published in May revealed the extent of safeguarding failings by the Church.
During a debate at the University of York, the Most Rev Welby called for persistent action and a "complete change of culture and behaviour" in order to combat clerical abuse.
Members of the General Synod voted to issue an expression of regret for the failure of the Church to not only prevent sexual abuse, but for also "condemning survivors" by refusing to listen to them.
They also backed moves to introduce more stringent child protection arrangements.
The Rt Rev Paul Butler, Bishop of Southwell and Nottingham read a statement from the Stop Church Child Abuse Group (SCCA), a coalition of survivor support groups, to the General Synod. In the statement the SCCA called for an independent public inquiry into the extent of child abuse within the Church of England.
The Rt Rev Butler said the report exposed "serious failures" in the Chichester Diocese but also "much wider institutional failings" which affect every diocese in the Church of England.
At the meeting on Sunday, the Rt Rev Butler, said for "far too long" the Church of England, notably those in senior positions, had either disbelieved the stories of victims, believed them but tried to hide the truth away or hoped that by removing an offender the problem would go away.
"We can make all the excuses that we like about society being different in previous decades - or our understanding of abuse being so much better," he said.
"We can note that our policies were different then and we followed those policies. But these take nothing away from the fact that we failed to listen properly, we did not acknowledge the wrong done, and we protected the institution at the expense of the person abused."
He added: "We failed big time, we can do nothing other than confess our sin, repent and commit ourselves to being different in the years ahead."
However, David Greenwood, Chairman of Stop Church Child Abuse raised concerns after the debate that the apology could seem like "just another PR stunt" to improve the Church's image if they did not commit to a full public inquiry.
In a statement released on their website, Mr Greenwood said: "I hope that the Church of England are serious when they say they want to engage with our campaign to improve safeguarding for children who come into contact with clergy. In the past church leaders have been willing to put their organisation's good name before the protection of children."
Additional reporting by PA
Register for free to continue reading
Registration is a free and easy way to support our truly independent journalism
By registering, you will also enjoy limited access to Premium articles, exclusive newsletters, commenting, and virtual events with our leading journalists
Already have an account? sign in
Join our new commenting forum
Join thought-provoking conversations, follow other Independent readers and see their replies