Abramovich tells of role in aluminium wars
Oligarch tells court how he formed world's biggest aluminium firm – without Berezovsky
Tom Peck
Friday 04 November 2011 01:00 GMT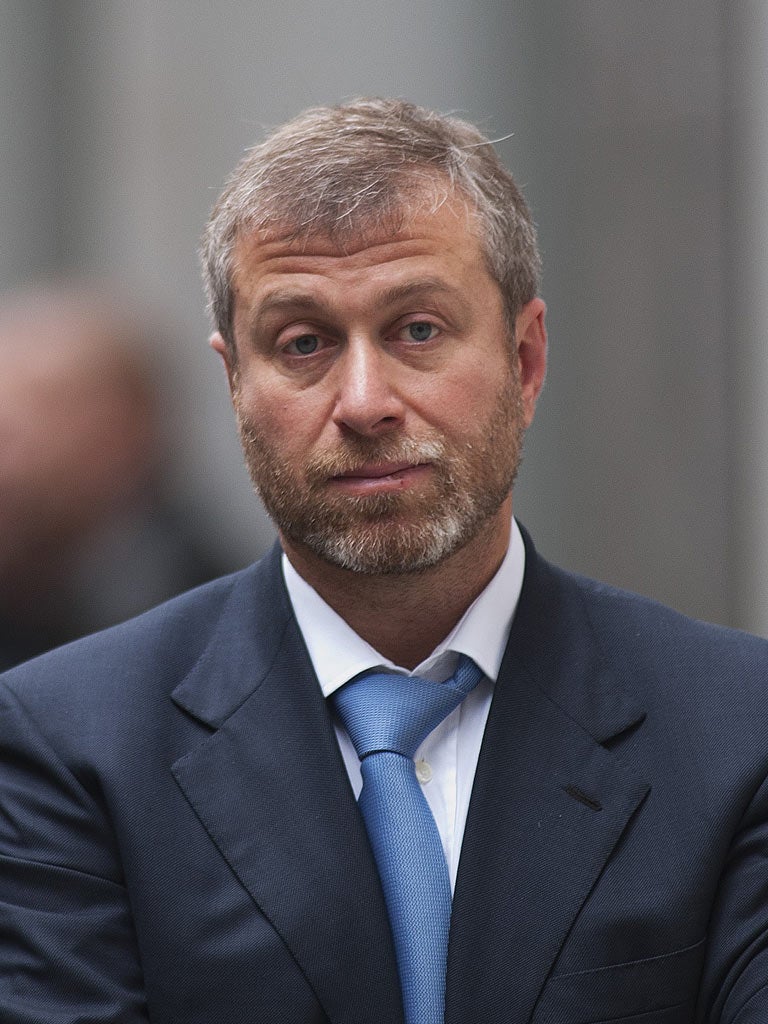 It was with some initial reluctance that Roman Abramovich became involved in Russia's notorious aluminium wars of the 1990, he told a court yesterday. "Every three days, someone was being murdered," he pointed out.
The $575m (£358m) worth of aluminium assets might seem like a side issue in the $6bn litigation he is fighting against his former friend Boris Berezovsky, the bulk of which concerns shares in Siberian oil. But as Mr Abramovich gave evidence for a fourth day at London's Commercial Court, he shed a grim light on the shadowy world, albeit sprinkled with Gulfstream Jets and luxurious hotels.
It was against a backdrop of murders, extortion and intimidation that Mr Abramovich came – reluctantly, he claimed – to buy the giant Krasnoyarsk aluminium smelter in early 2000. With the workforce striking in the streets, the sellers, among them British commodities billionaire David Reubens, wanted out.
While Mr Abramovich claims it was he alone who bought the smelter, as well as another aluminium refinery, Mr Berezovsky maintains he and his business partner Badri Patarkatsishvili held 50 per cent of the assets in trust. When asked to explain why, in a recording of a secret meeting between the three men, he continually discussed the assets using the word "We" rather than "I", Mr Abramovich told the court: "I always say 'We'. I don't like to say 'I'." In this, he is like the Queen – although he is considerably richer.
Several media reports at the time, as well as a US visa application written by one of the sellers of the assets, claimed Mr Berezovsky was among the buyers. Mr Abramovich claimed it was entirely feasible that the seller in question might not know to whom he had sold them. "I mean, you are not selling a kitten whereby it's important that he gets into good hands; it's aluminium assets and you don't really care who gets them," he said.
At the heart of the matter is Oleg Deripaska, a man even richer and more publicity-shy than Mr Abramovich, but who shot to the attention of the British public when George Osborne and Peter Mandelson were caught on his yacht off Corfu in 2008.
Mr Abramovich eventually merged his aluminium assets with Mr Deripaska to create Rusal, the world's largest aluminium company.
Mr Abramovich has sought to play down the importance of a meeting at the Dorchester Hotel in 2000, at which Mr Berezovsky claims the details of the merger were worked out between the two men as well as Mr Patarkatsishvili and Mr Deripaska.
Mr Abramovich's passport records indicate that he flew to Moscow from London on 12 March 2000, and immediately flew back again at Mr Berezovsky's insistence, which the defence claims gives an indication that it was a meeting of some importance – not, as Mr Abramovich has claimed, merely a chance to spend some time alone with Mr Deripaska on the flight to discuss it.
To much laughter from the court, Mr Berezovsky's barrister, Laurence Rabinowitz, asked: "If you wanted to spend quality time with Mr Deripaska, you could have done it in far more convenient surroundings than both of you, having got back from London on one day, getting on a flight back to London the following day."
Mr Abramovich admitted it was perhaps not the most comfortable of settings, but pointed out: "The Gulstream G5, which was the jet that we used, was the cutting edge, very low pressure, very quiet jet, it was quite comfortable. And the Lanesborough Hotel [where they stayed] is a comfortable hotel; and, well, let's face it, London is a nice place."
The case continues.