Acid attacks: Four men carrying a 'corrosive substance' arrested in London amid police crackdown
Arrests made on same day man attacked inside own home by suspect who stole phone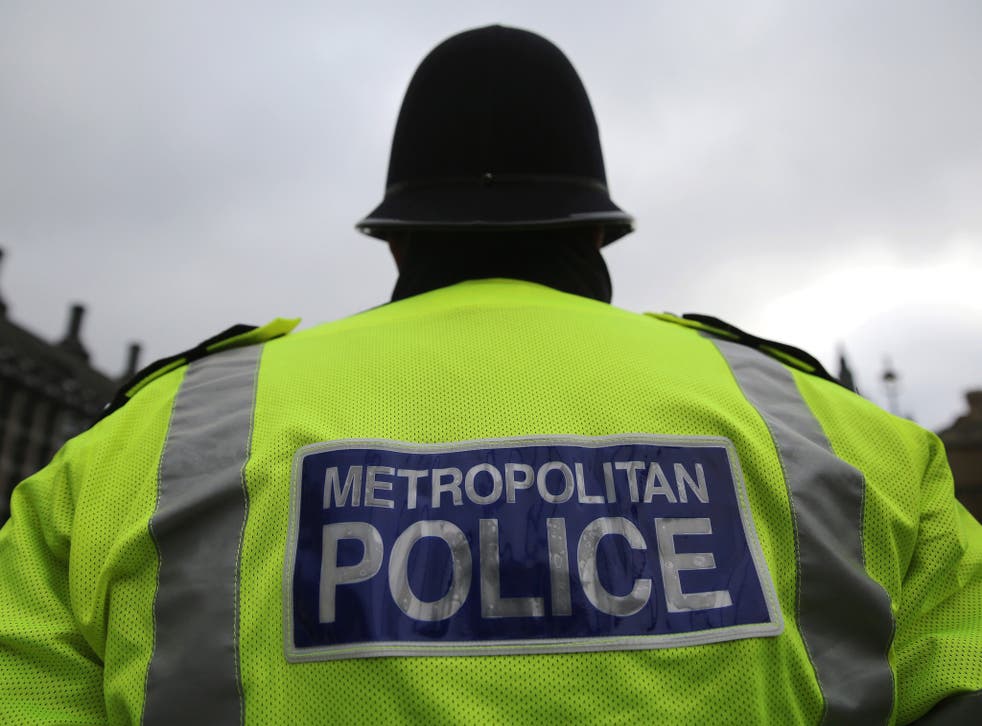 Four men carrying a "corrosive substance" have been arrested in London amid a crackdown following a series of acid attacks.
Police discovered the liquid, alongside gloves and a balaclava, after stopping a suspicious car in Leytonstone shortly before 9pm on Wednesday.
A spokesperson for the Metropolitan Police said the four suspects inside, two aged 17 and two aged 18, were arrested on suspicion of possessing a noxious substance and detained.
They were stopped a short distance east of the locations of five acid attacks launched in just 90 minutes on 13 July, which was followed by another assault on a moped rider in Dagenham and attack on a female paramedic.
A pregnant woman had acid thrown on her stomach in a separate incident in Mile End on 4 July, while cousins Jameel Mukhtar and Resham Khan were severely injured in an acid attack in Beckton in June.
On Wednesday, a man was attacked with a corrosive substance in his own home in Dagenham, by a man who had arranged to buy his mobile phone.
Delivery riders join acid attack protest in Parliament Square
Instead of handing over the money agreed, police said the visitor squirted a liquid in the man's face before grabbing the phone and fleeing the house.
Scotland Yard said the man was taken to hospital for treatment but did not suffer life-threatening injuries. No arrests have been made.
The spike in incidents has prompted a new strategy by the Government, including the possibility of life sentences for culprits, as well as pledges from police to use existing powers to prevent attacks.
Detective Inspector Michelle Peters, from Waltham Forest CID, said Wednesday's arrests showed how stop and search laws could be used.
"The impact of these substances on victims is terrible," she added.
"Let me be clear, those found carrying corrosive substances will be arrested and they will be made to face the consequences."
The Metropolitan Police's Deputy Commissioner, Craig Mackey, has warned that some gang members are "moving across" to using corrosive fluids as weapons over guns and knives.
He told the London Assembly Police and Crime Committee there were 455 acid offences recorded in London last year, with 63 per cent being assaults, including 23 per cent robberies.
More than 80 per cent of both suspects and victims were men, with east London identified as a major "hotspot".
"We are seeing some links - although it has to be treated with caution because it's a small data set - a growing feature between named suspects in acid attacks who also feature in our gang matrix," Deputy Commissioner Mackey said.
"We are seeing a move across."
MPs have debated possible measures to counter the crimes, including tougher sentences, and the Government has proposed classifying corrosive substances as dangerous weapons.
Survivors and campaigners have called for measures to restrict sales and increase penalties to deter offenders.
An acid attack victim from Luton, who wished to be named only as Mr Khan, told The Independent those found guilty should get "15 years in prison – minimum".
"It's disgusting that someone can so easily obtain that kind of liquid and change someone's life," he added.
Deputy Commissioner Mackey said his officers were "intervening, stopping, searching people, seizing stuff and making arrests" but warned that some substances being used were not specifically defined within existing laws.
"The impact this sort of attack has on people is extraordinary," he added.
"Many of us have been unfortunate to see quite a bit in our services but acid attacks are really extraordinary and strike at something quite horrific in people's psyche."
Concerns have also been raised over a potential copycat effect from the recent increase in crimes, with water being thrown at Muslim women outside a Southampton mosque in a suspected hate crime on Tuesday.
Assaults have also been reported outside London, including in the West Midlands, where police are hunting a man accused of launching a new attack in Solihull.
Police said the suspect shouted "I've got acid" before squirting what is thought to be an ammonia-based cleaning fluid at people who asked the car he was in to down outside a pub.
The substance hit one man in the face, but he escaped unhurt after washing it off with water.
The suspected driver of the car has been arrested but the suspected attacker, who was a passenger, remains at large.
The Government's policing minister, Nick Hurd, warned that "crime is changing" in the UK as annual statistics were released on Thursday.
"We recognise that crime is changing and we are determined to get ahead of new and emerging threats to the safety and security of our families and communities," he said.
"Our latest action, announced in the past week, includes urgent work to bear down on acid attacks and proposals to strengthen the law to get knives off our streets."
He praised police after statistics gathered by the Independent Crime Survey for England and Wales showed offences down by over a third since 2010 and down by almost 70 per cent since the peak in 1995.
But figures separately published by the Office for National Statistics showed the largest rise in crime for a decade, with those recorded by the police up by 10 per cent to almost five million between April 2016 and March 2017.
Violent crime was up by 18 per cent, robbery by 16 per cent and sex offences by 14 per cent, as Home Office data shows the number of police officers at the lowest since 1985.