Alexander Litvinenko's widow vows to continue fight to bring killers to justice
Marina Livinenko demanded the expulsion of all Russian intelligence agents from Britain along with economic sanctions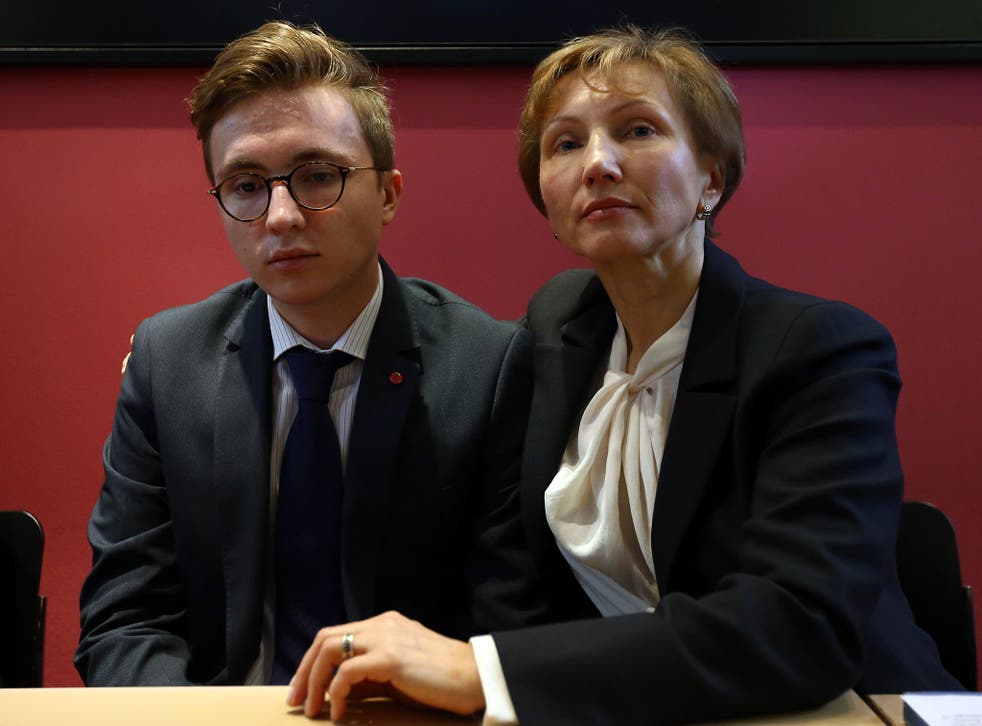 After he was granted asylum in Britain in 2003, Alexander Litvinenko took his young son to the Tower of London to see the Crown Jewels. On his deathbed three years later, the dissident recounted how he had told him: "Sonny, you must defend this country in the future until the last drop of your blood."
The gratitude felt by Litvinenko, who formally became a British citizen a month before his murder, and his family to Britain for giving them sanctuary was sincere. But for his widow and son the long path to justice pitted them against not only the Kremlin but also at times their adoptive state.
As she stood on the steps of the Royal Courts of Justice, minutes after publication of the public inquiry report which lay official blame for her husband's death firmly at the Moscow's door, Marina Litvinenko spoke of her satisfaction that an English court had found that Russia and its president, Vladimir Putin, were - to a greater or lesser extent - instrumental in the assassination.
It was a finding that came only after a tortuous and at times lonely battle to ensure that the authorities provided the fullest possible account of Alexander Litvinenko's death.
In 2013, an inquest into the killing was delayed after the coroner decided that a public inquiry, which would be able to hear evidence from the intelligence services (albeit in private), was the most suitable instrument for deciding how and why the 44-year-old former intelligence officer was murdered.
When months later Home Secretary Theresa May ruled out such an inquiry, Mrs Litvinenko, a former dance teacher with a degree in economics, was forced to risk all by launching a High Court case to reverse that challenge.
There was no guarantee of success but the courts found in Marina's favour, forcing the Government to order the investigation which on 21 January went some way to achieving the goal set by her and her son, Anatoly, of establishing the facts surrounding the polonium poisoning in November 2006.
As Sir Robert Owen, the inquiry chairman, put it in his report: "It was [Mrs Litvinenko's] action in bringing a judicial review against the Home Secretary (at considerable financial risk to herself) that resulted in this Inquiry being established… Above all, she has demonstrated a quiet determination to establish the true facts of her husband's death that is greatly to be commended."
Ironically, it was due to his role as an investigator for the Russian FSB internal security service that Mr Litvinenko met his wife. The pair met after two of her friends, whose complaint of extortion was being investigated by Mr Litvinenko, invited him to her birthday party in June 1993. They married in the following October following the birth of Anatoly.
On 21 January, Mrs Litvinenko made it clear that her quest to, in some way, hold to account those responsible for her husband's death continues. She demanded the expulsion of all Russian intelligence agents from Britain along with economic sanctions and travel bans against named individuals, including Mr Putin.
Asked to confirm that she had not given up on the two suspected killers, Dmitry Kovtun and Andrei Lugovoi, being brought to justice, she said: "They are walking the streets of Moscow today but I believe there will be a final day when these two people will be punished."
In the meantime, the mother and son will continue their lives in their adoptive country, on the one hand grateful for its actions, on the other seek to prod it into a more robust stance against an adversary unafraid of deploying radioactive poison in London.
When asked how the nine years since his father's death had felt, Anatoly said: "It's been pretty difficult. I can't compare with anyone else's life - you only have one life. My life is what it is. For some looking from the outside, it might look difficult."
However, Mr Litvinenko's younger brother, Maxim, a chef living in Italy who once blamed Russia for the murder, told the Daily Mirror: "My father and I are sure that the Russian authorities are not involved. It's all a set-up to put pressure on the Russian government.
"Why else would the court be called to hold this inquiry only after 10 years? The West appears to be collaborating with Russia in Syria, but it's not real. There are still sanctions."
Asked why Mrs Litvinenko blamed the Kremlin, he said: "She lives in London: to survive, she has to play the game and take this point of view."

Register for free to continue reading
Registration is a free and easy way to support our truly independent journalism
By registering, you will also enjoy limited access to Premium articles, exclusive newsletters, commenting, and virtual events with our leading journalists
Already have an account? sign in
Register for free to continue reading
Registration is a free and easy way to support our truly independent journalism
By registering, you will also enjoy limited access to Premium articles, exclusive newsletters, commenting, and virtual events with our leading journalists
Already have an account? sign in