Andy Coulson sentencing: Former News of the World editor could face up to two years in jail
The disgraced No 10 spin doctor was found guilty last week of conspiring to intercept voicemails while working at News of the World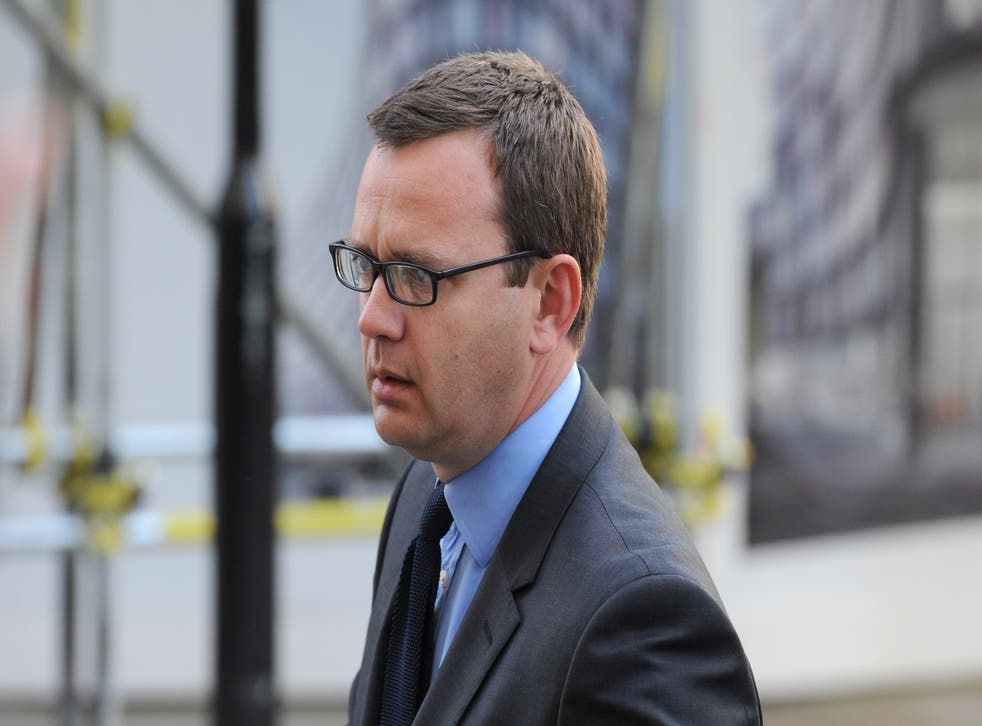 Disgraced No 10 spin doctor Andy Coulson faces up to two years in jail today when he is sentenced for plotting to hack phones while he was in charge of the News of the World.
The 46-year-old father-of-three was found guilty last week of conspiring to intercept voicemails at the now-defunct Sunday tabloid following an eight-month trial at the Old Bailey.
Under his editorship, the NotW was "utterly corrupt" and "became a thoroughly criminal enterprise", according to prosecutor Andrew Edis QC.
The list of victims whose private lives were invaded reads like a "Who's Who of Britain in the first five years of the century", he said.
In mitigation, Coulson's lawyer Timothy Langdale QC said that at the time, no one in the newspaper industry realised phone hacking was illegal.
Coulson, from Charing in Kent, is joined in the dock by three former colleagues and private detective Glenn Mulcaire who all admitted their part in hacking before the trial started last year.
NotW news editor Greg Miskiw, 64, from Leeds; chief reporter Neville Thurlbeck, 52, of Esher, Surrey; and news editor James Weatherup, 58, of Brentwood in Essex have all admitted one general count of conspiring together and with others to illegally access voicemails between October 2000 and August 2006.
According to Mulcaire's notes, Miskiw tasked him 1,500 times, Thurlbeck 261 times and Weatherup 157 times, the court heard.
Earlier this week, Thurlbeck's lawyer said Coulson had not been truthful in his evidence and he never ordered his client to stop phone hacking when he told him about David Blunkett's voicemail to Kimberly Quinn in 2004.
Hugh Davies QC said: "No such disapproval of the practice was given by Mr Coulson. There was no direction to stop."
Weatherup's lawyer said phone hacking was "endemic" at the NotW and ultimate responsibility lay at more "senior editorial levels".
Video: The long legal battle
Charles Bott QC said: "We have gone from rogue reporter to rogue reporter-plus - but neither of those reflect the truth. Phone hacking was condoned and encouraged by senior managers at the NotW for the simple reason it was an expedient and cost-effective way to obtain information."
Miskiw's lawyer Trevor Burke QC asked the judge to take account of his early guilty plea and the fact he had expressed "genuine remorse".
Gavin Millar QC, for Mulcaire, said his client had already been jailed for phone hacking in 2007 and questioned whether he should be punished again.
Since he served his time, the married 43-year-old from Sutton in south London had not only faced bankruptcy but also become the "personification" of the NotW scandal in the media, he said.
Mulcaire, who was paid around half a million pounds by the NotW, was first convicted of phone hacking with royal reporter Clive Goodman in 2006.
Following the renewed police investigation into the full extent of hacking, he admitted three more counts of conspiring to hack phones plus a fourth count of hacking the voicemail of murdered schoolgirl Milly Dowler in 2002 - an act which eventually led to the downfall of the NotW in 2011.
Coulson's co-defendants Rebekah Brooks and managing editor Stuart Kuttner denied any wrongdoing and were cleared of all charges last week
The prosecution has applied for £750,000 costs to be paid following the 139-day trial.
Trial judge Mr Justice Saunders is expected to hand down sentences in Court 12 of the Old Bailey this morning.
PA
Register for free to continue reading
Registration is a free and easy way to support our truly independent journalism
By registering, you will also enjoy limited access to Premium articles, exclusive newsletters, commenting, and virtual events with our leading journalists
Already have an account? sign in