Anjem Choudary: How hate preacher was finally caught for supporting Isis after 20 years of spreading extremism in UK
Choudary, a former solicitor, had previously managed to evade British terror laws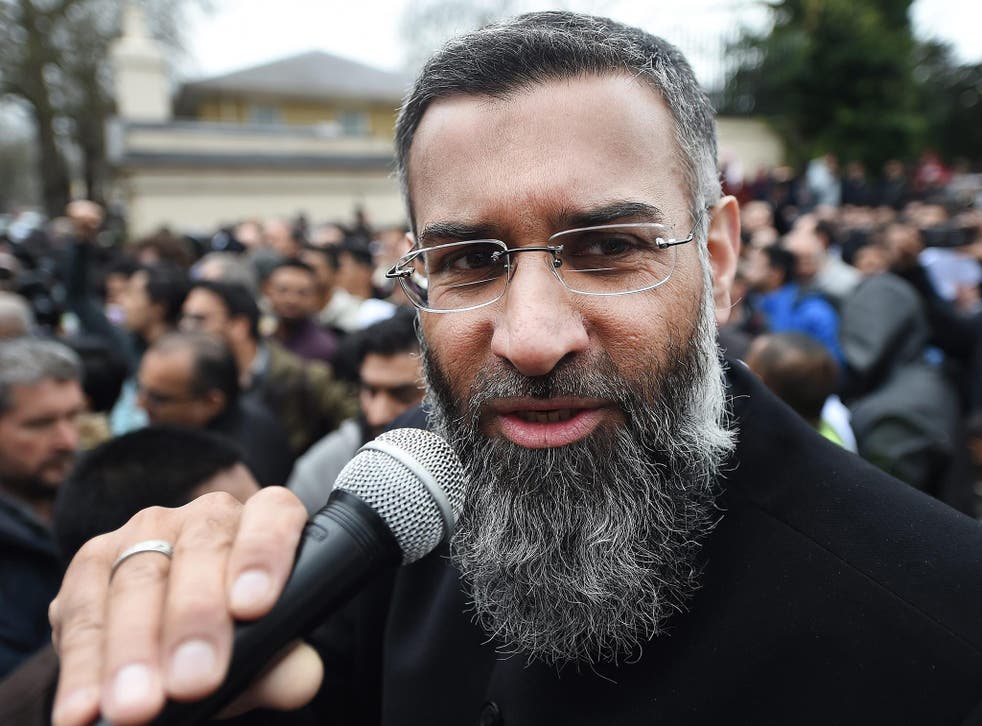 After more than 20 years of spreading extremism and hate, it was a meeting at an east London curry house that finally allowed police to catch Anjem Choudary.
The extremist preacher had frustrated the security services for decades by treading a careful line to keep his incendiary speeches just outside British terror legislation.
He was merely exercising his freedom of speech over his interpretation of the Quran and Islam, the former lawyer would argue, and was not breaking the law by supporting any banned groups.
Anjem Choudary: Radical preacher found guilty of inviting support for Isis
But that would change after Isis' declaration of its "caliphate" in 2014, claiming to realise Choudary's frequently-declared wish for a territory ruled by Sharia law.
On 2 July that year, as the group continued its brutal advance through Iraq and Syria, the 49-year-old and his key supporters met at a curry restaurant in London.
After discussing the move with his mentor Omar Bakri Mohammed, who is currently in jail in Lebanon after being banned from the UK, Choudary and his followers formally pledged allegiance to Isis and its leader Abu Bakr al-Baghdadi.
Two hours into the meeting Choudary sent a message to his wife, the court heard, simply reading: "Done."
He did not publicly announce the pledge but sent a series of tweets on the day encouraging Muslims to move to an unspecified "caliphate".
"One day the whole world will be under the authority of the Muslims, the east of the East and the West of the West, may Allah hasten it!" he wrote on Twitter.
The messages continued to avoid direct mention of Isis, but Choudary had already given the convicted Indonesian terrorist Mohammed Fachry permission to publish his oath online.
Timeline: The emergence of Isis

Show all 40
It appeared on 7 July, finally giving police and prosecutors the evidence needed to ensure Choudary's conviction for "inviting support" of a terror group.
Over the coming months, Choudary and his co-defendant Mohammed Mizanur Rahman encouraged backing for the so-called Islamic State in a series of talks posted on YouTube.
They were both convicted of inviting support for a banned group in July following a trial at the Old Bailey, although the verdict could only be announced on Tuesday because of reporting restrictions.
Adam Deen, now the head of outreach at the counter-extremism Quilliam Foundation, was once one of Choudary's followers in the banned al-Muhajiroun group.
He said Choudary's legal training meant he knew "exactly where to draw the line" to avoid jail – until the emergence of Isis.
"He was between a rock and a hard place, there's no point pledging allegiance to Isis behind closed doors," Mr Deen told The Independent.
"He had to somehow not be seen to incite terror, but show his allegiance to avoid being called a hypocrite.
"Without the establishment of the 'Islamic State' I think he could have carried on speaking in vague terms.
"You would probably develop a kind of cockiness and arrogance after doing it for 20 years, so I think this is going to be a major blow for him."
Mr Deen left al-Muhajiroun in 2003 and has since dedicated his work to countering Islamist extremism.
Choudary, of Ilford, was a leading figure in the group, which was named by Scotland Yard as the "driving force" behind a number of people who later committed terrorist attacks including the 7/7 bombers and Drummer Lee Rigby's murderers.
Among al-Muhajiroun's members was Siddhartha Dhar, known as Abu Rumaysah, an associate of Choudary's who would later travel to Syria to fight for Isis, boasting of evading British security forces online and posting a photo of himself holding his baby son in one arm and a Kalashnikov in the other.
Other supporters of the group have been involved in a string of extremist cases, including three plots to murder servicemen that have come to court in the past 18 months.
Choudary was also a prominent member of Islam4UK, al-Ghurabaa and The Saved Sect, which were proscribed as aliases for the same terrorist organisation by the British Government.
Each group officially disbanded as Choudary repeatedly claimed that he supported the ideal of an Islamist caliphate rather than the terrorist groups attempting to realise it, but was undone by evidence of the online pledge to Isis.
"The oath of allegiance was a turning point for the police – at last we had the evidence that they had stepped over the line and we could prove they supported Isis," said Commander Dean Haydon, head of the Metropolitan Police's counter-terror command.
The preacher, a father of five, had only one previous conviction for failing to notify police of a protest over a Danish cartoon depicting the Prophet Muhammad.
Commander Haydon insisted that if investigators previously had evidence that could ensure a conviction under the Terrorist Act, they would have presented it to the Crown Prosecution Service long ago.
"Choudary in particular is a very clever individual... he has tried to operate within the law," he said.
"As a result we hadn't had any evidence over that period that we could present, certainly suitable for a prosecution, whereas more recently we had."
He said Choudary and Rahman were among key recruiters who encouraged would-be jihadis to travel to Syria, and their expected imprisonment is being hailed as a significant victory in the fight against extremism in the UK.
Sara Khan, director of the women's counter-radicalisation group Inspire, said the pair were long known to be "extremely dangerous" propagandists.
"Although these men are no longer on the streets, we must recognise there are other extremists in Britain aggressively promoting an Islamist extreme worldview often on campus, communities and social media," she added.
"We all have a responsibility in challenging this perverse ideology whether in mosques, universities or online. There is no place for such extremism in our society."
Around 850 Britons are thought to have travelled to Syria to fight – around half have returned and 16 per cent are known to have been killed.
Choudary and Rahman are due to be sentenced at the Old Bailey on 6 September.