Anjem Choudary: Radical cleric sentenced to five years for supporting Isis
Anti-extremism campaigners call the sentence too soft and say it 'mocks justice'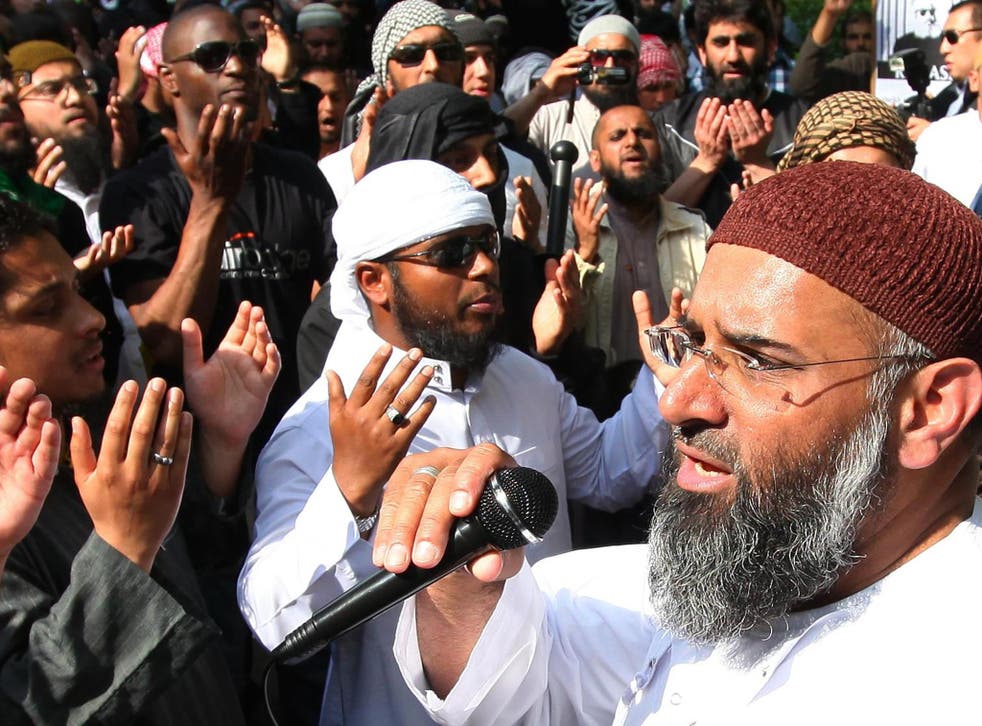 Hate preacher Anjem Choudary has been jailed for five years and six months for drumming up support for Isis.
Choudary, 49, from Ilford, east London, backed the terrorist group in a series of talks posted on YouTube.
The radical cleric also recognised a caliphate – a symbolic Islamic state – had been created under an Isis leader after it was declared in June 2014, the Old Bailey heard.
Despite being a leading figure in the banned group Al-Muhajiroun (ALM) - which has seen a number of former and current supporters being convicted - former lawyer Choudary skillfully avoided criminal charges after toeing the legal line for two decades.
But police were finally able to arrest Choudary along with one of his followers, Mohammed Mizanur Rahman, after he posted their pledge of alliance online.
Following an Old Bailey trial, the pair were found guilty of inviting support for Isis between 29 June 2014 and 6 March 2015 and were remanded in custody.
For legal reasons, details of the case could not be reported until three weeks after the guilty verdicts were delivered on 28 July.
Terrorism in 2016: Terror attacks in Europe claimed by Isis

Show all 9
Choudary faced a maximum possible sentence of 10 years in prison but Mr Justice Holroyde said there was little precedent for such cases.
His conviction was also welcomed by leading British Muslims, who condemned his "evil" and "hateful" views, but they reacted with outraged at the perceived leniency of the sentence.
Haras Rafiq from the counter-extremism thinktank the Quilliam Foundation told the London Evening Standard: "There are people who it is alleged that he has radicalised that have longer sentences than him.
"He has got five-and-a-half years for 15 years of radicalising youngsters in Britain and beyond towards jihadist terrorism. Security services have said he is directly linked to up to 500 people who have travelled to Iraq and Syria.
"This is a sad indictment of the current state of our legislation. He could be out in two-and-a-half years."
Professor Anthony Glees, a security expert at Buckingham University, told Mail Online he believed the sentence was "too lenient" and "mocks justice".
He said: "This is a highly dangerous, sinister and wicked person from whom we have a right to be protected for a very long time. Once again an English court has delivered a soft verdict which is no deterrent.
"He'll be out in two-and-half years and there's no reason to believe prison can reform him or make him see how appalling his recruitment of young Brits had been."
The trial heard that the preacher, viewed by officers as a key force in radicalising young Muslims, had been the "mouthpiece" of Omar Bakri Mohammed – the founder of the banned extremist group ALM.
Former followers of Choudhury include Michael Adebolajo and Michael Adebowale, the murderers of Fusilier Lee Rigby, and suspected Isis executioner Siddhartha Dhar.
Following the convictions, Commander Dean Haydon, head of Scotland Yard's counter-terrorism command, said: "These men have stayed just within the law for many years, but there is no-one within the counter-terrorism world that has any doubts of the influence that they have had, the hate they have spread and the people that they have encouraged to join terrorist organisations.
"Over and over again we have seen people on trial for the most serious offences who have attended lectures or speeches given by these men.
"The oath of allegiance was a turning point for the police – at last we had the evidence that they had stepped over the line and we could prove they supported Isis."