Anjem Choudary: How Islamist preacher sparked rise of Tommy Robinson and the far-right
English Defence League would not have been founded if not for Choudary's incendiary protests, former member says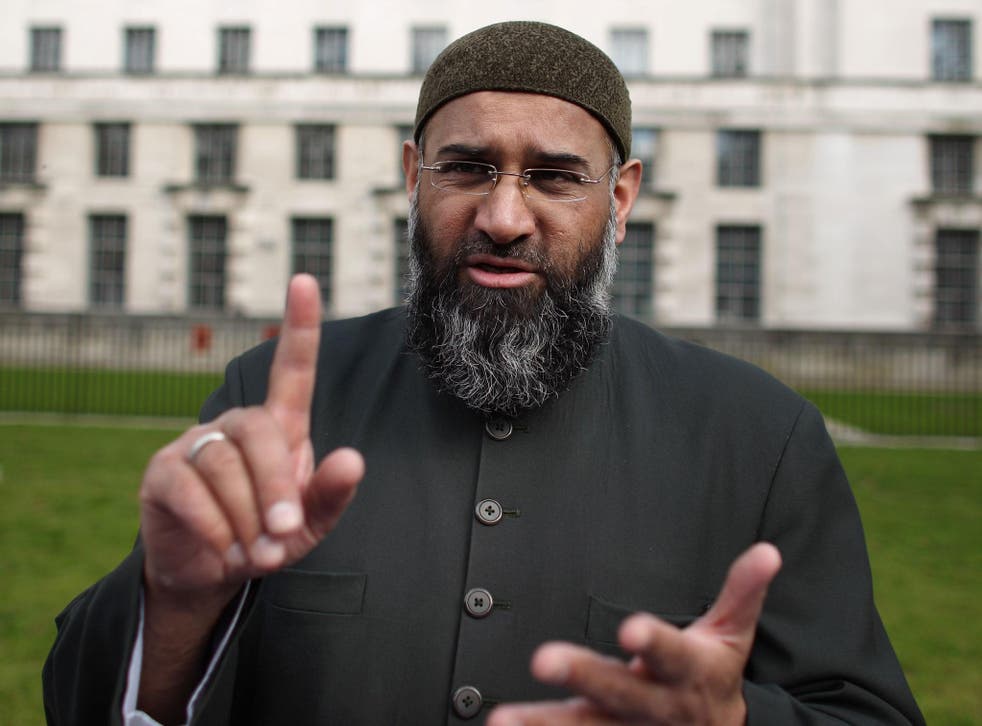 Anjem Choudary may have been sent to prison for supporting Isis, but he radicalised people far beyond his circle of fanatical Islamists over two decades of peddling hate.
The radical preacher became the leader of al-Muhajiroun, which was banned by the government for its extremist activities and links to terrorists and plotters.
But Choudary's gang merely split into factions and continued their activity under different names to evade the law.
One of their many provocative demonstrations came in March 2009, when members called soldiers returning from Iraq "terrorists" during a homecoming parade through Luton and held signs saying "soldiers go to hell".
The stunt received substantial media coverage and sparked national outrage, including from a young father-of-one from Luton.
Stephen Yaxley-Lennon, a former British National Party member, had already been angered by reports that the same group linked to Choudary had been recruiting fighters for the Afghan Taliban outside a local bakery.
While Choudary was based in London, Luton was home to one of al-Muhajiroun's most active cells, with a member interviewed by The Independent in 2001 openly paying tribute to three associates killed by US soldiers in Afghanistan.
In 2004, Yaxley-Lennon held a protest under the banner "Ban the Luton Taliban", but 2009 was a turning point as soldiers' families, local residents and football hooligans started to organise.
A counter-protest against the Islamists morphed into a new group called the United People of Luton, which morphed into the English Defence League (EDL).
Anjem Choudary: Radical preacher found guilty of inviting support for Isis
Yaxley-Lennon took on the name of local football hooligan Tommy Robinson and went on to become its leader, organising protests against Choudary's events that grew into thousands-strong street demonstrations.
At the age of 26, he was thrust into the national spotlight and started appearing on television, even while Choudary was being invited on to the same shows.
The pair fed off each other's extremism to drive support to their own causes, triggering a cycle of "reciprocal radicalisation" fuelling both Islamism and the far right.
Ivan Humble, a former EDL organiser who now works to counter extremism, said the group would not have formed without Choudary's incendiary stunts.
The catalyst for his personal radicalisation was also the 2009 Luton homecoming parade, which came as he raised money for a charity supporting the Royal Anglian Regiment.
"My radicalisation was due to Anjem Choudary," Mr Humble told The Independent. "He was on the TV, the talk shows, the morning news, in all the documentaries.
"I bought into his interpretation of Islam because I didn't see anyone challenging Choudary… the media weren't going to ordinary Muslims to get their view, they were getting the most extreme views they could find."
Within minutes of posting a Facebook comment on a video of the Luton protest, he received a direct message from the EDL and swiftly became involved in its activities.
His views hardened as he physically and verbally clashed with Choudary's supporters, who were perceived to be "protected" by police keeping them apart from the EDL.
"At first, we [the EDL] were all about Choudary," Mr Humble said. "If the police had handled [al-Muhajouroun] demonstrations differently, I don't think the EDL would have been formed… it was tit-for-tat."
Mr Humble left the EDL in 2014 after becoming friends with Muslims and now works for the Me & You Education counter-extremism group.
He still has an EDL East Anglian Division tattoo on his right forearm – and a newer one on his left reading "we have far more in common than which divides us".
The link between Choudary and Robinson has been drawn by numerous academics and officials, including the former head of national counterterrorism policing.
Speaking earlier this year, Sir Mark Rowley said al-Muhajiroun was linked to the 7/7 bombers, Isis fighters, overseas terror attacks and numerous plots.
And he attributed the radicalisation of Darren Osborne, who rammed a van into Muslims in the Finsbury Park terror attacks, to Robinson and other far-right figures.
"While Choudary became the de facto spokesperson for Islamism in the UK, mouthpieces from the far right wing, such as Tommy Robinson, also attracted notoriety and attention," Sir Mark added.
"Robinson also became a regular fixture in our media giving him the platform to attack the whole religion of Islam by conflating acts of terrorism with the faith, often citing spurious claims which inevitably stirred up tensions.
"Such figures represented no more than the extreme margins of the communities they claim to speak for, yet they have been given prominence and a platform to espouse their dangerous disinformation and propaganda."
Robinson started the EDL after being banned from his chosen career in aircraft engineering at Luton Airport because of criminal convictions.
Choudary also failed to secure his dream job with a prominent legal firm after becoming a qualified solicitor, having been known as a party animal and drinker who used the name "Andy" during his legal degree.
Some of the EDL's first targets were the "Islamic roadshows" held by al-Muhajiroun front Islam4UK, and then activities by its successor Muslims Against Crusades.
To mark Armistice Day in 2010, Choudary's supporters held signs near the Royal Albert Hall reading "British soldiers burn in hell" before burning a model poppy.
Robinson breached police barricades keeping the EDL and Islamists apart and became involved in a mass brawl broken up by riot police, and reporting of the event drew more attention to his cause.
Amid regular clashes, police increased efforts to disrupt Choudary and his network with cycles of arrests and raids, as they were forced to shift identity again and again.
Meanwhile the EDL, hampered by infighting, a lack of momentum and the rise of rival far-right groups, was in decline.
But it regained its notoriety after the murder of Lee Rigby in 2013 – by two of Choudary's followers.
The EDL held a series of demonstrations and mustered more than 1,000 supporters outside Downing Street, before Robinson left that October because of supposed concerns about the "danger of far-right extremism".
Tommy Robinson supporters protest outside the Old Bailey

Show all 16
But his preoccupation with Islam has remained, seeing him set up a UK branch of Germany's Pegida group, and become a self-styled journalist posting videos about terror attacks and grooming gangs.
Support from prominent right-wing figures in Europe and the US, such as Donald Trump's former chief strategist Steve Bannon, has put Robinson's star on the rise once more.
The 35-year-old's brief imprisonment earlier this year appears to have increased his global reach, support base and funds further.
Authorities have imposed extensive licence conditions and an asset freeze on Choudary ahead of his imminent release, in an attempt to ensure that his imprisonment does not have the same effect.
After being jailed for supporting Isis in 2014, the 51-year-old's former associates have fallen largely quiet after repeated crackdowns by the security services.
Several al-Muhajiroun members have died fighting for Isis in Syria, while activist Khuram Butt was shot dead by police after carrying out the London Bridge terror attack.
Small numbers of Choudary's former associates have been spotted at Speakers' Corner in Hyde Park and at "dawah" stalls giving out copies of the Quran in recent months.
But their leader will be forbidden from associating with them or preaching as part of his licence conditions, and the group's future remains uncertain.
As Robinson prepares for a court hearing that could see him sent back to jail next week, his supporters have been voicing outrage that he may be going into prison as Choudary comes out.
After almost a decade of feeding off each other's extremism, the pair's history appears far from finished.