Anti-vivisection group offers cash to name Cambridge animal testing lab workers
Animal rights campaigners accused of intimidation for seeking to target researchers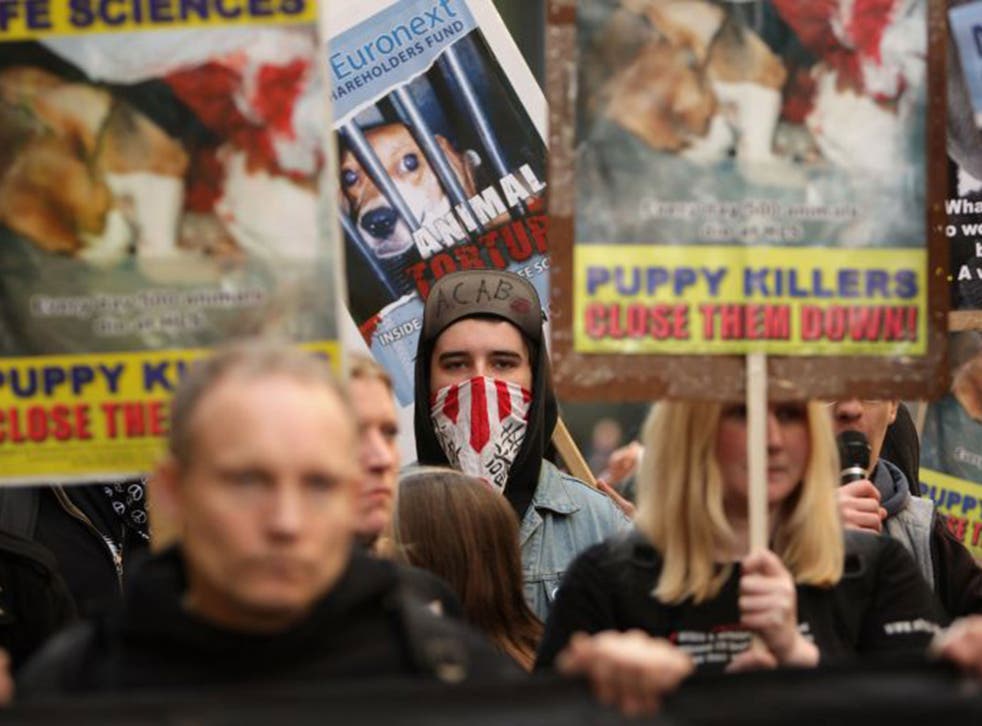 Anti-vivisection campaigners have opened a new front in a long-running campaign of intimidation by offering cash rewards for personal information about university students working on animal testing projects.
Posters offering "£££" for "beer money" have gone up in Cambridge asking supporters secretly to send in the names, addresses and photographs of students who work in testing labs, in a tactic adopted by activists in the US.
The bills were issued in the name of a group calling itself National Operation Anti-Vivisection (NOAV) that emerged after Stop Huntingdon Animal Cruelty (Shac) – a long-established group that led direct action protests against local testing centre Huntingdon Life Sciences – was disbanded earlier this year.
Details of the campaign emerged yesterday as the pharmaceutical giant Novartis secured an injunction at the High Court seeking protection from Shac and other newly emerged campaigners.
Shac broke new ground over 15 years with its high-profile protests, but has since been crippled by the jailing of senior figures, dozens of injunctions and law changes to protect people and businesses working in animal testing.
One of Shac's senior members, Debbie Vincent, was named in the action and is currently serving a six-year jail term for blackmail. Novartis claimed that the dismantling of Shac was to allow "more fluid groups to operate" that may include former members of the group. It identified groups including the French Facebook campaign Morsure Animale which had a flyer featuring four people in black clothing and balaclavas posing in front of a graffiti-covered wall showing monkeys holding a machine gun, a wrench and a petrol bomb.
Another group – Negotiation is Over – appeared mainly aimed at AstraZeneca and their new planned site in Cambridge, according to the injunction.
Tom Holder, director of Speaking of Research and a critic of Shac, said: "These posters are a new tactic in the UK and we should condemn it utterly. NOAV is picking up where Shac left off – using intimidation to try to scare researchers from conducting vital scientific research."
In her ruling, Mrs Justice McGowan said it was unclear how many people were affiliated to the new groups . "The groups clearly contain a mixture of law-abiding protesters and those willing to break the law," she said. "It is clear that these sorts of publications carry explicit and implicit threats of violence to people and property."
NOAV and Cambridge University did not respond to requests for comment.
Register for free to continue reading
Registration is a free and easy way to support our truly independent journalism
By registering, you will also enjoy limited access to Premium articles, exclusive newsletters, commenting, and virtual events with our leading journalists
Already have an account? sign in